Birds of the Month: rare gullsEdit
So what were February's highlights? Had they not all featured in previous months, my Bird of the Month might have been one of the following: (1) the American Horned/Shore Lark that spent 10 days on the Staines Reservoir causeway in November and then surprisingly reappeared in January; (2) the eastern race Lesser Whitethroat that appeared in the back gardens of Richmond in mid-December; or (3) the Little Bunting that took a long-term liking to a particular bush at Walthamstow Reservoirs from mid-January. All these birds lingered throughout February — even weathering the Arctic conditions at the end of the month.
In addition (according to Rare Bird Alert and BirdGuides, although not reported on this wiki), Broxbourne's three Parrot Crossbill, first seen in December, were still around early in February.
So, if these previously-reported passerines are not eligible to be February's Bird of the Month, I needed to find something else to nominate. And so I turned to rare gulls, and particularly the adult Ring-billed Gull found at Thames Barrier Park on the 11th but unfortunately not seen again afterwards. Our familiar Common Gull can sometimes be mistaken for its trans-Atlantic cousin, but this sighting was backed up by good photographic evidence. Sadly, no image was uploaded to this wiki. It was the first record of this Yankee species since a disputed bird in central London a year ago and the occasional unconfirmed report over the previous few years.
London's most illustrious Ring-bill was a turn-of-the-century bird that wintered for 14 years around the Isle of Dogs and Greenwich and was last reported in August 2009.
February was also a good month for other unusual gulls — particularly on 9th Feb, when Beddington Farmlands boasted a juv/first-winter Glaucous Gull, a first-winter Iceland Gull, a first-winter Caspian Gull and an adult Mediterranean Gull. The Glauc and Icey both stayed throughout the month.
Beddington is, of course, renowned for its rare gulls, but all four of these species were also seen elsewhere in the London area more than once during the month. And in the last week of the month the year's first Little Gull and Kittiwake appeared.
By the chilly end of the month, many migrant waders were on the move. In particular, there were many reports of Lapwing, with records from several sites of hundreds passing over. A good few Golden Plover also passed through the Metropolis. Sixteen other wader species seen during the month included Grey Plover (2 reports), Ringed Plover (4), Turnstone (2), Ruff (11) and Sanderling (1).
Passerines Edit
As well as the aforementioned eastern-race Lesser Whitethroat, another Asian warbler in London was Siberian Chiffchaff (Phylloscopus collybita tristis — or just P tristis for those who wish to consider it a species in its own right). Individuals were seen and heard at three sites during the month. February's only Yellow-browed Warbler was one at Totteridge Valley on the 3rd.
The Serin is a unique passerine because it is the only species whose name appears within the word pasSERINe. According to BirdGuides, one was at Walthamstow Reservoirs on the 10th, and it was later established that it had been seen and photographed by a reliable birder. It was a first for Walthamstow and the first in London since one at Beddington Farmlands in November 2015.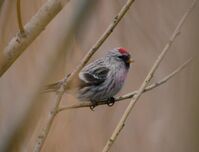 Taxonomists have regarded the several closely related forms of Redpoll as anything from one to five species. It is surely time they reached an agreement over how many species there actually are. In the meantime, it was nice to see a report of a Mealy Redpoll among a flock of Lesser Redpoll at the London Wetland Centre on the 5th — plus two Mealies there later in the month. Even better is that an image was uploaded onto this wiki. Over the past few years there have only been five other reports of Mealies in the London area.
And finally, Hawfinch. Following this winter's huge irruption into southern England, sightings around London have continued to impress. The most spectacular site has been Bramblehall Wood in Surrey, where from mid-month there were regular reports of flocks totalling more than 200 birds, with an amazing 420 or more counted on the 22nd.
(Contributed by Andrew Haynes, who accepts full responsibility for any errors. Historical information is mainly based on archived reports on this wiki and on 'The Birds of London' by Andrew Self.)
Wednesday 28th February 2018  Edit
Alexandra Park: 4 Lapwing W over south entrance 09:40 (Bruce Carson); 4 Lapwing SW 1635 just ahead of snow blizzard viewed above golf course from watch point, also 30+ Tufted Ducks, 6 Pochard Wood Green/Tunnel Res (Bob Watts)
Beddington Farmlands: 2 Goosander, 193 Fieldfare, 17 Redwing W, 16 Meadow Pipit NW, 195 Lapwing W, 25 Golden Plover, 1 Jack Snipe, 1 Iceland Gull, 1 first-winter Glaucous Gull, 2 Peregrine, 1 Chiffchaff (Frank Prater, Peter Alfrey, Kevin Guest)
Brent Reservoir: 14 Lapwing W, 8 Common Snipe, 17 Fieldfare W, 11 Redwing, Cetti's Warbler singing (Andrew Verrall)
Brixton: 4+ Lapwing over Coldharbour Ln/Brixton Rd jn 12.30 pm appeared to be heading SE but lost behind buildings, also 1 Mistle Thrush over (Tony Stones)
Broadwater GP: a Siberian Chiffchaff with 19 Common Chiffchaff along the R. Colne - the tristis bird being behind the yacht club hut and the rest between here and the causeway. The tristis carries a ring on the right leg so this could be the same as one present here a couple of winters ago; also on the river 3 Cetti's Warbler, 30 Teal, a Kingfisher, 2 Water Rail, 3 Grey Wagtail, a Common Snipe, and a male Goldeneye, a hard weather movement of 40 Lapwing W and barely visible in a snow blizzard and 120 Wigeon and 120 Shoveler arrived from the north to land on the lake (John Edwards)
Brockwell Park: 12 Redwing, 1 Fieldfare, 2 Mistle Thrush, Pond three-quarters frozen 07.30am with 3 Coot, 3 Moorhen, 4 Mute Swan, 18 Tufted Duck, 30 Mallard and 1 Little Grebe, a further 2 Moorhen roosting 4-5 m off ground in a hawthorn a bit further along path (Tony Stones)
Brookmill Park: Kingfisher, Great Spotted Woodpecker, Redwing, Fieldfare (Conrad Ellam)
Bury Lake: 23 Red-crested Pochard 5f (Anna Marett via Herts BC)
Canons Farm, Surrey: 617 Lapwing & 170 Golden Plover SW 10:00-14:00 (Steve Gale)
Chingford: Kings Head Hill - 23 Lapwing, Golden Plover, 23 Fieldfare, Siskin (Richard Cope per ELBF FB)
Chingford Plain: 232 Lapwing, Golden Plover, 9 Common Gull, Skylark, 53 Fieldfare, 28 Redwing all SW (Richard Cope per ELBF FB)
Croydon: Purley Way - 20 Golden Plover and 40 Lapwing over (Roy Weller via David Campbell)
Croydon, Duppas Hill Park: 11+ Lapwing feeding on lower football pitches, along with 10+ Fieldfare and 2 Mistle Thrush, Redwings and Starling (Croydon Birders) TQ316647
Danson Park: 8 Shoveler, Teal, 3 Pochard, Tufted Duck, 4 Little Grebe, 2 Great Crested Grebe, 59 Lapwing W, 8 Lesser Black-backed Gull, 20 Fieldfare (Chris Gibbard via Twitter)
Downham/Bromley (BR1): 3 Lapwings over SW 10.45. Only second sighting in 30 years. (Dave Burt)
East Dulwich SE22: 89 Lapwing SW from my garden between 1:00-2:15pm, also Fieldfare in my garden in the morning (Steven Robinson)
Enfield Town: Library Grn Church St EN2 - 21 Fieldfare, 27 Redwing, 2 Mistle Thrush, f Blackcap - unusually confiding (Robert Callf)
Enfield Town: River View EN2 - male Blackcap (Robert Callf)
Ewell Village: 13 Lapwing, 30+ Fieldfare, 20+ Redwing (Colin Manville)
Finchley: garden N3 - 25 Lapwing 17W 13:16 & 7W 13:17 & 1W 17:07, also 3 Stock Dove, m Blackcap (Samuel Levy)
Fordbridge Park-Ashford: flock of 7 Lapwing briefly landed before being spooked by dogs (Adam Bolton) TQ059709
Gallions Reach: 22 Scaup, 3 Oystercatcher, 130 Lapwing most W, 3 Black-tailed Godwit, Sanderling, 9 Dunlin, Jack Snipe, 14 Snipe, 2 Kittiwake [Ldn foy] ad 1w, Mediterranean Gull, Yellow-legged Gull, Skylark, 70 Fieldfare, 30 Redwing, Rock Pipit 10:00-14:00 (Gary James via EBwS BN)
Gidea Park: 54 Lapwing, 15 Golden Plover, 60 Fieldfare, 7 Skylark W (per ELBF FB)
Golders Hill Park: 1 Fieldfare (James Levy)
Greenwich Park: 10 Lapwings over in an hour from 3pm (Joe Beale)
Greenwich Peninsula: 1 Lapwing over, seen from bus (Joe Beale)
Heathrow: Red Kite, 5 Lapwing, 2 Golden Plover, 3 Pied Wagtail (Wendy Marks)
Hogsmill Open Space: 1 Little Egret perched in tree near river 08.30 (Neil Batten); 2 Stock Dove, 6 Fieldfare, 10 Redwing, 2 Lapwing (Colin Manville)
Hornchurch: 20 Lapwing W (Dave Morrison per ELBF FB)
Hyde Park/Kensington Gardens: Merlin female SE 09.03, 6 Fieldfare, 49 Redwing W, Chiffchaff pale bird not calling again briefly Magazine, 2 Lesser Redpoll (N P Senior)
Ingrebourne Valley: 23 Snipe, 110 Fieldfare, 40 Redwing, Woodcock, Bullfinch, Green Sandpiper (Dave Morrison via ELBF FB)
Isle of Dogs: 4 Fieldfares in East Ferry Road garden (Valerie Huggins)
Kew: Blackcap f in garden near Bushwood Road (Laurence Mitchell)
Lambeth Bridge: Shelduck downriver, 323 Cormorant E, 1 Yellow-legged Gull 2cy, 3 Fieldfare (N P Senior)
Leatherhead: Randalls Way - 1 Lapwing E, 2 Common Gull lingering, 2 Redwing (Neil Batten)
Leyton, Orient Way Recycling Centre: Glaucous Gull (Stuart Fisher, JW Davies)
Limehouse E14: c100 Cormorant on the Thames (Paul Hyland)
London Wetland Centre: 8 Pintail, Bittern, Woodcock, 2 Fieldfare, 6 Redwing, 12 Linnet N, 3 Redpoll, 8 Siskin (WWT website); Golden Plover south at 14,00, Stonechat (Simon Fogg)
London Zoo: 19 Lapwing W, Fieldfare 32, 2 Redwing, 15+ Cormorant Regents Canal/ZSL Woodland Walk (Sam Jones)
Lower Clapton E5: c30 Lapwing over W at 11:00 a first for me here (Alastair Dent)
Mad Bess Woods 10+ Hawfinch 9:35 (Richard Francis)
Marylebone: 30+ Lapwing SW 1050 (Des McKenzie via Twitter)
Mayflower Park Wetlands: 2f Bullfinch, 1 Reed Bunting and 2 Lapwings overhead (Isaiah Rowe)
Middlesex Filter Beds: 1 Chiffchaff, 1 Grey Wagtail along the river at 08:30 (Alastair Dent)
Millfields E5: Peregrine briefly on sub-station pylon before heading off SW, 2 Fieldfare over S, 2 Redwing & 2 Siskin in trees along canal 08:00-09:00 (Alastair Dent)
Myddelton House Gardens: m Hawfinch by main gate pm (David Hutley via Twitter) TQ341990
Pinner: Tawny Owl calling Lloyd Crt 05:50 (Richard Francis)
Rainham RSPB: Jack Snipe, 200 Fieldfare (per ELBF FB)
Rayners Lane: Sparrowhawk (Tim Rymer)
Richmond: Eastern race Lesser Whitethroat still in back gardens of Selwyn & Pagoda Avenues. Parking charges apply Mon - Sat. Park only in visitors bays. (Franko J Maroevic)
Richmond Park: Dunlin landed briefly, 24 Golden Plover S/SW/SE in four groups, 147 Lapwing mainly S, Red Kite, Peregrine adult male, 195 Fieldfare mainly S, 26 Redwing S - all in skywatch 12.00-16.00 (J.Wilczur); 400 Fieldfare, 55 Redwing, 205 Lapwing moving high W 11:00-14:00 small flocks of all 3 feeding on ground near Kingston gate, also Snipe, 6 Meadow Pipit, Buzzard (P Pentek); 8 Skylark nr riding ring, Common Snipe came out of bracken just east of Holly Lodge paddock, Fieldfare everywhere (Colin Williams); 8+ Lapwing and 7 Fieldfare probably same as above, 2 Meadow Pipit, Little Owl hunting (P. Redmond)
Romford: 250 Lapwing, 240 Fieldfare, 4 Redwing (per ELBF FB); Ardleigh Grn - 8 Lapwing W (Paul Hawkins per ELBF FB)
Royal Albert Dock: 60+ Tufted Duck (Charlie Clark)
Ruislip Woods: 10+ Hawfinch 5+ down from Wiltshire Ln entrance 09:05 & 5+ in area west of Poors Field nr Lido Car Park 09:20 (Richard Francis)
St James's Park: 1 Lapwing W at 14:35, also 1 Fieldfare in the Park (Frank Nugent).
Scadbury Park LNR: 1 Lapwing over picnic area, 4+ Jackdaw, 15+ Redwing, 5+ Song Thrush, 1 Nuthatch, 1 Coal Tit, Goldcrest and Great Spotted Woodpecker calling (Jack Headley via Twitter)
South Kensington: over Natural History Museum 25 Lapwings, 2+ Fieldfares, 4+ Redwings (Joe Beale)
Staines Moor: 2 Water Pipit [1 colour ringed from Stanwell Moor 14-Jan-2018], 2 Kestrel, 2 Stonechat, 4 Snipe, 2 Lapwing (Samuel Perfect)
Staines Reservoir: AMERICAN HORNED LARK causeway west end still, Mediterranean Gull N Basin n bank (Dom Pia via Twitter); Water Pipit, 3 Shelduck, 18 Lapwing, Redshank, Snipe, Kestrel, Red Kite, Buzzard, c50 Fieldfare (Samuel Perfect)
Stave Hill: Kingfisher, Great Spotted Woodpecker, 4 Greenfinch (John Cadera)
Stockley Park: Red Kite (Keith Chambers)
Surbiton Filter Beds: 3 Lapwing (Billy Dykes)
Ten Acre Woods area: 3 Snipe, Reed Bunting, Water Rail, single Lapwing over golf course (Martin Musselwhite)
Thames Ditton: 1 Little Egret low over rooftops E 16:50 (Billy Dykes)
The Ridgeway, Mill Hill: 4 Lapwing W 09:44, 10 Fieldfare S 11:48 (Samuel Levy)
Tooting Common: Peregrine, 31+ Lapwing all SW 1 landed near lake, 75+ Fieldfare 70+ SW in small groups & 5 nr Lido, Snipe flew in close to lake then S, 26+ Redwing scattered around common & many S/SW, 1+ Skylark SW 11:25, 7 Shoveler 4m 3f NE 11:52, 8 Shoveler at lake, 2 Common Gull, 5+ Lesser Black-backed Gull, 10+ Herring Gull over mostly adults (James Hudson & Alan Wilkinson)
Trent Park: golf course - 1 Merlin male; 3 Buzzards, 1 Kestrel, 50+ Redwing, 3 Fieldfare, 3 Song thrushes, 2 Treecreepers, 1 Goldcrest, 15+ Long-tailed Tits, healthy pop. Robins & Dunnocks spread throughout park (Aaron & Edwin Sapatsch)
Totteridge Valley: Sparrowhawk, 16 Lapwing W, Woodcock flew towards substation, 102 Black-headed Gull E, 31 Stock Dove S, 2 Collared Dove S, 2 Kestrel, Peregrine hunting over Frith Ln, Skylark calling over Frith Stables, 25 Fieldfare W, 39 Redwing, 5 Starling, 2 Bullfinch (Samuel Levy)
Tower Hamlets Cemetery Park: 2 Fieldfare, 2 Redwing, 2 Coal Tit, Goldcrest all Sanctuary Wood (Bob Watts)
Tufnell Park N19: 60+ Fieldfare 4 flocks & 45+ Redwing SW 3 flocks - all flocks 15+ 09:00-12:00 Escaping the weather... (Francis Tusa)
Wallington: private gdn - Skylark [garden first] N this morning, 15 Redwing, 2 Fieldfare (Arjun Dutta)
Waltham Abbey: Claygate Ln and Breaches Fm - 19 Golden Plover W, 228 Lapwing incl 100+ W, 2 Red Kite, 3 Common Buzzard, Sparrowhawk, 4 Kestrel, drumming Great Spotted Woodpecker, 77 Skylark, 84 Fieldfare mostly W, 3 Redwing, 10+ Song Thrush, singing Mistle Thrush (Simon Papps)
Walthamstow Reservoirs: LITTLE BUNTING still round seed tray, flock of 80+ Linnets now feeding in weeds, 50+ Greylag Goose, 8 Shoveler, 5 Lapwing, 35 Greater Black Backed Gull, 1 Kingfisher, 1 Kestrel, 2 Peregrine, 1 Jay, 2 Meadow Pipit. (David Bradshaw and Daniel Whitelegg)
Wandle Meadow Nature Park: 52 Redwing (Keith Bates)
Wanstead Flats: 2 Golden Plover, 195 Lapwing stragglers still coming through late afternoon, Common Snipe, 2 Yellowhammer, 4 Meadow Pipit, 6 Skylark, 97 Fieldfare, 20+ Redwing (Wanstead Birders)
Wanstead Park: 2 Common Snipe, 665 Lapwing, Common Buzzard, Peregrine Falcon, 3 Sparrowhawk, 32 Shoveler, 2 Gadwall, 2 Teal, Great Black-backed Gull, 7 Skylark, 2 Meadow Pipit, Kingfisher, Goldcrest, Nuthatch, Coal Tit, 50+ Redwing, 300 Fieldfare, Little Grebe (Wanstead Birders)
West Putney: Huntingfield Rd SW15 - 163 Lapwing SW/W/NW, 6 Golden Plover SW/NW, Woodcock low SW, Avocet W 15.55, then chased by fem Merlin, 6 Mistle Thrush W/NW, 17 Redwing mostly W, 122 Fieldfare mostly SW, 2 Meadow Pipit NW, 2 Chaffinch NW (R.Kaye)
Wimbledon Common: 2 Lapwing, 2 Snipe, 2 Meadow Pipits, m Reed Bunting on the Plain plus 25 Lapwing SW and 40 Fieldfare S (Adrian Podmore)
Worcester Park: 24 Fieldfare, 26 Lapwing W (Bob Smith); garden KT4 - 7 Lapwing W, 1 Chaffinch, 7 Fieldfare NW, 3 Redwing 25 species seen in 1hr and first garden lapwings record; Horse field - 2 Lapwing 1 on ground & 1 overhead (Isaiah Rowe)
Tuesday 27th February 2018 Edit
Aberford Park: Yellow-legged Gull (Peter Ranger via Twitter)
Acton Park: Record shot on Twitter of possible Taiga Mistle Thrush this a.m. (Paul Thomas)
Alexandra Park: 2 Lapwing over nr cricket pitch 1610 (Stephen Middleton via Twitter)
Amwell NR: Smew & Snipe fr viewpt eve'g (Ron Cousins via Twitter)
Beddington Farmlands: 1 first-winter Glaucous Gull, 1 first-winter Iceland Gull, 2 Golden Plover, 30+ Lapwing W (BFBG, Peter Alfrey)
Boxer's Lake: Grey Heron on nest incubating, 2 Mandarin Duck pr, 5 Shoveler 3m 2f, 4 Common Pochard 3m 1f, 8 Tufted Duck 5m 3f, 5 Common Gull incl first-winter, singing male Greenfinch (Robert Callf)
Brookmill Park: Kingfisher, Stock Dove, 5 Redwing (Conrad Ellam)
Cornmill Meadows: 4 Siskin, 1 Lesser Redpoll, 3+ Great Spotted Woodpecker drumming, 2 Green Woodpeckers (Quentin Given)
Crossness: Marsh Harrier, Black-tailed Godwit, 5 Common Snipe, 10 Redshank, 50 Lapwing, Rock Pipit, Stonechat (Conrad Ellam)
Dagenham Chase: Skylark, 19 Meadow Pipit, 2f Reed Bunting, 2 Linnet, Peregrine, Kestrel, 2 Sparrowhawk, 7 Great Crested Grebe, 2 Little Grebe, 2m Pochard, 46 Lapwing, 2 Snipe, Kingfisher, 2 Rook, 2 Jackdaw (Vincenzo Halley-Frame per ELBF FB)
Deptford Creek: by Laban centre - 5 Shelduck 1st years unusual here (Michael Paice)
Finchley: garden N3 - Tawny Owl calling 0303, also m Blackcap, 3 Stock Dove (Samuel Levy)
Greenland Dock: 10 Egyptian Geese and 35 Tufted Ducks early morning (Richard Bonser)
Gutteridge Wood: Little Egret in Yeading Brook (Martin Musselwhite)
Hampstead Heath: 13 Lapwings 12 NW over Parliament Hill at 1120 & 1 straggler at 1135, 6 Fieldfares in large ash tree at base of Hedge 2 briefly feeding on muddy field with Black-headed Gulls, 150 Redwings most in sheltered areas such as the lawn next to bandstand (Pete Mantle)
Harrow: Northwick Park Hospital - Redwings singing c13:00, 1 Lapwing N c14:00 (John Birkett)
Heathrow: Red Kite (Adam Cheeseman)
High Barnet: 1 Brambling at N end of park off Meadway with flock of Redwing (Francis Tusa)
Hilfield Park Reservoir: f Common Scoter still (Lee Evans via Twitter)
Hook: Little Egret perched briefly on apple tree in back garden before flying down to stream beyond (Nigel Jackman) TQ179653
Ingrebourne Valley: Kingfisher, Grey Wagtail, Pied Wagtail, 20 Snipe, 8 Lapwing, 10 Dunnock, Little Egret (Dave McGough per ELBF FB)
Lakeside, Enfield: male Nuthatch (Robert Callf)
Leyton, Orient Way Recycling Centre: Glaucous Gull (JW Davies)
London Wetland Centre: 2 Shelduck, Goldeneye, Bittern, 61 Cormorant, Peregrine, 15 Redwing, 2 Stonechat (WWT website)
Mayflower Park: wetlands - 1 Reed Bunting, 1 Grey Heron, several Fieldfares and a brief glimpse of a probable Cetti's Warbler flying across channel (Isaiah Rowe) Hi Isaiah any more details on Cettis [Bob] I saw it along the broad walk/wooden pathway, it flew low across a small channel to a clump of reeds, I waited and it didn't move and was quite well hidden [Isaiah]
Muswell Hill: Lapwing, 2 Fieldfare (James Palmer)
New Change EC2: 3 Golden Plover S, 9 Lapwing SW, 53 Redwing W (N P Senior)
Oxleas Wood: 3 Song Thrush, 2 Green Woodpecker, 3 Great Spotted Woodpecker, 5 Jackdaw, Goldcrest, 3 Treecreeper, Nuthatch, 2 Common Buzzard pair (Ron Turner)
Peckham Rye: m Grey Wagtail at station platform and 8 Redwings on the Rye. Livened up a dentist visit. (Barbara Miller)
Rainham RSPB Reserve: 2 Marsh Harrier m f, 1 f Sparrowhawk, Little Egret, 12 Snipe, 2 Redshank, 30+ Pintail, Wigeon, Gadwall, Teal, Shoveler, Shelduck [note - most lagoons currently frozen over] (Nigel May); Caspian Gull 1w, 2 Yellow-legged Gull, Common Sandpiper, 2 Rock Pipit (per ELBF FB)
Richmond: Eastern race Lesser Whitethroat still in back gardens of Selwyn & Pagoda Avenues. Parking charges apply Mon - Sat. Park only in visitors bays. (Franko J Maroevic)
Richmond Park: 2 Kestrel pr, 2 Little Owl, 3 Nuthatch (P. Redmond)
Snaresbrook, Eagle Pond: Caspian Gull 3w still, pr Great Crested Grebe, 25 Shoveler (Stuart Fisher)
South Woodford: pair of Peregrines low over George Ln at 16:00 (Joe Dickens)
Staines Moor: 2 Water Pipit, 2 Jack Snipe, 2 Little Egret (per Surrey BN)
Ten Acre Wood area: 2 Water Rail 1 in Yeading Brook & 1 heard on the marsh area, Little Owl, 3 Lapwing flying over the golf course (Martin Musselwhite)
Trent Park: 10 Mandarin Duck 6m 4f lower lake, f Tufted Duck, 6 Stock Dove, Green Woodpecker, Goldcrest, 6 Long-tailed Tit (Robert Callf)
Walthamstow Reservoirs: LITTLE BUNTING around seed tray, Scaup still on No4, 11 Goldeneye on s Reservoirs, Green Sandpiper on overflow, 5 Lapwing, 50 Fieldfare (Walthamstow Birders); Lockwood - 42 Lapwing S 15.00, pr Goosander, 2 Fieldfare, 30 Gadwall on HM (Lol Bodini); 1 Peregrine, 2 Great Spotted Woodpecker, 6 Shoveler, 31 Linnet (Daniel Whitelegg)
Wanstead Flats: 299 Lapwing W, Jack Snipe, Common Snipe, 2 Sparrowhawk, 2 Kestrel, Peregrine Falcon, 5 Skylark, 4 Meadow Pipit, 4 Linnet, 5 Fieldfare, 8 Redwing, f Teal, 4 Gadwall, 6 Shoveler, 2f Pochard (Nick Croft)
Wanstead Park: Hawfinch in the glade (Mike Messenger); Buzzard over the plain (Rob Sheldon); 5 Nuthatch, 9 Teal on the Roding, 10 Fieldfare in new paddock (Tim Harris)
Woodberry Wetlands: Water Rail, 4 Snipe, Lesser Redpoll, 5 Teal, 2 Reed Bunting both singing males (Chris Farthing)
Worcester Park: 3 Lapwing on football field by station late afternoon (Isaiah Rowe)
Monday 26th February 2018 Edit
Amwell NR: 2 rh Smew still (per Herts BN) TL381123
Bayhurst Wood: 3 Hawfinch close to car park 09:55 (Richard Francis)
Bramblehall Wood: 260+ Hawfinch (Steve Gale)
Brent Reservoir: 1 Common Snipe, 2 adult Great Black-backed Gull on raft, 2 Redwing, Cetti's Warbler singing just north of bridge, 2 Siskin in tree by hide (Andrew Verrall)
Brookmill Park: Kingfisher, Great Spotted Woodpecker, 5 Redwing, Coal Tit (Conrad Ellam)
Connaught Water: 33 Mandarin, Pintail, 2 Nuthatch (per ELBF FB)
Dagenham Chase: pr Pintail, 56 Wigeon, 31 Tufted Duck, 3m Pochard, Peregrine, Buzzard, Sparrowhawk, 4 Rook, f Stonechat, f Reed Bunting, 19 Meadow Pipit (Vincenzo Halley-Frame per ELBF FB)
Dollis Brook, Holders Hill: Little Egret upstream 13:15 (Samuel Levy)
Figges Marsh (CR4): 76 Common Gull, 135 Black-headed Gull, 100+ Starling (James Hudson) TQ280699
Finchley: garden N3 - m Blackcap, 2 Stock Dove (Samuel Levy)
Eastcote: 2 Hawfinch at Eastcote CC 08:55 (Richard Francis)
Gutteridge Wood: 20+ Lapwing in the horses field to the south of the wood (Martin Musselwhite)
Hale End Rd Allotments E17: 1m Sparrowhawk, 5 Redwing, 1 Fieldfare, 1 Great Spotted Woodpecker, 1 Collared Dove (Daniel Whitelegg) TQ385904
Hampstead: 6 Lesser Redpolls in Netherhall Gardens at midday (Pete Mantle)
Heathrow: m Smew, 11 Goldeneye [site record count] (Adam Cheeseman)
Honor Oak: 14 Redwing, Mistle Thrush, m Chaffinch, Green Woodpecker on sports ground, 6 Redwing at crematorium, 20+ Redwing, 3 Mistle Thrush, Chaffinch in Brenchley Gardens (Keith Chambers)
Hook: 45 Redwing (Nigel Jackman) TQ179655
Ingrebourne Valley: 3 Tawny Owl (Shaun Harvey per ELBF FB)
KGV Reservoir: m Scaup & m Smew on S. basin, 24 Goldeneye 10m, 9 Goosander 4m, 8 Shoveler 4pr, 24 Pochard, 2 Little Grebes, Meadow Pipit, Green Woodpecker 1-2pm (Davey Leach)
London Wetland Centre: Bittern, 2 Jack Snipe, 2 Stonechat, Pintail, 2 Shelduck, Goldeneye f, Lesser Redpoll (James Hudson); also 4 Shelduck, 124 Cormorant, Caspian Gull 2w main lake marsh, 12 Fieldfare, 16 Redwing, Brambling W across wildside, 12 Siskin sheltered lagoon (WWT website)
Mad Bess Woods: 15+ Hawfinch 12+ by coppice near scout field 09:40 & 3 by Ducks Hill Rd 09:30 (Richard Francis)
Millfields E1: 2 Lapwings feeding on cricket pitch, 20+ Common Gull, 40+ Starlings, 1 Redwing (Ernest Thomason).
Minet CP: Red Kite drifting over The Parkway (Neil Anderson)
Motspur Park: 3 Egyptian Geese, 1 Lapwing (Bob Smith); Hi Bob, whereabouts was the Lapwing and was it a flyover or settling bird? [Isaiah Rowe] Hi Isaiah was on the playing fields in Joseph Hood Park then flew off [Bob]
Northala Fields: Snipe, 2 Pied Wagtail, 11 Goldfinch, 130+ Black-headed Gull, 16+ Redwing, Fieldfare (Deiniol Owen)
Pinner (The Croft): 30+ Redwing, 9 Goldfinch, 2 Greenfinch, 2 Coal Tit (Nigel Barratt)
Pymmes Park: 2 Little Grebe, 4 Egyptian Goose, 2 male Common Pochard, 10 Tufted Duck, 7 Common Gull, 2 male Grey Wagtail including one wearing a metal ring, 2+ Pied Wagtail, 3 Great Spotted Woodpecker, 3 Nuthatch, f Chaffinch, 17 Goldfinch (Robert Callf)
Rainham RSPB: 2m Marsh Harrier, Grey Plover, Caspian Gull 1w (Andy Tweed per ELBF FB)
Richmond: Eastern race Lesser Whitethroat still in back gardens of Selwyn & Pagoda Avenues. Parking charges apply Mon - Sat. Park only in visitors bays. (Franko J Maroevic)
Ruislip Woods: 30+ Hawfinch off Poors Field near Waters Meet CP 09:20 very vocal (Richard Francis) Clearly they haven't departed the area, yet [RF] You've clearly been on a Hawfinch hunt Ric [SG] Yes Steve, I'm running and birding as I go. Today I went to all the areas I've seen them before and got lucky. And very well done on your own Hawfinch ventures [RF]
Rye Meads RSPB: Buzzard, Water Rail, 2 Oystercatcher, Snipe, Green Sandpiper, Water Pipit (RSPB twitter)
St Paul's Cray: Sevenoaks Way - 3 Redwing and Mistle Thrush next to Grays Farm Primary School (Jack Headley)
Staines Reservoir: AMERICAN HORNED LARK at western end of causeway, Water Pipit, Black-necked Grebe (Dominic Pia via Twitter)
Upminster: Branfield School Field - 22 Lapwing, 200 Starling, 7 Fieldfare (Ron Cook per ELBF FB)
Walthamstow Filter Beds: Coppermill Ln - 1st winter Glaucous Gull with large gull flock commuting between Filter Beds and No. 4 Reservoir 7am, also 3 Great Black-backed Gulls & pr Egyptian Geese (Davey Leach)
Walthamstow Reservoirs: LITTLE BUNTING again around seed tray and in hedge, Scaup on No 4 and pair of Goosander early, Green Sandpiper and Common Sandpiper, 3 Lapwing (Terry Rawlings, David Bradshaw, Chris Holt)
Walworth: Waite St/Nile Terrace - 30 Redwing on the continuation of the Surrey Canal Linear Path at 08:20 a.m. all getting ready to leave the country? (Terence Baker)
Wanstead Flats: 118+ Lapwing through mostly W, Skylark, 12 Shoveler, 2 Gadwall, 2 Pochard, Kestrel, 4 Redwing, 3 Mistle Thrush (Wanstead Birders)
Wanstead Park: 6 Lapwing W over Roding/OSW, 50+ Redwing, 30+ Fieldfare, 4 Siskin, 30+ Goldfinch, 2 Teal, 20 Shoveler, 2 Gadwall, pr Pochard, pr Great Crested Grebe, Goldcrest (Nick Croft/Simon Raper)
Weald CP: m Goosander on large lake), Lesser Spotted Woodpecker, 2 Nuthatch, Grey Wagtail am (John McLaughlin via EBwS BN)
West Putney, SW15: 2 Shelduck E, 3 Lapwing high W. (R.Kaye)
Sunday 25th February 2018 Edit
Alexandra Park: 20+ Redwings by old deer enclosure (Peter Corley)
Bexley: River Shuttle by Holiday Inn - Little Egret, 28 Lapwing over S (Ralph Todd)
Brent Reservoir: Little Egret, Common Buzzard NW, Green Sandpiper, 15 Lapwing N, 15 Common Snipe, Water Rail, 3 Cetti's Warbler (Brent Birders)
Broadfields Farm: 2 Bullfinch, 4+ Siskin (Andrew Cox via EBwS BN)
Brockwell Park: Trinity Church - m Peregrine perched for over 2 hours (Michael Mac)
Cassiobury Park: Egyptian Goose, Little Egret, 2 Little Owl, Lesser Spotted Woodpecker drumming briefly nr fishing lake, Reed Bunting (Ian Bennell via Herts BC)
Churchfields Gardens E18: 7 Redwing, 2 Mistle Thrush (Daniel Whitelegg) TQ403908
Copped Hall: f Bullfinch, 35+ Yellowhammer, 2 Red Kite, 2 Kestrel, 2 Comon Buzzard, 22 Red-legged Partridge, 84 Fieldfare, 20+ Redwing, 250+ Lapwing, 3 Linnet, 2 Mistle Thrush (Chris Baldwin)
Cranham Marsh NR: 100+ Fieldfare (Andrew Cox per ELBF FB)
Golders Green: Blackbird and 11 Feral Pigeons foraging in town centre 5am, 3 Robins singing near Golders Green Road hotels 5.10am (James Levy)
Hackney Downs: m Sparrowhawk sitting on hedge nr sparrow roost. Flew off over pub on corner of Downs (Sue Barry)
Heathrow: 5 Red Kite close to J5 M25 - closest to the airport I have ever seen. Probably the same birds as the ones seen at Yeading and Ten Acre Wood (Simon Robinson) Did you mean j15? as 5 birds where very near here when I did a delivery by the travel lodge in the morning and later 2 where over the BA cargo building displeasing the two peregrines which appear to have taken up residence [Glyn Nicholson-Ross]
Highfield Park: 30+ Yellowhammer flew off to roost from torch field (Andrew Steele via Herts BC) TL178063
Hilfield Park Reservoir: Common Scoter 1f still, 1f Goldeneye (Tony Blake)
Holyfield Hall Farm: 61 Lapwing SW (Neville Smith per ELBF FB)
Horton Country Park: 2 Bullfinches in Pond Wood (Bob Smith)
Kentish Town: 1 Rook S over Murphy's Yard NW5 at 10:35 (Frank Nugent)
Lamorbey Park: 3 Little Grebe, Little Egret, 2 Mute Swan, Cormorant, 17 Canada Geese, 8 Tufted Duck, 2 Teal, 40+ Mallard, 2 Common Gull, Stock Dove, Green Woodpecker, Song Thrush, 8+ Redwing, Goldcrest, Nuthatch, Jackdaw, 2 Goldfinch (Mike Amos)
Leatherhead: f Lesser Spotted Woodpecker (Neil Hilton via Twitter)
London Wetland Centre: 4 Shelduck, 4 Pintail, Goldeneye, Bittern, 206 Cormorant, Kingfisher wildside, 2 Stonechat, 8 Siskin (WWT website)
Longfield: 1 Red Kite, 26 Skylark, 18 Linnet, 5 Buzzard, 1 Peregrine, 3 Meadow Pipit (Roger Keith)
Middlesex Filter Beds: Firecrest (Steve Mason)
Mill Hill Cemetery: female Hawfinch - first I've seen in 20 plus years of birding there (Carol Turnham)
Morden Hall Park: female Black Redstart in paddock/car park walls mid-morning then towards house, 1 Little Egret, 1 Meadow Pipit, 2 Teal [patch-tick], 4 Grey Wagtail, 1 m Kingfisher, 1 Water Rail, 1 Cetti's Warbler, 2 Chiffchaff, c90 Black-headed Gull, 1 Sparrowhawk, 1 Kestrel, 5 Grey Heron, 2 Green Woodpecker (Arjun Dutta)
Penge: 16 Redwing, Mistle Thrush feeding together in Alexandra RG (Keith Chambers)
Pinner: 20 Blackbirds feeding on back lawn 07:50 (Richard Francis)
Prae Wood: 7 Red Kite, Hawfinch flew fr Wd SE across Bedmond Ln (Alan Gardiner via Herts BC) TL126068
Rainham Marshes: 3 Turnstones at Stone Barges, 22 Avocets in Aveley Bay (Sean Huggins)
Richmond: Eastern race Lesser Whitethroat still in back gardens of Selwyn & Pagoda Avenues. No parking charges on Sunday. (Franko J Maroevic)
Richmond Park: 1 Common Buzzard, 1 Green Woodpecker (OSL) 4th post w/o obs'r name
Ruislip Woods: 1 Red Kite over golf course at 09.05am, 40+ Redwing, 1 Goldcrest, 1 Sparrowhawk over Wiltshire Ln at 11.45am (Callum Farrell-Morris) Sorry you didn't get Hawfinch Callum. I ran around the area extensively but only heard them calling briefly where we first met. I fear they may have departed the area [RF]
Rye Meads RSPB: 50+ Shoveler, 2 Oystercatcher & Water Pipit fr gadwall_hide, Stonechat in meadow (Allan Meadows via Herts BC) NB Reserve reopens on Fridays as of 9 Mar
Sevenoaks WR: incl Black-necked Grebe still, Little Egret, Red Kite, Sparrowhawk, 2 Buzzard, 5 Snipe, also White-fronted Goose reported w/o details (per Susanna Clerici via Kent OS)
Staines Reservoir: AMERICAN HORNED LARK still (Kabir Kaul blog)
Sydenham Hill Wood: Firecrest on path between warden's storage in railway arch and the folly 4:45 p.m. (Terence Baker)
Ten Acre Wood area: pr Teal, 4 Buzzard 2pr, 3 Red Kite [2 loosely together & 1 flew several times fairly low over me - 1 bird appeared to have a vole in talons at one point], f Sparrowhawk, 2 Kestrel, 46 Lapwing, 7 Stock Dove, 5 Skylark, Fieldfare, 4 Reed Bunting, c30 Goldfinch, 6 Greenfinch, 2 Lesser Redpoll, 2 Linnet (Neil Anderson); pr Stonechat (Martin Musselwhite)
Totteridge Valley, Belmont Farm: 14 Canada Geese, 2 Mandarin Duck, 2 Sparrowhawk, 3 Common Buzzard, Coot, 21 Lapwing W/N, 22 Stock Dove, 3 Collared Dove, Fieldfare, Song Thrush, 99 Redwing, 100+ Starling, Grey Wagtail, Pied Wagtail, Hawfinch flew over calling 08:55 (Samuel Levy)
Walpole Park: 50+ Redwing (Zul Bhatia)
Walthamstow Forest: 2 Nuthatch, 1 Song Thrush (Daniel Whitelegg)
Walthamstow Reservoirs: LITTLE BUNTING still - flew into tree by path 1010 then onto favourite bush & into scrub betw bushes & seed tray; again 13:25-13:40 (Jonathan Wassevia Twitter); Scaup, Common Sandpiper and 5+ Goldeneye on Reservoir 4 [observer?]
Wanstead Flats: 91 Lapwing, 2 Skylark, Meadow Pipit, white-ringed Black-headed Gull T41U [new to us], 500+ Common Gull, f Stonechat, 3 Redwing, 7 Shoveler, 2 Gadwall, 3 f Pochard, Little Owl (Wanstead Birders)
Wanstead Park: 12 Fieldfare, 8 Redwing, Stock Dove, 40 Shoveler, 8 Teal, 4 Little Grebe, Little Egret, 2 Kingfisher, Nuthatch, Siskin, 2 Sparrowhawk (Nick Croft)
Water End: 22 Golden Plover low NW toward Welham Grn (Steven Pearce via Herts BC) TL229048
West Norwood Cemetery: 25 Redwing, Goldcrest, Coal Tit, Green Woodpecker (Michael Mac)
Woodberry Wetlands: 2 Lapwing over W at 09:05, 2 Peregrine, Snipe, 2+ Lesser Redpoll, 2 Shelduck, 5 Shoveler, Reed Bunting (Chris Farthing)
Wormley Wood: 2 Raven, c90 Hawfinch, 10 Brambling (Graham White via Herts BC)
Wormwood Scrubs: c12 Redwing, 2 Fieldfare, pr Kestrel (Charlie Farrell)
Yeading Brook Meadows: Little Egret, 5 Red Kite in air at one point in area south of shooting club [possibly other 1-2 birds later - the 5 probably including 2 of the 3 seen at Ten Acre Wood earlier. Big upsurge lately in sightings of this species], Water Rail, c90 Common Gull (Neil Anderson)
Saturday 24th February 2018 Edit
Alexandra Park: Treecreeper near Conservation Area bridge, also 7 Tufted Duck, 2 Great Crested Grebe Tunnel/Wood Green Res (Bob Watts)
Beddington Farmlands: Glaucous Gull and Iceland Gull (Twitter) pics
Brent Reservoir: 3 Little Egret 1 north res & 2 Staples river, 3 Green Sandpiper together in north marsh, 2 Lapwing, 12 Common Snipe, 2 Great Black-backed Gull adults on raft, Water Rail, 2 Cetti's Warbler; Fox out on mud (Oliver Simms, Andrew Verrall); 3 Green Sandpiper midday N Marsh (Roy Beddard)
Brookmill Park: Kingfisher, Goldcrest, 2 Redwing (Conrad Ellam)
Creekmouth, Barking: Iceland Gull juv flying toward Thames 1520, Marsh Harrier high W 15.44 (Jamie Partridge, Amy Gwatkin); 3 Oystercatchers, 2 Curlew, 19 Black-tailed Godwits, 37 Redshanks, 2 Common Sandpipers, 3 Grey Wagtails, 10+ Chiffchaffs, 2 Cetti's Warblers, Goldcrest, 7 Linnets (Sean Huggins)
Dagenham Chase: 2 Siskin, m Reed Bunting, 36 Fieldfare, 3 Snipe, 35 Lapwing, 2m Pochard, 3 Linnet, Sparrowhawk, 2 Kingfisher. 2 Rook (Vincenzo Halley-Frame per ELBF FB)
Enfield Chase: Stn - 34 Pied Wagtail pre-roost assembly on roof opposite 17:30 (Robert Callf)
Finchley: garden N3 - Tawny Owl calling 19:03 (Samuel Levy)
Guy Lodge Farm: Mediterranean Gull first-winter 15:30-15:40 at least in pig field, 19 Common Gull incl 12 first-winter (Robert Callf)
Hyde Park/Kensington Gardens: 14 Shoveler, Yellow-legged Gull adult, Norwegian colour-ringed Black-headed Gull, Little Owl nr Police Offices, 16 Redwing, Chiffchaff very pale bird but brief views and no call - Magazine, Firecrest male west side of nursery (N P Senior)
King Edward Memorial Park: 1 Chiffchaff, 1 Long-tailed Tit, 1 Wren, 1 Grey Wagtail on nearby jetty (R Werpachowski)
KGV Res: 41 Lapwing W, Shelduck, Greylag, 7 Goosander, 6 Pochard, m Scaup, m Smew, 26 Goldeneye, 12 Shoveler, Pheasant, Buzzard, 3 Kestrel, 2 Snipe, 4 Grey Wagtail, 2 Stonechat, Cetti's Warbler, 3 Chiffchaff, 50 Linnet (Neville Smith per ELBF FB)
Lamorbey Park: 2 Little Grebe, 1 Little Egret (Mike Amos)
London Wetland Centre: 2 Shelduck, Goldeneye, 9 Fieldfare, 12 Redwing, 2 Stonechat, 6 Siskin (WWT website); 2 Bittern, 1 Redshank (Shailesh Patel); 9 Pintail, 1 Peregrine on Ch. X Hosp., c10 Siskin, 2 Jack Snipe seen (Martin Honey et al.)
Muswell Hill: 9 Lapwing W 0925 (Matt Evans)
North Finchley: Hutton Grove N12 - 40 Redwing, 2 Coal Tit in the gardens (Samuel Levy)
Petts Wood: Coal Tit, drab Sparrowhawk, good numbers of Jackdaw and Carrion Crows, 2 Green Woodpecker, 3+ Goldcrest, Robins and Chaffinches presented (Jack Headley via Twitter)
Richmond: Eastern race Lesser Whitethroat still in back gardens of Selwyn & Pagoda Avenues. Parking charges apply Mon - Sat. Park only in visitors bays. (Franko J Maroevic)
Roding Valley Meadows LNR: 21 Lapwing W (Andy Tweed per ELBF FB)
Ruislip: High St - 1-2 Red Kite low over [different to Ruislip Gardens & Wood birds] (Neil Anderson)
Ruislip Gardens: Red Kite flitting back & forth over roof tops (Neil Anderson)
Ruislip Woods: 12+ Hawfinch down hill from Wiltshire Ln entrance very vocal 09:05 (Richard Francis); also 10 Shoveler flew in [Lido], 5 Buzzard [3 together edge Poors Field/Copse Wood & 2 over Park Wood], Red Kite N over golf course, c30 Redwing (Park Wood), 4 m Siskin feeding in birch at edge of Copse Wood (located as one bird briefly singing) (Neil Anderson/K. Bull)
Scotsbridge Mill Watercress Beds nr Rickmansworth: 2 Little Egret, 3 Water Rail, 2 Snipe, Kingfisher (Geoff Lapworth via Herts BC)
Sevenoaks WR: m Goosander, Black-necked Grebe still, 7 Snipe, Rook, Coal Tit, Nuthatch, 12 Redwing, Bullfinch, 5 Redpoll, 3 Siskin, Reed Bunting (per Susanna Clerici via Kent OS)
Southmere Lake: Little Gull 1st-winter at 1135 before flying off; also Danish-ringed Black-headed Gull (Richard Bonser)
Stanstead Abbotts Lakes - N lake: incl 2 Shelduck, Little Owl (Jane Free via Herts BC)
Swanscombe Marsh: adult Little Gull [Ldn foy] on Thames 10:20, 3 Marsh Harrier, 60 Lapwing, 2 Stonechat, 6 Cetti's Warbler, Raven (Andrew Self)
Thames Barrier Park: 1st-winter Yellow-legged Gull late a'noon (Richard Bonser)
Thorndon CP: s. section - Shoveler, 10+ Fieldfare, 60+ Redwing; n. section - 40+ Fieldfare, 10 Yellowhammer (Andrew Cox via EBwS BN)
Totteridge Valley/Darlands Lake: 2 Lesser Redpoll on a feeder, Siskin, 2 Bullfinch, 20 Redwing, 2 Fieldfare, Kingfisher, 5 Teal (John Colmans); also f Siskin, 3 Starling, 6 Redwing, 6 Fieldfare, Goldcrest, Kestrel, 35 Stock Dove mainly S, Cormorant SE, 11 Teal, 2 Mandarin Duck, Common Snipe flew through Cow Field at 18:17, pr Goosander high S 17:53, 2 Little Owl, 5 Lapwing W 16:08; also roost counts - 30 Canada Geese, 29 Mallard, 2 Grey Heron, Common Buzzard, 2 Coot, 17 Ring-necked Parakeet, 450+ Jackdaw, 150+ Carrion Crow, 62+ Rook, Raven came in with Rook at 17:50 cronking loudly then circled over the sheep fields before proceeding to roost with other corvids, 19 Meadow Pipit (Samuel Levy)
Walpole Park: 68 Redwing (Zul Bhatia)
Walthamstow Filter Beds: juv Glaucous Gull on green lawn area with other large gulls 8:45am (J.Murray)
Walthamstow Reservoirs: LITTLE BUNTING again around seed tray at 8am (J.Murray); & 13:30pm (BirdGuides)
Wanstead Flats: 107 Lapwings 08:30-10:30 mostly NW (Tony Brown via Twitter); 1 further Lapwing W, Common Snipe, Meadow Pipit, Stonechat, 2 Kestrel, 8 Shoveler, 2 Gadwall, 3 Pochard, Little Owl (Wanstead Birding)
Wanstead Park: Sparrowhawk, Kestrel, Nuthatch, 3 Siskin, Reed Bunting, Water Rail, Kingfisher, 4 Great Crested Grebe, Little Grebe, 24 Shoveler, 5 Teal, f Pochard, 2 Goldcrest, 15 Fieldfare, 7 Redwing (Nick Croft/James Heal)
West Thurrock: 46 Avocets (Andrew Self)
Whitechapel: Peregrine female flew south over Royal London Hospital 11:00am (D Fletcher)
Woodberry Wetlands: Water Rail, 3 Snipe, 3+ Lesser Redpoll, 2 Shelduck, 4 Shoveler, 3 Teal, Peregrine, 2 Reed Bunting (Chris Farthing)
Friday 23rd February 2018 Edit
Alexandra Park: Kingfisher female 1600 Conservation Pond, also c35 Redwing mostly hawthorn edge playing fields (Bob Watts)
Balls Wood: 5+ Woodcock (Jenny Sherwen/Andy Brown via Herts BC)
Boxhill: nr East Car Park - 10 Hawfinch top of a beech at 2pm was looking for Bramblehall Wood but not so easy to get to from train station, Red Kite, 30 Redwing (Michael Mac)
Bramblehall Wood: 300+ Hawfinch 07:00-08:45 south end of usual footpath (Michael and Paul Sell)
Brookmill Park: 2 Kingfisher, Great Spotted Woodpecker, 3 Redwing, Song Thrush, Firecrest, Goldcrest (Conrad Ellam)
Broxbourne Woods: 11+ Hawfinch in to roost pm (Laurence Drummond)
Eastcote: 2 Hawfinch at Eastcote CC 9:15 (Richard Francis)
Epping: 231 Pied Wagtail in Epping High St roost still 1930 (Roger Emmens via EBwS BN)
Finchley: garden N3 - m Blackcap (Samuel Levy)
Fishers Green: 2 Brambling, Nuthatch, Goosander old river Lee (Chris Baldwin)
Garden Wood: Woodcock, 10+ Hawfinch still (Steve Blake/Richard Coombes via Herts BC)
Gutteridge Wood: 2 Hawfinch at western extremity adj to Lynhurst Cresc (Martin Musselwhite)
Harefield: Harvil Rd - 2 Stonechat, 3 singing Skylark west of the road (Dan Pinkham)
Holland Park: c50 Redwing sports field (David Jeffreys)
Holmethorpe SPs: ad Mediterranean Gull Spynes Mere (Ian Eagle via Twitter)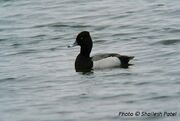 London Wetland Centre: 4 Shelduck, Stonechat f, Sparrowhawk, 2 Kestrel, 5 Pintail, Siskin & Tufted Duck x Pochard hybrid (Shailesh Patel); Goldeneye still, 2 Bittern, 15 Fieldfare, 21 Redwing, 2 Mealy Redpoll sheltered lagoon nr wader scrape hide & world wetlands/entrance lake, Lesser Redpoll NW, 16 Siskin (WWT website)
Maple Cross: 12 Brambling still - hedge west of the estate nr Hornhill Rd TQ024924, 6+ Yellowhammer still - field hedge west of estate Hornhill Rd end (Chris Bessant via Herts BC)
Margravine Cemetery: Kestrel [1st in many years] (Nathalie Mahieu)
Middlesex Filter Beds: 2 Chiffchaff, 1 Goldcrest by River Lea pm (Sue Barry)
Millfields Park E1: 2 Egyptian Geese, male Kestrel near River Lea (Ernest Thomason)
Oakwood: Bramley Rd N14 - female Kestrel (Robert Callf)
Pinner (The Croft): 40+ Redwing on field, 2 Ring-necked Parakeet, 6 Goldfinch, 3 Greenfinch (Nigel Barratt)
Rainham RSPB: incl 7 Marsh Harrier 4m 3f, 2 Oystercatcher, 37 Avocet, 1800 Lapwing, 95 Golden Plover, 100 Black-tailed Godwit, 3 Ruff, 400 Dunlin, 8 Snipe, pr Peregrine, Water Pipit (per ELBF FB)
Richmond: Eastern race Lesser Whitethroat still in back gardens of Selwyn & Pagoda Avenues, 1 Blackcap male, 1 Lesser Redpoll male, 1 Coal Tit. Parking charges apply Mon - Sat. Park only in visitors bays. (Franko J Maroevic)
Ruislip Woods: 6+ Hawfinch in Fore St/Salisbury Rd area 8:50 (Richard Francis)
St James's Park: A male Firecrest showing well again in the area just north of the toilets at Horse Guards Road (Frank Nugent); showed again at 12:45 but elusive (Andrew Self)
Sevenoaks WR: incl Black-necked Grebe still, 5 Grey Heron incl 1 on nest, Little Egret, 2 Sparrowhawk, Buzzard, 4 Snipe, 3 Coal Tit, 7 Goldcrest, 2 Treecreeper, 30 Redwing, 3 Bullfinch, 2 Lesser Redpoll, 60 Siskin (Susanna Clerici via Kent OS)
Stanstead Abbotts Lakes - N lake: 2 Goldeneye, 2 Oystercatcher, 2 Kingfisher (Jane Free via Herts BC)
Tottenham Hale: pair of Peregrine Falcons perched above small Tesco 08:45 within Hale Village Development. Appears to be a regular plucking post (Dave Nichols)
Walthamstow Reservoirs: LITTLE BUNTING again around seed tray, juvenile Glaucous Gull S over No 4, drake Scaup in NE corner of No 4 (David Bradshaw, Paul Whiteman)
Wanstead Flats: 8 Skylark, Meadow Pipit, 15 Shoveler (Nick Croft)
Wanstead Park: 15+ Fieldfare, 30+ Redwing in paddock, Siskin, Reed Bunting, 7 Teal, 17 Shoveler, pr of Nuthatch, Goldcrest, Sparrowhawk (Nick Croft/Tim Harris)
Woodberry Wetlands: 2 Water Rail 1 singing, 2 Snipe, Lesser Redpoll, 2 Shelduck, 2 Teal, Sparrowhawk, Reed Bunting (Chris Farthing)
Thursday 22nd February 2018Edit
Bramblehall Wood, Surrey: 420+ Hawfinch (Steve Gale) Hi, What's the best time to see them? We tried last weekend but we're too late in the day. Thanks GC (found them Sat am, thanks)
Cornmill Meadows: 90+ Wigeon, 16 Lapwing, Water Rail, Red Kite, 2 Common Buzzard, 2 Sparrowhawk, Green Woodpecker, 2 Treecreeper, 20+ Siskin, female Stonechat (Simon Papps)
Essendon: Woodcock, Hawfinch (per Herts BC)
Finchley: garden N3 - m Blackcap, f Sparrowhawk, 3 Stock Dove, Great Spotted Woodpecker (Samuel Levy)
Frays Farm Meadows LWT: Barn Owl 6.35am, 2 Green Woodpecker, Buzzard, 14 Meadow Pipit, Reed Bunting, 8+ Siskin (Dan Pinkham)
Gobions Wood: Marsh Tit (per Herts BC)
Greenhill Gardens: 22 Canada Geese, 10 Tufted Duck, 11 Coot, 3 Collared Dove, Coal Tit, 5 Goldcrest, 2+ Siskin (Samuel Levy)
Greenwich Ecology Park: 2 Little Grebe, Pheasant, 5 Redwing; 2 Teal & 3 Oystercatcher on Thames (John Bushell & Richard Green)
Hook, Chessington: 20 Redwing at TQ179655 (Nigel Jackman)
Howe Green: 2 Woodcock (per Herts BC)
Ingrebourne Valley: 2 Shelduck, 12 Snipe, 10 Skylark, 18 Meadow Pipit, 3 Lesser Redpoll (Dave McGough)
Ladywell Fields: Mandarin pair still present (Conrad Ellam)
London Wetland Centre: Mealy Redpoll 13:00 in alders with Siskin by WWF hide, 9 Pintail, 4 Shelduck, Goldeneye, 8 Siskin, 15 Fieldfare, 2 Redwing (WWT website)
Maple Cross: 5 Brambling & 3 Yellowhammer where field hedge west of estate meets Hornhill Rd (Chris Bessant via Herts BC) TQ024924
Millfields E5: Peregrine on sub-station pylon at 17:00 (Alastair Dent)
North Finchley: Sparrowhawk over the High Road (John Colmans)
Pinner (The Croft): Red Kite circling, 4 Greenfinch, 6+ Goldfinch, 2 Coal Tit, Green Woodpecker 2pm (Nigel Barratt)
Putney Heath: Snipe flushed adjacent to Ladies Mile near Kingsmere (Pete Haldane per Les Evans-Hill)
Rainham RSPB: 2 Little Egret, Red Kite, 2 Marsh Harrier, 2 Sparrowhawk, 25 Avocet, Golden Plover, 4 Curlew, 3 Ruff, 9 Snipe (per ELBF FB)
Richmond: Eastern race Lesser Whitethroat still in back gardens of Selwyn & Pagoda Avenues. Parking charges apply Mon - Sat. Park only in visitors bays. (Franko J Maroevic)
Richmond Park: Red Kite, Snipe (J.Wilczur); 2 Little Owl Pond Slade; over or in Queen Elizabeth's plantation - 2 Buzzard, 1 juv. Peregrine perched in an oak tree, 1 Great Spotted Woodpecker and 1 Treecreeper, 1f Stonechat on approach to Pen Ponds (Martin Honey & B. Page)
Ruislip Woods: 10+ Hawfinch in area close to the Lido perimeter fence south of Wiltshire Lane 10:20 (Richard Francis)
Rye Meads RSPB: 2 Peregrine [usual juv joined by ad] on pylon, mobbed by m Kestrel (Vicky Buckel via Herts BC/Twitter) TL388102
Sidcup: Marechal Niel Parade - Common Buzzard mobbed by Carrion Crows 11.00 (Conrad Ellam)
Southall: Red Kite over drifting ESE 14.15, f Blackcap on feeders (Phil Belman)
St James's Park: A male Firecrest is showing well in the area just north of the toilets at Horse Guards Road (Frank Nugent); escaped Harris's Hawk on Duck Island (Andrew Self)
Stoneleigh Station KT17: 30 Ring-necked Parakeet am - closing in on your Hawfinch numbers Steve (Neil Batten)
Trent Park: Hawfinch, Bullfinch, 7 Greenfinch, 4 Chaffinch, 2 Great Spotted Woodpecker displaying, Redwing, 5 Stock Dove (Pete Lowman)
Wanstead Flats: 2f Stonechat, 2 Redwing, Mistle Thrush, 2 Meadow Pipit, 3 Skylark, Reed Bunting, Little Owl, 6 Shoveler (Nick Croft/Marco Johnson)
Wanstead Park: 3 Nuthatch, Treecreeper, Coal Tit, Goldcrest, 20 Shoveler, 3 Teal, 3 Pochard, Little Grebe, pr of Great Crested Grebe, Kingfisher, 4 Siskin (Nick Croft/Marco Johnson)
Whitton: Kneller Gdns - 13 Mandarin Ducks on River Crane (Tony Leppard)
Woodberry Wetlands: 3 Snipe, 3 Lesser Redpoll, 2 Shelduck, 3 Teal, m Blackcap (Chris Farthing)
Wednesday 21st February 2018Edit
Barnet: garden EN5 - Fieldfare, 2 Blackcap m f, 2 Siskin (Roy Beddard)
Common Meadow: Firecrest in laurel bushes at entrance (D Hodges via Surrey BN) TQ159565
Creekmouth: 4 Egyptian Goose, Buzzard, 3 Oystercatcher, Curlew, 7 Black-tailed Godwit, Common Sandpiper, Green Sandpiper, 34 Redshank, 34 Redshank (Dave Morrison per ELBF FB)
Dartford Marshes: Little Egret, Marsh Harrier, 150 Lapwing, 20 Redshank, 10 Dunlin, Oystercatcher, Common Sandpiper, Curlew, 4 Stonechat, Water Pipit, 3 Reed Bunting (Conrad Ellam) 
Dollis Brook: Viaduct-Finchley Tennis Club - 6 Stock Dove, Great Spotted Woodpecker, Coal Tit, Nuthatch, Treecreeper, 4 Goldcrest, 12 Redwing (Samuel Levy) 
Finchley: garden N3 - m Blackcap, 3 Stock Dove, Green Woodpecker, Collared Dove, also Tawny Owl calling 18:45 (Samuel Levy)
Hampton Court (Home Park): Curlew seen and heard calling flew low from Home Park over Surbiton Passage Gate E/SE across Thames towards Surbiton at 18:00 (recorded call to confirm ID) (P. Redmond)
Holmethorpe SPs: 1st-winter Yellow-legged Gull on Mercers Lake late afternoon (David Campbell)
Ingrebourne Valley: m Pintail, Sparrowhawk, Green Woodpecker, Kingfisher (Tom Bell per ELBF FB)
Ladywell Fields: 2 Mandarin Duck m f, 30 Redwing, singing Song Thrush (Tom Moulton); 15 Black-headed Gull, 97 Redwing 94 feeding on ground within athletics track, 3 Song Thrush 1 singing, 2 Mandarin Duck m f, Fieldfare 15.00-16.00 (Keith Chambers)
London Wetland Centre: 1 Dunlin grazing marsh, 2 Bittern, 7 Pintail, 18 Fieldfare, 2 Redwing, 2 Peregrine on Ch. X Hospital, 1 Grey Wagtail, 4 Stock Dove, 1 Water Rail, 1 Cetti's Warbler, 1 Goldeneye (Martin Honey & B. Page)
Maida Vale: Common Buzzard flew NE over Greville Place at 1205, f Sparrowhawk here too (Pete Mantle)
Middlesex Filter Beds: 5 Siskins in NE corner (J-P Elmes)
Millfields E5: Peregrine on the sub-station pylon at 08:10, potential breakfast included 2 Stock Dove in the orchard below, 1 Redwing in trees across the canal (Alastair Dent)
Molesey Heath: Cetti's Warbler along R Mole (Mark Davis via Surrey BN)
Oxleas Woods: Firecrest, 2 Coal Tit, Nuthatch, Great Spotted Woodpecker, Sparrowhawk f, Wren (Eric Brown); 5 Great Spotted Woodpecker, Kestrel, 12 Goldcrest, 5 Jackdaw, 3 Stock Dove, 5 Coal Tit, 2 Firecrest, Green Woodpecker, 7 Goldfinch, 2 Song Thrush, Nuthatch, 2 Treecreeper, 3 Chaffinch (Ron Turner)
Pinner: Red Kite over Lloyd Court at 08:50 and 11:00 (Richard Francis)
Pinner (The Croft): 40+ Redwing in trees east side, 1 Lesser Black-backed Gull, 10+ Black-headed Gull (Nigel Barratt)
Rainham RSPB: incl 16 Pintail 8pr, 28 Pochard, 2 Little Egret, Great Crested Grebe, 25 Avocet, 1800 Lapwing, Curlew, 3 Black-tailed Godwit, 3 Ruff, 100 Dunlin, 53 Redshank, 12 Snipe, m Kestrel, m Peregrine5m Cetti's Warbler, Chiffchaff, 6 Stonechat, 2 Bullfinch (per ELBF FB)
Richmond: Eastern race Lesser Whitethroat still in back gardens of Selwyn & Pagoda Avenues. Parking charges apply Mon - Sat. Park only in visitors bays. (Dave Campbell, Tony Quinn, Franko J Maroevic)
Roding Valley Meadows LNR: 3 Goosander (Andy Tweed per ELBF FB)
Staines Moor: several [minimum estimate pls?] Water Pipit (Jim Fell, Charles Youell)
Ruislip Woods: 45 Hawfinch Park Wd nr Ruslip Lido perimeter fence towards Haste Hill GC 0945 (Tim Clark via Twitter); Fore St/Salisbury Rd entrance - Hawfinch atop tall tree 3pm (Nigel Barratt)
Rye Meads RSPB: Oystercatcher (Mary Smith via Twitter)
Staines Reservoir: AMERICAN HORNED LARK in front of middle alcove, still 2 Black-necked Grebe, drake Scaup, Redshank (Dominic Pia via Twitter); Raven around north bank fr Stanwell Moor Rd (Jim Fell, Charles Youell)
Swanscombe Marsh: 4 Greylag Goose, 6 Canada Goose, 6 Cetti's Warbler h, 2 Kestrel pr courting, 1 Reed Bunting m in song, 2 Water Rail h, 1 Little Grebe, 2 Marsh Harrier, 1 Buzzard, 5 Stonechat incl pr, 5 Pochard 3m 2f on Black Duck Marsh, 1 Wigeon over BDM, 4 Meadow Pipit, 1 Skylark, 1 Heron on BDM nest, 1 Green Woodpecker, 25 Teal, 34 Gadwall, 16 Redshank, 1 Curlew, 212 Lapwing, 3 Stock Dove, 2 Linnet, 10 Long-tailed Tit, 18 Magpie - 9.00-13.00 low tide (Roger Keith)
The Ridgeway, Mill Hill: 2 Canada Geese, 10 Redwing (Samuel Levy)
Theobalds Park: Barn Owl over A10/A121 rbt 0410 (Mike Oakland via Herts BC) TL352009
Tower Hamlets Cemetery Park: Firecrest male but mobile Lodge Wood 1240 (Bob Watts)
Trent Park: G S Woodpecker, 5 passerines viewed at distance ,bins only, in direct flight SE to NW over old Golf Course and Rough lot were almost certainly Hawfinches, 5 Pochard 3m,2f, Rook, 2 Song Thrush, m Tufted Duck. ( Pete Lowman ).
Walthamstow Reservoirs: LITTLE BUNTING again on seed tray and in hedge, Scaup on No 4, Stonechat and Lapwing on East Warwick (David Bradshaw, Paul Whiteman)
Wanstead Flats: 6 Shoveler, 4 Gadwall, f Pochard, Common Gull J8M4 on Jub, Kestrel, 4-6 Skylark, Reed Bunting, Redwing, 4 singing Song Thrush (Nick Croft)
West Thurrock: foreshore - 5 Avocet, 3 Shelduck, 2 Oystercatcher (Roger Keith)
Wimbledon Common: 2 Meadow Pipit on the Plain (Les Evans-Hill)
Woodberry Wetlands: 2 Water Rail, 3 Snipe, 5 Lesser Redpoll, 2 Shelduck, 3 Teal, Reed Bunting (Chris Farthing)
Tuesday 20th February 2018Edit
Alexandra Park: Treecreeper heard 0640 from main path just south of Conservation Pond (Bob Watts)
Amwell NR: 4 Goldeneye m 3f TL379124, rh Smew still TL381123 (Steve Blake via Herts BC)
Bramblehall Wood: 200 Hawfinch (S Thomas)
Brent Reservoir: Little Egret behind dam (Andrew Self)
Brookmill Park: Firecrest, Little Egret, Kingfisher, 7 Redwing (Conrad Ellam & Tom Moulton)
Bushy Park: 4 Green Woodpecker, Kestrel (on ground with kill), 4 Song Thrush, 2 Stonechat, 75+ Woodpigeon E 7.20 (Ian R Watson)
Dulwich Park: 2 Stock Dove, 2 Shoveler (Paul Collins)
Ellenbrook Fields: 2 Stonechat m & f along fence at back of old BT site toward Beech Fm (Rupert Evershed via Herts BC) TL205090
Finchley: garden N3 - Tawny Owl calling 01:40 & 22:50 (Samuel Levy)
Gidea Park: Nuthatch (per ELBF FB)
Grovelands Park: 2 Little Grebe, Great Crested Grebe, 5 Mute Swan pr displaying and copulating and 3 first-winter, 2 Greylag Goose pr, male Egyptian Goose, 38 Mandarin Duck 25m 13f, 3 Shoveler 2m 1f, 17 Tufted Duck 10m 7f, 3 Common Gull incl first-winter, 2 adult Herring Gull, 7+ Stock Dove, Green Woodpecker, Great Spotted Woodpecker, 2 Song Thrush incl one singing male, 2 Mistle Thrush pr, 2 Goldcrest, 2 Nuthatch (Robert Callf)
Hayes, Middx: Red Kite hawking low over roof tops Fremantle Way late am & early pm, movement of 70+ winter thrushes mainly Redwing low possibly in response to raptor in nearby retail car park; Coldharbour Ln - 2 different Red Kite circling above & Buzzard mobbed by 2 Crow (Neil Anderson)
London Wetland Centre: 4 Shelduck, 6 Pintail, Bittern, 2 Fieldfare, Grey Wagtail, 4 Siskin (WWT website; Common Buzzard E at 11.15, 147 Lapwing, Water Pipit (Simon Fogg); 6 Common Snipe, 13 Fieldfare, 1 Redwing, 16 Siskin, 1 Peregrine, 3 Stock Dove, 120+ Cormorant (Martin Honey)
Maple Cross: 2 Brambling m & f in hedge at southern end of footpath from Hornhill Rd to Chalfont Rd (Pete Waldron via Herts BC) TQ024923
Oak Hill Woods: Great Spotted Woodpecker drumming, Nuthatch calling (Bob Husband, Dianne Murphy)
Pinner (The Croft): 20+ Redwing 6 Goldfinch (Nigel Barratt)
Rainham RSPB: Oystercatcher (Andy Tweed per ELBF FB); 5 Ruff, Firecrest (David Bradnum per ELBF FB)
Richmond: Eastern race Lesser Whitethroat still in back gardens of Selwyn & Pagoda Avenues. Parking charges apply Mon - Sat. Park only in visitors bays. (Franko J Maroevic)
Ruislip Woods: 5 Hawfinch - 3 at north end near golf course 15.00 and 2 just in from Fore St/Salisbury Rd entrance 15.30. Flock of 8 also reported to me by another observer. (Alex Massey)
Staines Moor: 2 Water Pipit, 4 Stonechat, Kestrel (James Hudson)
Staines Reservoir: AMERICAN HORNED LARK still 10:30am west end of causeway south side, also 2 Black-necked Grebe, 3 Goldeneye 2m 1f, Oystercatcher, Red Kite (James Hudson via Twitter)
Totteridge Valley/Darlands Lake: 4 Canada Geese, 2 Mandarin Duck, 11 Teal, Little Egret, Sparrowhawk, 7 Lapwing in Lapwing_Field, 65 Black-headed Gull, 268 Common Gull, 21 Stock Dove, 39 Rook, 4 Goldcrest, 53 Fieldfare, 70 Redwing, 2 Song Thrush, 2 Mistle Thrush, 145+ Starling, Pied Wagtail, Hawfinch perched at the top of tree E of Burthonhole Ln, Greenfinch, 3 Bullfinch 1 old gropper field & 2 Owl_Field), 12 Goldfinch, 12 Siskin (Samuel Levy)
Walthamstow Filter Beds: ad Mediterranean Gull, 3 Grey Wagtail, 2 Meadow Pipit (Dan Barrett per ELBF FB)
Walthamstow Reservoirs: 4 Goldeneye 2 pairs on Lockwood, 2 Teal 1 pair on High Maynard, 1 Common Sandpiper. (Daniel Whitelegg); Scaup, Kingfisher, LITTLE BUNTING (per ELBF FB)
Wanstead Flats: Little Owl, Peregrine Falcon, 5 Skylark, 2 Meadow Pipit, 2 singing Song Thrush, Redwing, 7 Linnet, Reed Bunting, 2 Stock Dove, Stonechat, 5 Shoveler, 2 Teal, 4 Gadwall, 5 Pochard, 18 Tufted Duck (Nick Croft)
Wanstead Park: 2 Nuthatch, Treecreeper, Chiffchaff, 7 Siskin, 50+ Fieldfare, 20+ Redwing, Little Egret, Little Grebe, pr of Great Crested Grebe, 2 Sparrowhawk, 36 Shoveler, 13 Teal, 2 Gadwall, 3 Pochard, 15 Tufted Duck, 2 Stock Dove, Goldcrest (Nick Croft)
Woodberry Wetlands: 2 Snipe, 2 Lesser Redpoll, 2 Shelduck, 12 Shoveler, Reed Bunting (Chris Farthing)
Monday 19th February 2018Edit
Aldgate: flyover Grey Wagtail (Charlie Farrell)
Amwell NR: 2rh Smew roosted again opp gladwyn hide on small island eve'g (Ron Cousins via Twitter)
Balls Wood: Woodcock (Andy Brown via Herts BC) TL342103
Barn Elms Playing Fields: 1130 Black-headed Gull - foraging late afternoon (J.Wilczur)
Blunts Farm: Stonechat (per ELBF FB)
Bramblehall Wood: 255+ Hawfinch (Steve Gale) Location please. You'll find everything you require on Steve's blog 'North Downs and Beyond' [RF]
Brookmill Park: 2 Kingfisher, 2 Redwing, Song Thrush, Goldcrest, Coal Tit (Conrad Ellam)
Bushy Park: Great Spotted Woodpecker, 3 Green Woodpecker, 5 Song Thrush, 240+ Woodpigeon E 7.15 (Ian R Watson)
Canons Farm: Woodcock & 2 Barn Owl Reads Bottom eve'g (Ian Magness via CFBW blog)
Chessington: Public footpath Green Ln to Horton CP - 8 Yellowhammer, 6 Reed Bunting, 25+ Pied Wagtail, 200+ Redwing, 10 Fieldfare, 1 Skylark (John Gordon) TQ188630
Dollis Brook, Holders Hill: Little Egret, 14 Redwing, Pied Wagtail, 2 Fieldfare (Samuel Levy)
Finchley: Garden N3 - M Blackcap still, 3 Stock Dove, 2 Great Spotted Woodpecker (Samuel Levy)
Friday Lake: red-head Smew (Simon Papps)
Gough Park, Forty Hill: Treecreeper (Robert Callf)
Hampstead Heath: 1 Egyptian Goose, 1 Grey Heron 'grazing' in grass & reeds near women's pond (Kay Taylor)
Highfield Farm: Woodcock, 40+ Hawfinch over Knights Wood toward Tyttenhanger GPs 1230 (Rupert Evershed via Twitter)
Highfield Park: c200 Fieldfare, c150 Redwing, Hawfinch w/ Fieldfare & Redwing flock, 20+ Yellowhammer incl 2+ singing (Rupert Evershed via Twitter)
Hornchurch: Grey Wagtail (on roof of Havering Sixth Form College) at 15:45 (G J Francis)
Kennington: Ashmole Primary School - 10 House Sparrows, 1 Great Spotted Woodpecker (Michael Mac)
Lee Valley, Hooks Marsh/Waltham Abbey Woods: 220+ Siskin (Simon Papps)
London Wetland Centre: 2 Bittern, 2 Jack Snipe, 20 Siskin, 6 Pintail, Goldeneye, 13 Fieldfare, 2 Redwing, 3 Snipe, 4 Shelduck, Grey Wagtail (WWT website); Caspian Gull sub adult - different to the one on the 13th (J.Wilczur)
Maple Cross: 4 Red Kite, 2 Brambling & 9 Yellowhammer (Anna Marett & David Neal via Herts BC)
Margravine Cemetery: 29+ Redwing (Nathalie Mahieu)
Mayesbrook Park: Snipe, ad Mediterranean Gull (Alan Shearman per ELBF FB)
Rainham RSPB: 50 Black-tailed Godwit, 21 Avocet, 3 Ruff, 500 Dunlin (Andy Tweed per ELBF FB)
Raynes Park: garden - Green Woodpecker, 2 Goldfinch, Coal Tit, Long-Tailed Tit (v rarely seen here), Collared Dove, Goldcrest climbed 30ft pear tree singing all the way! (P. Redmond)
Richmond: Eastern race Lesser Whitethroat still in back gardens of Selwyn & Pagoda Avenues. Parking charges apply Mon - Sat. Park only in visitors bays. (Franko J Maroevic)
Ruislip Woods: 4+ Hawfinch in woods next to Waters Meet car park 9:20 & also at northern edge of Bayhurst Wood 9:45 and in area of Fore St/ Salisbury Rd at 10:15 (Richard Francis) Viewed during a 10 mile run, if wondering about the times.
St Mary Cray: High St - 1 Little Egret next to church flying along the River Cray (Jack Headley)
Sevenoaks Wildfowl Reserve: 3 Little Grebe, 1 Black-necked Grebe (now from fishing bay 41), 1 Snipe, 100+ Siskin, 1 Lesser Redpoll (Jack Headley)
Springfield Park: 2 Goldcrests behind the Marina a Water Rail being very obliging (J-P Elmes)
The Ridgeway, Mill Hill: 2 Canada Geese & Coot on Sheepwash Pond (Samuel Levy)
Waltham Marsh: Peregrine Falcon (Simon Papps)
Walthamstow Reservoirs: LITTLE BUNTING again at the seed tray and in hedge, Scaup on No 4, 9 Goldeneye and 70+ Fieldfare across the reservoirs (David Bradshaw)
Weybridge: Red Kite circling over Morrisons 1345 (Lee Dingain via Twitter)
Whitewebbs Park: 24 Mandarin Duck 16m 8f ornamental pond, Goldcrest, Nuthatch, 2 Treecreeper, 30+ Chaffinch (Robert Callf)
Wimbledon Common: Lesser Spotted Woodpecker calling near Thatched Cottage (Les Evans-Hill)
Woodberry Wetlands: Water Rail, 2 Snipe, 2 Lesser Redpoll, 2 Shelduck, m Blackcap, Teal, Sparrowhawk (Chris Farthing)
Worcester Park: 160 Redwing on horse fields (Bob Smith)
Sunday 18th February 2018Edit
Alexandra Park: WeBS - 391 Black-headed Gull, 33 Common Gull, 10 Herring Gull, 5 Lesser Black-backed Gull, 45 Tufted Duck, 6 Pochard, drake Aythya hybrid, 46 Mallard, 2 hybrid Mallard, Aylesbury Duck, 2 Cormorant, 2 Mute Swan, 22 Coot, 18 Moorhen, Great Cresterd Grebe, 50+ Redwing (Bob Watts)
Amwell NR: 2 Great White Egret perched atop tree 0900 fr viewpt (Twitter)
Canons Farm & Banstead Woods: CF - Buzzard, 2 Woodcock flew into Ruffettt Wood c1800, Little Owl, 30 Redwing; BW - 2 Hawfinch flew from Harholt Plantation north side toward Coneyboro Hill 1600 (Ian Ward via CFBW blog)
Brent Reservoir: 25 Common Snipe, 4 Water Rail, fem Peregrine, 2 fem Sparrowhawk, Kingfisher, 3 Cetti's Warbler, 5 Siskin, Common Buzzard, Great Black-backed Gull, Little Egret (Brent Birders); 7 Fieldfare, Grey Wagtail, 14 Redwing, fm Bullfinch, 5 Greylag Goose incl 3 leucistic (Francis O'Sullivan); Kestrel over Shrike Field (Andrew Haynes).
Brookmill Park: Firecrest, 2 Goldcrest, 2 Kingfisher, Great Spotted Woodpecker, 2 Song Thrush, 3 Redwing (Conrad Ellam)
Cornmill Meadows: Siberian Chiffchaff seen well at 09:05 and calling for two minutes in woodland on edge of old River Lee 300 yards west of weir pool then flew and landed in the canopy further east, also 50 Siskin, 2 Coal Tit, Treecreeper, 2 Goldcrest (Martin Shepherd)
Dagenham Chase: 2 Mute Swan, 62 Canada Geese, 22 Greylag, 4 Egyptian Goose, Shelduck, 20 Shoveler, 34 Wigeon, 49 Mallard, 26 Gadwall, 19 Teal, 3 Pochard, 32 Tufted Duck, 4 Grey Heron, 3 Cormorant, Sparrowhawk, 5 Buzzard, Water Rail, 15 Moorhen, 39 Coot, Kingfisher, 14 Snipe, 33 Lapwing, Green Sandpiper, 353 Black-headed Gull, ad Mediterranean Gull, 15 Common Gull, 5 Herring Gull, 5 Lesser Black-backed Gull, Kestrel, 4 Linnet, 4 Reed Bunting (Vincenzo Halley-Frame per ELBF FB)
Dollis Brook: viaduct-Finchley Tennis Club - 8 Goldcrest, Stock Dove, Siskin (Samuel Levy & Nicola Goldsmith)
Epping: 2 Buzzard pr soaring together (Roger Emmens via EBwS BN)
Finchley: garden N3 - m Blackcap (Samuel Levy) SL - I'm currently helping with a three colour ringing study of over wintering Blackcaps in the UK. Finchley is within my study area. Would you be interested in assisting. Would need to colour the bird in your back garden and then follow up obs by yourself over the next two winters. [Bill Rutherford] Hi Bill - If you send me an email to Samuel@atlantic.demon.co.uk, then I would be happy to help! (SL)
Fishers Green: Bittern, Brambling, rh Smew, Water Rail, 2 Redpoll, 40+ Linnet, Coal Tit, 6 Greenfinch (Chris Baldwin)
Garden Wood: 10+ Hawfinch still, 6 Lesser Redpoll (Rupert Evershed via Herts BC)
Grovelands Park: 1st W Mediterranean Gull at 3.50pm with feeding gull flock, 16 Mandarin 8pr, pr Egyptian Geese, pr Treecreeper, 6 Nuthatch, 8 Goldcrest, 5 Coal Tit, 12 Redwing, 14 Stock Dove, 2 Great Spotted Woodpecker, Green Woodpecker (Davey Leach) Hi Davey, was the Med Gull on the lake or on grassland? R Callf
Island Barn Res: Glaucous Gull 1st w and Mediterranean Gull (Chris Turner)
Isle of Dogs: Little Egret flew S over Chapel House St (Sean Huggins)
Leatherhead: f Lesser Spotted Woodpecker still in oak tree by leisure centre (Dave Kendrick via Surrey BN)
Lippitts Hill: 2 Hawfinches in horse-paddock hedge (Ian Bradshaw)
London Wetland Centre: incl WeBS survey - 4 Shelduck, 12 Pintail, 4 Bittern, 3-4 Jack Snipe, 5 Snipe, 18 Fieldfare, 2 Redwing, 3 Stonechat (WWT London website/Twitter)
Maple Cross: 9 Brambling & 7 Yellowhammer field hedge west of estate (Chris Bessant via Herts BC) TQ024924
Middlesex Filter Beds: 1 Kingfisher, 2 Goldcrest, 2 Grey Wagtail, 1 Kestrel, 1 Firecrest reported 11:00-11:30 (Alastair Dent)
Millfields E5: Peregrine on sub-station pylon after unsuccessful dive at pigeons at 14:30 (Alastair Dent)
Morden Hall Park: Buzzard over (MHP NG twitter)
Munden Estate nr Bricket Wood: Kingfisher, 2 Raven (Tony Bates via Herts BC)
Olympic Park: 2 singing Cetti's Warbler, 2 calling Water Rail, 4 Linnet (Stuart Fisher)
Peckham Rye South: 6 Redwing (Keith Chambers)
Primrose Hill: another Rook [scarce here] SW 0805; little else moving am except 46 more Woodpigeon high NW 07:30-09:00 (Twitter)
Rainham Marshes: 3 Reed Bunting, 23 Avocet, 4 Stonechat, Cetti's Warbler, 3 Kestrel, 4 Skylark, 4 Marsh Harrier, 100+ Dunlin, 6 Pintail, Snipe, Curlew (Jack Headley); also 24 Avocet, 5 Curlew, 15 Black-tailed Godwit, 200 Dunlin, 8 Snipe, Barn Owl, Peregrine, Rook, Chiffchaff, 5 Stonechat, Water Pipit, Rock Pipit (per ELBF FB); Thames Purfleet - Little Egret, ad m Marsh Harrier, 26 Avocet, 463 Lapwing, 5 Golden Plover, 16 Curlew, 11 Black-tailed Godwit, 302 Dunlin, Jack Snipe, Green Sandpiper, 2 Mediterranean Gull ad 2w, 2 Yellow-legged Gull, Rock Pipit (Fraser Simpson via Twitter)
Richmond: Eastern race Lesser Whitethroat still in back gardens of Selwyn & Pagoda Avenues. Parking charges apply Mon-Sat. Park only in visitors bays. (Franko J Maroevic)
Ruislip Woods: 12+ Hawfinch 10+ south of Wiltshire Ln entrance 10:00 & 2 at Fore St/Salisbury Rd entrance 10:15 (Richard Francis); 2 Stock Dove, Treecreeper, female Bullfinch, 3 Greenfinch, 5+ Redwing (Nigel Barratt)
Staines Reservoir: AMERICAN HORNED LARK still (Kabir Kaul via Twitter); WeBS count most duck numbers have decreased - 3 Shelduck, 66 Shoveler, 255 Wigeon, Scaup, 21 Goldeneye, 2 Black-necked Grebe, Redshank, Mediterranean Gull (Allan Goddard via Twitter)
Sevenoaks WR: incl WeBS count - 58 Canada Goose, 72 Greylag, 8 Egyptian Goose, 2 Mandarin, 8 Shoveler, 35 Gadwall, 20 Wigeon, 44 Mallard, 25 Teal, 9 Pochard, 77 Tufted Duck, 10 Little Grebe, 23 Great Crested Grebe, Black-necked Grebe still, 4 Grey Heron, 13 Cormorant, 2 Sparrowhawk, Buzzard, 22 Moorhen, 93 Coot, 21 Lapwing, 2 Snipe, 94 Black-headed Gull, 60 Common Gull, 2 Herring Gull, 6 Great Spotted Woodpecker, Green Woodpecker, 2 Ring-necked Parakeet, Jay, 2 Treecreeper, 11 Song Thrush, 2 Lesser Redpoll, 15 Goldfinch, 115 Siskin (per Susanna Clerici via Kent OS)
Stanwell Moor: Cetti's Warbler, Chiffchaff, Stonechat (Dom Pia via Twitter)
Stoke Newington: NB reported American Robin is a hoax - 2014 internet photo (Twitter)
Ten Acre Wood area: 9 Teal, 2 Pheasant heard, 3 Buzzard pr together, Red Kite, 37 Lapwing, Snipe, 10 Stock Dove, 5 Green Woodpecker, 6 Skylark 1 singing, 60+ Redwing 9 in wood, 6 singing Song Thrush, singing Mistle Thrush, Treecreeper heard, Nuthatch, record 3 Coal Tit pr together, 3 Goldcrest, Lesser Redpoll, 5 Greenfinch, 6 Reed Bunting (Neil Anderson)
Thorpe Water Park: Oystercatcher (Kevin Duncan via Surrey BN)
Walthamstow Wetlands: LITTLE BUNTING showed on seed tray around midday, drake Scaup still on No4, 7 Goldeneye, 2 Shelduck, Common Sandpiper No4, Water Rail, Kingfisher, Little Egret, 2 Peregrines, Cetti's Warbler (Tom Jordan, Bob Husband, Fay Broom, Mike Cawthorne)
Wapping Canal: Kingfisher again (Roman Werpachowski)
Watercress LNR: c25 Lesser Redpoll, c25 Siskin (Dan Fletcher via Herts BC)
Weald CP: Sparrowhawk, Buzzard, 4 Great Spotted Woodpecker, 3 Green Woodpecker, 3m Song Thrush, m Mistle Thrush, Goldcrest singing, 6 Nuthatch, 3 Treecreeper pr & 1 singing, 2 Siskin (Andrew Cox)
Wyck Gardens (Brixton): 7 Redwing (Matthew J. Bradbury)
Saturday 17th February 2018Edit
Alexandra Park: male Peregrine flew from palace building transmitter and over filter beds 1130 (Bob Watts); Treecreeper Blandford Hall (Greg Smith)
Arnos Park: Grey Wagtail along Pymmes Brook, singing male Song Thrush (Robert Callf)
Belvedere, River Thames: foreshore - incl. 19 Black-tailed Godwit, 2 Chiffchaff, 300+ Dunlin flying upstream, 2 Gadwall, 4 Lapwing, 5 Redshank, 7 Ringed Plover, 2 Shelduck and 21 Teal (Mike Robinson)
Box Hill: 80+ Hawfinch (Roy Weller)
Bramblehall Wood: 300 Hawfinch (Steve Gale) 
Brent Reservoir: Little Egret, Sparrowhawk, Water Rail, 8+ Common Snipe, 2 Cetti's Warbler, m Reed Bunting (Andrew Haynes, Andrew Verrall, Roy Beddard) 
Brookmill Park: Common Gull, Stock Dove, Kingfisher, Song Thrush, 4 Redwing (Conrad Ellam) 
Broomfield Park: 2 Egyptian Goose pr, 2 Mandarin Duck pr, 8 Shoveler 4m 4f, 23 Tufted Duck 14m 9f, 2 adult Lesser Black-backed Gull, 2 singing Collared Dove, Wren, singing Dunnock (Robert Callf)
Bushy Park: 2 Great Spotted Woodpecker, Green Woodpecker, 4 Mistle Thrush, Nuthatch, 2 Song Thrush, Treecreeper (Ian R Watson)
Cowley: Business Pk UB8 - 1 Little Egret in R Frays (Roger Dewey)
Creekmouth: Siberian Chiffchaff again - elusive & mobile but calling near large conifers three-quarters of way down main track to Thames on W side, 10+ Common Chiffchaffs, Green Sandpiper, Common Sandpiper, 7 Black-tailed Godwits, Sparrowhawk, 2 Egyptian Geese, 4 singing Song Thrushes, 4 Grey Wagtails, singing Goldcrest, 4 Reed Buntings, 4 Cetti's Warblers (Sean Huggins)
Crossness: 100 Lapwing, 400 Dunlin, 50 Redshank, 4 Black-tailed Godwit, 3 Common Snipe, Curlew, Common Sandpiper, Peregrine, Meadow Pipit, 4 Stonechat, Fieldfare, 10 Redwing, Chiffchaff, Cetti's Warbler, 2 Linnet (Conrad Ellam)
Erith Reach: foreshore - incl. 100+ Black-tailed Godwit, 1 Dunlin, an Oystercatcher and 29 Redshank (Mike Robinson)
Fulham Reach: foreshore - 7 Great Black-backed Gull (Nathalie Mahieu)
Greenwich Peninsula Ecology Park: no sign Jack Snipe, Chiffchaff, 2 Siskin (Richard Green via Twitter)
Lamorbey Park: 2 Little Egrets on adjacent golf course lake (Mike Amos)
London Wetland Centre: 4 Shelduck, 7 Pintail, 2 Bittern, 3 Snipe, Peregrine, 11 Fieldfare (WWT website)
Mickleham Downs: 7 Hawfinch (Steve Gale)
Mile End Park: 2+ Redwing near Gunmakers Arms Bridge (D Fletcher)
Millfields E5: Peregrine plucking a Woodpigeon on the sub-station pylon 17:00-17:30 (Alastair Dent)
Palmers Green: Bridge Drive N13 nr Morrison - 6 Greenfinch 16:50 (Robert Callf)
Pimlico Gardens: Caspian Gull 2cy upriver at 16.05 (N P Senior)
Poor's Field: 2 Hawfinch on west side (Michael Robinson)
Primrose Hill: 19 Stock Dove N, 41 Woodpigeon high NW, Collared Dove WSW 0725, 5 Fieldfare NW 3 & 2 - skywatch 06:55-09:30; also 2m Peregrine [SSE 15:25 & SE 15:45], Rook foy S 1140, flock of 70 Starling yr-high, c20 Redwing (Twitter)
Putney Heath: 4 Shoveler 2m 2f Kingsmere (Les Evans-Hill)
Rainham Marshes: ad Mediterranean Gull roosting Coldharbour Pt am (Jonathan Wasse via Twitter); 150 Canada Goose, 20 Greylag, 48 Shelduck, 28 Shoveler, 8 Gadwall, 1062 Wigeon, 25 Pintail, 362 Teal, 2 Pochard, 26 Tufted Duck, 4 Great Crested Grebe, 2 Little Egret, 5 Marsh Harrier, 4 Buzzard, 2 Water Rail, 35 Coot, 23 Avocet, 1500 Lapwing, 3 Curlew, 65 Black-tailed Godwit, 2 Ruff, 240 Dunlin, 4 Snipe, 16 Redshank, Barn Owl, Green Woodpecker, Bearded Tit, 7 Skylark, Chiffchaff, 10 Stonechat, 22 Meadow Pipit, Corn Bunting (per ELBF FB)
R Thames, Putney-Barnes Bridges: part of WeBS - 221 Mallard, 227 Teal, 20 Gadwall, 19 Tufted Duck, 3 Mandarin 2 m & leucistic f, 7 Egyptian Geese, Peregrine Charing x Hospital, record count of 22 Great Black-backed Gull (Neil Anderson)
Ruislip Woods: 5 Hawfinch in the centre of Park Wd accessed from Wiltshire Ln, also 25 Fieldfare in the paddocks (Nigel Dodd)
Rye Meads: Green Sandpiper, 2 Shelduck, Red Kite, Cetti's Warbler, 2 Water Rail (Simon Papps)
Sevenoaks WR: incl 10 Shoveler, 20 Wigeon, 10 Pochard, Black-necked Grebe still, Goshawk fr Tyler hide, 4 Snipe, 3 Lesser Redpoll, 20 Siskin (per Susanna Clerici via Ken OS)
Staines Reservoir: AMERICAN HORNED LARK at eastern end of causeway bank, also drake Scaup distant on South Basin and 2 Black-necked Grebes (Dominic Pia via Twitter)
Thorndon CP: s. section - Buzzard, 5 Skylark, Nuthatch, 4 Fieldfare, 40+ Redwing, 20 Meadow Pipit, 7 Linnet; n. section - Sparrowhawk, Buzzard, 3+ Nuthatch, 3 Treecreeper, 8 Fieldfare, 10+ Redwing, 24 Meadow Pipit, 10+ Hawfinch in trees bordering golf course w/ Redwings & Chaffinches, 2 Bullfinch, Siskin (Andrew Cox via EBwS BN)
Tooting Commons: Little Owl, 20+ Redwing, 2 Jackdaw, Red Admiral (Alan Wilkinson); c50 Redwing & one Mistle Thrush on gaelic football pitch before being scattered by stooping male Sparrowhawk 17.00 (Nick Moll)
Tower Hamlets Cemetery Park: Firecrest roughly by point 2 on the Millennium Trail (NE corner Horse Chestnut Glade), 2+ Goldcrest, 1 Mistle Thrush, female Sparrowhawk over and perched (Roman Werpachowski); Coal Tit, singing Stock Dove (D Fletcher)
Twickenham: 3 Little Grebe at Glovers Ait (Mike Foster)
Verulamium Park: Raven over The Causeway cronking 1000 (Alan Winn via Herts BC)
Walthamstow Wetlands: LITTLE BUNTING showed well briefly 11.30ish by seed area & on top of favourite bush, m Scaup still on No4 with 3 Goldeneye, also Red Admiral (Neil Anderson et al)
Wimbledon Common: Buzzard over (Penny Smallshire via Twitter)
Woodberry Wetlands: 3 Snipe, 2 Lesser Redpoll, 2 Shelduck, m Blackcap, 2 Teal (Chris Farthing)
Worcester Park: 1 Little Egret on brook and 1 m Blackcap in garden still (Isaiah Rowe)
Friday 16th February 2018Edit
Bramblehall Wood: 250 Hawfinch (Steve Gale)
Brent Reservoir: 2 Little Egret, 21 Common Snipe, 3 Water Rail, Cetti's Warbler, 4 Stock Dove in display flight, Sparrowhawk, 3 Redwing, 35 Common Gull, 47 Pochard (Magnus Andersson)
Brookmill Park: 2 Kingfisher, Great Spotted Woodpecker, 3 Redwing, Goldcrest (Conrad Ellam) 
Erith Reach: foreshore - incl. 240+ Black-tailed Godwit, 200+ Dunlin and 60+ Redshank (Mike Robinson) 
Grovelands Park (Southgate): Raven calling and flying east at 10.15 am (Fay Broom & Bob Husband)  
Hampstead Heath: 150 Redwing feeding by bandstand, 2 Nuthatch, Treecreeper (Allan Stewart)
High Ashurst: 2 Hawfinch (Steve Gale) [new site for LNHS gazetteer TQ191531]
Ingrebourne Valley: 50 Linnet, 2 Yellowhammer (Dave McGough per ELBF FB); Coal Tit (Shaun Harvey via Twitter)
KGV Reservoir: m Smew & m Scaup still on S. Basin, 18 Goldeneye 3m, 7 Goosander 3m, 4 Wigeon 2pr, Kestrel, Peregrine being mobbed by Jackdaws, 7 Meadow Pipit 1-2pm (Davey Leach)
London Wetland Centre: 2 Shelduck, 7 Pintail, Goldeneye, Bittern, 4 Snipe, 7 Fieldfare, 2 Stonechat (WWT website); plus Goldcrest, Siskin, Grey Wagtail, 2 Jack Snipe (Barbara Crowther)
London Zoo: Firecrest, Kestrel on Woodland Walk by Regents Canal (Sam Jones)
Maple Cross: 12+ Yellowhammer & 6+ Brambling on left over straw and in long hedge betw West estate & M25 (John Edwards via Herts BC)
Mickleham Downs: 4 Hawfinch (Steve Gale); Raven over (Jan Wilczur via Surrey BN)
Morden Hall Park: Water Rail h fr boardwalk (Ian Jones via Surrey BN)
Oxleas Wood: 2 Firecrest downhill from café where the holly bushes are (Jack Headley)
Panshanger Park: Hawfinch (Murray Brown via Herts BC) TL291128
Primrose Hill: prob ad Goshawk high SE 1335 - similar size & thermalling/gliding behaviour as Buzzard w/ uniformly light underside & dark mask but too high to completely rule out f Sprawk, pr Kestrel courtship flight (Twitter)
Queen Elizabeth Olympic Park: Wetlands Walk - 3 Water Rail, 2 Cetti's Warbler, 4 Gadwall, 5 Teal, 2 Egyptian Goose, Kingfisher (Graham Howie)
Queen Mother Reservoir: 2 Mediterranean Gull (Andy Tomczynski via Berks BN)
Rainham RSPB: 5 Water Rail, 4 Marsh Harrier, 3 Buzzard, 12 Avocet, 5 Curlew, 150 Black-tailed Godwit, Ruff, Dunlin, 7 Snipe, Barn Owl, 2 Kestrel, Skylark, 4 Cetti's Warbler, Chiffchaff, 14 Redwing, 8 Stonechat, Meadow Pipit, Water Pipit (per ELBF FB)
Regent's Park: 2 Water Rail in rail ditch [area 2] still - 1 chasing the other away (Twitter)
Richmond: Eastern race Lesser Whitethroat still in back gardens of Selwyn & Pagoda Avenues. Parking charges apply Mon-Sat. Park only in visitors bays. (Franko J Maroevic)
Richmond Park: 4 Stonechat between Pembroke Lodge and the Pen Ponds, 2 Common Buzzard, 1 Chaffinch in song (Keith Bates); 4 Common Buzzard circling high together, 2 Dartford Warbler, 2 Meadow Pipit, 2 Redpoll, 1 Reed Bunting, 1 Sparrowhawk (Friday Bird Group); 1 Peregrine (Nigel Jackman); 6 Skylark, 1 Siskin (R Dunne and FBG)
Ruislip Woods: Hawfinch present in single figures in usual places am (Richard Francis); 4 Great Spotted Woodpecker [pair displaying], 3 Nuthatch, Redwing, c30 Fieldfare but no Hawfinch - p.m. (Roger Dewey)
Staines Reservoir: m Scaup still s side of s basin, AMERICAN HORNED LARK still eastern end of causeway bank am, Water Pipit se cnr of n basin (Dom Pia via Twitter)
Stanwell Moor: Little Owl h nr paddock, 100+ Redwing, 20 Fieldfare, 2 Stonechat, 3 Siskin (Dom Pia via Twitter)
Surbiton: Little Egret at Seething Wells 1330 (Mike Foster)
The Commons LNR: Woodcock, Marsh Tit still (Keith Smith via Herts BC)
Tower Hamlets Cemetery Park: 2 Firecrest incl 1+ m Horse Chestnut Glade, 3 Goldcrest, displaying pair Stock Dove (Bob Watts)
Upminster Little Gaynes Lane: Kingfisher (Ron Cook per ELBF FB)
Walthamstow Marshes: 2 Egyptian Goose, 9 Common Snipe, 1st winter Common Gull, 7 Stock Dove, c20 Redwing, 4 Song Thrush, 6 Mistle Thrush, 2 Stonechat, c50 Fieldfare, 10 Linnet (Graham Howie via Twitter)
Walthamstow Reservoirs: LITTLE BUNTING showing on and off during the day in its usual bush and once on ground just to right of seed tray, Scaup on No 4 (Walthamstow Birders)
Watercress LNR: 1+ Water Rail, 5+ Redpoll sp, incl poss Mealy Redpoll photographed, 20+ Siskin (Axel Kirby via Herts BC)
Wimbledon Common: 10 Lesser Redpoll late pm Hookhamslade Pond; 1f Kestrel Thatched Cottage late pm (Les Evans-Hill)
Woodberry Wetlands: 5 Snipe, 3 Lesser Redpoll (Chris Farthing)
Woodford Green: 4 Buzzards and Sparrowhawk up at c1.00pm, also Hawfinch going North creasing the canopy (Ken Murray)
Worcester Park: Little Egret on horse field (Bob Smith)
Wormley Wood: 52+ Hawfinch (Graham White via Herts BC)
Thursday 15th February 2018Edit
Bowyers Water: rh Smew still (Mike Oakland via Herts BC)
Brookmill Park: Kingfisher, Great Spotted Woodpecker (Conrad Ellam)
Bushy Park: 2 Dartford Warbler 1 S of Heron Pond & 1 NE of Hawthorn Lodge both associating with Stonechats, 4 Stonechat, 20+ Meadow Pipit (T. Harrop)
Denham CP: Denham Lock grand union canal - pair of Egyptian Geese & 8 chicks (Jim Amos)
East India Dock NR: 6 Shelduck, 4 Tufted Duck, 2 Egyptian Geese, 30+ Teal, 1 Great Black-backed Gull, 1 Linnet (D Fletcher)
Theydon Bois: Dartford Warbler, 4 Stonechat, 2 Lesser Redpoll, 2 Common Snipe, 5+ Reed Bunting, 8+ Skylark 4+ pr, 10+ Meadow Pipit, 5 Common Buzzard, Kestrel, Sparrowhawk, Stock Dove (Joe Dickens) Joe, is it possible to get a precise location for the Dartford W? cheers [Dan Barrett] Hi Dan, from Theydon Bois underground, you need to exit on the 'field' side and follow the footpath parallel to the railway towards Epping. In about 300 yards you come to a field which has evidently been the site of something or other some years in the past and has been left alone to go rather wild, but also rather muddy. Continue walking on the public footpath until you come to a bridge with a small copse of wood on the left and marshy area on the right. The Dartford Warber was associating with Stonechats around this area close to the bridge. I think this area is part of Blunt's Farm. Hope this is helpful. Joe. Many thanks Joe.Dan B
Finchley: garden N3 - 2 Great Spotted Woodpecker, m Blackcap, Stock Dove, 4 Siskin 3m f, m Sparrowhawk (Samuel Levy)
Greenwich Park: Firecrest by Maze Hill entrance 09.00 (Joe Beale via Twitter)
Greenwich Peninsula: pr Teal near Ecology Park, usual 5 gull species including 12 Great Black-backed Gulls and 1 Lesser Black-backed Gull by O2 (Joe Beale)
Greenwich Peninsula Ecology Park: 2+ Siskins, Little Grebe, Jack Snipe, 2 Goldcrests, House Sparrow - brief visit (Joe Beale); Kingfisher (John Bushell)
Golders Green: m Blackcap in garden NW11 (James Levy)
Hampstead Heath: 10 Mandarin on Thousand Pound Pond Kenwood, Kingfisher on Highgate No 1 Pond, 245+ Redwing 100+ feeding by bandstand & 145 Redwing feeding on cricket field (Allan Stewart)
Harrow: Peregrine circling for a few minutes above Greenhill Way roundabout 10am (Dan Pinkham)
Hilly Fields Park: Common Buzzard, Kestrel, 3 Great Spotted Woodpecker drumming, 3 Nuthatch (Robert Callf)
Leatherhead: f Lesser Spotted Woodpecker still in line of trees by football grd & park (Ian Jones via Surrey BN) TQ164560
London Wetland Centre: 4 Shelduck, 6 Pintail, 2 Bittern, Caspian Gull main lake fr WWF hide, 7 Fieldfare, 15 Siskin still south route (WWT website)
Millfields E5: Peregrine on sub-station pylon again at 1710 (Alastair Dent)
Ravenor Park (Greenford): 55+ Redwing, pr Jackdaw (Kathryn Bull)
Raynes Park: 2 Pied Wagtail in residential street (P. Redmond)
Richmond Park: 2 Dartford Warbler one ranging widely initially seen from TQ1940472400, 4 Stonechat, Snipe flushed by dog, 3 Kestrel, pr Common Buzzard, 1 Little Grebe, 5 Common Gull, 12 Redwing, Green Woodpecker, Treecreeper, 7 Pochard, 50+ Black-headed Gull (Arjun Dutta); Sparrowhawk, 2 Dartford Warbler 2f [one as above - nice to meet you Arjun], 3 Stonechat 1m 2f [assume different to above], Song Thrush, 2 Treecreeper, 2 Nuthatch, Goldcrest, Little Owl (Paula Redmond)
Rickmansworth: Cetti's Warbler singing at end of Ebury Way (Charlie Ramsay via Herts BC)
Ruislip Woods: Salisbury Rd/Fore St entrance 10+ Redwing in paddock, 4 Greenfinch, Great Spotted Woodpecker, Goldcrest, 5 Nuthatch (Nigel Barratt); 5+ Hawfinch 1 here at 8:50 & numerous Hawfinch showing and calling a short distance away 9:00 (Richard Francis).
Staines Reservoir: AMERICAN HORNED LARK, Scaup and Black-necked Grebe (Mark Elsoffer via Twitter)
Stocker's Lake: Cetti's Warbler h north end (Steve Carter via Herts BC)
Totteridge Valley: 2 Skylark over, 2 Bullfinch, 3 Redwing, Fieldfare, Little Egret, Cormorant over, 5 Teal, c200 Common Gull, 2 singing Mistle Thrush (John Colmans)
Tower Hamlets Cemetery Park: Firecrest male still Sanctuary Wood, also 3 Great Spotted Woodpecker, pair displaying Sparrowhawk (Paul Barham, Bob Watts)
Walthamstow Marshes: 9 Common Snipe, 2 Egyptian Goose, 2 Stonechat, 6 Mistle Thrush, 4 Song Thrush, c50 Fieldfare, 1st winter Common Gull, 7 Stock Dove, 10 Linnet, c20 Redwing (Graham Howie); also a singing Cetti's Warbler and a third Stonechat [2 NW corner Leyton Marsh & 1 Bomb Crater Field] (Alastair Dent)
Walthamstow Reservoirs: LITTLE BUNTING showing intermittently throughout the day. Flew up/down twice from around seed tray (although not yet seen on it) in front of taped off area on which Reed Buntings now regularly feeding. (Walthamstow Birders); LITTLE BUNTING in usual spot after midday, 3-4 Pochard, 4 Goldeneye, 4+ Common Gull, 1 Scaup amongst Tufted Ducks on reservoir 4, 6-7 Reed Buntings, 2 Peregrine - courtship display noted, 1 Sparrowhawk, 1 Kestrel, 2 Kingfisher, 1 Goldcrest, 2 Great Spotted Woodpecker, 20 Linnet, 2 Egyptian Goose (Jack Headley via Twitter); Stonechat east warwick (Dave Bradshaw via Twitter)
Woodberry Wetlands: 2 Snipe, 2 Shelduck, 3+ Lesser Redpoll, Teal (Chris Farthing)
Worcester Park: garden KT4 - m Blackcap returned after some absence (Isaiah Rowe)
Wednesday 14th February 2018Edit
Amwell NR: 6 Goldeneye 2m 4f fr gladwin hide (Steve Hughes via Herts BC)
Banstead Woods: 2 Hawfinch at Fames Rough still 1020 (Geoff Barter via CFBW twitter)
Bramblehall Wood: 260+ Hawfinch (Steve Gale, Peter Alfrey, Kevin Guest) TQ189521
Brent Reservoir: 165+ Tufted Duck, 55+ Pochard, 22 Common Snipe, Water Rail (Steve Blake, Roy Beddard)
Brockwell Park: Peregrine 08.15 [my first for the park] low over Norwood Road [took prey but could not make out species as I was on the bus] (Matthew J Bradbury)
Eastcote: 1 Hawfinch Eastcote CC 09:50 (Richard Francis).
Epping: 259 Pied Wagtail in Epping High St roost 2120 (Roger Emmens via EBwS BN)
Epping Forest, Ludgate Plain: 5 Hawfinch, pr Mandarin (Joe Dickens)
Erith Reach: foreshore - incl. 240+ Black-tailed Godwit, 40+ Dunlin, 25+ Linnet, 22 Redshank and a Rock Pipit (Mike Robinson)
Frays Farm Meadows LWT: Buzzard, Barn Owl 6.45am (Dan Pinkham)
Gunpowder Park: Stonechat (Alan Shearman per ELBF FB)
Hackney Marshes: 8 Siskin in birches and alders outside filter beds gate at 09:00 having flown across the canal from the alders by the council yard, 2 Egyptian Geese, 2 Greenfinch, 1 Grey Wagtail (Alastair Dent)
Islington: 40+ Redwing, 4 Long-tailed Tit, 2 Goldcrest St Paul's Park N1 (Allan Stewart)
King's Cross: Peregrine making shallow stoops 1100 (Michael Thain)
Lee Valley, Russell Road: 2 Shelduck, Little Egret, Green Sandpiper, Redshank, Yellow-legged Gull (Alan Shearman per ELBF FB)
London Wetland Centre: 3 Shelduck, 6+ Pintail, Bittern fr WWF hide, Jack Snipe, 4 Snipe (Matt Palmer via Twitter); also 9 Pintail, 135 Tufted Duck, Goldeneye, Coal Tit, 7 Fieldfare, Redwing, 2 Stonechat, Grey Wagtail (WWT twitter)
Morden Cemetery: 2 Little Owls (Bob Smith, Bill & Janis Reid)
Northolt: 2 Goldcrest pair in my garden foraging just outside back door (Deiniol Owen)
Panshanger Park: Cetti's Warbler (Murray Brown via Herts BC) TL301122
Rainham RSPB: Jack Snipe (Dave Waller, Andy Tweed, Marco Johnson per ELBF FB); 4 Marsh Harrier, 24 Avocet, 5 Curlew, 300 Black-tailed Godwit, 3 Ruff, 350 Dunlin, Common Sandpiper, 42 Redshank, Fieldfare, 5 Stonechat, 5 Meadow Pipit, 2 Water Pipit, Rock Pipit, 6 Reed Bunting (per ELBF FB)
Richmond: Eastern race Lesser Whitethroat still in back gardens of Selwyn & Pagoda Avenues early am. Parking charges apply Mon - Sat. Park only in visitors bays. (Franko J Maroevic)
Ruislip Woods: 20+ Hawfinch in area south of Wiltshire Ln close to the Lido perimeter fence 10:30 (Richard Francis)
Rye Meads RSPB: m Bullfinch (Mary Smith via Twitter)
Sevenoaks WR: Black-necked Grebe still (per Susanna Clerici via Kent OS)
Snaresbrook, Eagle Pond: Caspian Gull 3w still (Stuart Fisher)
Totteridge Valley, Belmont Farm: 30 Canada Geese, Sparrowhawk, Red Kite, Common Buzzard, Coot, 62+ Fieldfare, 220+ Redwing, 40+ Starling, Grey Wagtail, 2 Pied Wagtail (Samuel Levy)
Tower Hamlets Cemetery Park: Firecrest male 1245 Sanctuary Wood on its own, yesterday Coal Tit & Goldcrest (Bob Watts)
Tufnell Park: Lupton St NW5 - Firecrest calling loudly this am (Francis Tusa)
Walthamstow Reservoirs: m Scaup, 1 Common Sandpiper, 138 Cormorant 69 occupied nests nests No5, 1 Song Thrush, 1 Redwing, 1 Fieldfare (Daniel Whitelegg)
Wanstead Flats: 1st singing Skylark of yr (Peter Williams per Tim Harris via Twitter)
Worcester Park: Beverly Brook - 1 Little Egret still, also 50+ Redwings with Starlings on horse field (Isaiah Rowe)
Tuesday 13th February 2018Edit
Barn Elms Playing Fields: m Little Owl hooting at dusk - unusual here (J.Wilczur)
Brookmill Park: Kingfisher, Great Spotted Woodpecker, 10 Redwing, Song Thrush, Goldcrest, Coal Tit (Conrad Ellam)
Bushy Park: 2 Green Woodpecker, 2 Kestrel, Stonechat, 170+ Woodpigeon E 7.15am (Ian R Watson)
Clerkenwell: St James churchyard - Greenfinch singing; Spa Fields - House Sparrow, Pied Wagtail in tree (Francis O'Sullivan)
Eastcote: 1 Hawfinch Eastcote CC 10:20 (Richard Francis)
Epping: Fiddlers Hamlet - pr Kestrel, 70 Fieldfare, 20 Redwing (Howard Vaughan via ELBF FB)
Finchley: garden N3 - m Blackcap, 3 Stock Dove, Great Spotted Woodpecker (Samuel Levy)
Hampstead Heath: 4 Green Woodpecker, 5 Great Spotted Woodpecker, 20+ Siskin feeding in trees at Bird Sanctuary Pond, 2 Kestrel, 60+ Redwing by bandstand, 10 Long-tailed Tit by Mixed Pond, 6 Shoveler, Pochard on Hampstead No 1 Pond, 3 Mandarin Wood Pond (Allan Stewart)
London Wetland Centre: Iceland Gull 3cy (J.Wilczur et al); 2 Caspian Gull - 2cy and sub-adult (J.Wilczur)
Ongar Park Wood: 4 Nuthatch 2pr, 6 Treecreeper 3pr, 3 Song Thrush, 25 Chaffinch, 7 Hawfinch (Howard Vaughan via ELBF FB)
Piercing Hill: 6 Great Spotted Woodpecker 3pr, Green Woodpecker, 6 Coal Tit, 4 Nuthatch 2pr, 6 Treecreeper 3pr, 2 Hawfinch (Howard Vaughan via ELBF FB)
Pymmes Park: 2 Little Grebe, 3 Greylag Goose, 4 Egyptian Goose, 2 male Common Pochard, 22 Tufted Duck 12m 10f, 12 Common Gull 7 adults 2 second-winter 3 first-winter, first-winter Great Black-backed Gull, Stock Dove, Green Woodpecker, 112+ Redwing, 2 Nuthatch, 8+ Goldfinch (Robert Callf)
Raynes Park: 10 Redwing, Blackcap m, 2 Pied Wagtail running around o/s Post Office (P. Redmond)
Ruislip Woods: 1 Hawfinch showing well Fore St 9:45 (Richard Francis).
Snaresbrook: Caspian Gull 3w again (Stuart Fisher)
St James's Park: Lesser Redpoll again feeding on the usual birch tree and the birch at the western end of the Lake by the wall (Frank Nugent)
The Commons LNR: Marsh Tit, 4 Linnet, 4 Lesser Redpoll (Keith Smith via Herts BC)
Theydon Bois: St Mary's Church - 2m Coal Tit, Firecrest, 2 Goldcrest, m Mistle Thrush (Howard Vaughan via ELBF FB)
Walpole Park: c80 Redwing feeding on the ground this morning (Catherine Beazley)
Walthamstow Reservoirs: m Scaup & 5 Goldeneye 3m 2f on no.4, LITTLE BUNTING still in normal bush c14:45, alongside c6 Reed Bunting & 22 Linnet, 4 Red-crested Pochard 3m 1f flew over heading in direction of West Warwick, Fieldfare, 3 Little Grebe & Grey Wagtail on no. 5 (Samuel Levy et al)
Wimbledon Common: 1 Stock Dove, 14 Mandarin Duck, 2 Egyptian Goose - Queensmere (Les Evans-Hill)
Worcester Park: Beverley Brook - 1 Little Egret in trees briefly and then flew down to water (Isaiah Rowe)
Wormley West End: 8 Hawfinch (Graham White via Herts BC)
Monday 12th February 2018Edit
Amwell NR: 3rh Smew roosted opp gladwyn hide eve'g (Ron Cousins via Twitter)
Barnes: Red Admiral just outside LWC - first butterfly of 2018 (Quentin Given)
Bow Creek Ecology Park: 3 Shelduck, 60 Teal, 4 Grey Heron, 6 Redshank, 2 Goldcrest, singing Cetti's Warbler (Dan Fletcher)
Bramblehall Wood: 145+ Hawfinch (Steve Gale via Twitter). For anyone who doesn't know where Bramblehall Wood is, it's at TQ189521, near Box Hill and just east of Juniper Top, where Hawfinch were seen in large numbers late in January (Andrew Haynes).
Brookmill Park: Kingfisher, 2 Redwing, 3 Goldcrest (Conrad Ellam)
Crouch End: Sparrowhawk (f) 1200. (Sam Jones)
East India Dock Basin NR: Shelduck, 6 Teal, 2 Jay, Long-tailed Tit, 2 Reed Bunting (Dan Fletcher)
Erith Reach: foreshore - incl. 270+ Black-tailed Godwit and 50+ Redshank (Mike Robinson)
Finchley: garden N3 - m Blackcap (Samuel Levy)
Garden Wood: 6+ Hawfinch still (S Blake/T Smith/B Fagan via Herts BC) TL194046
Guy Lodge Farm, Enfield: 13 Common Gull 2 adults 2 second-winter 9 first-winter, no sign of 1st-winter Mediterranean Gull (Robert Callf)
Hampstead Heath: 1 Little Grebe on Wood Pond, 30 Redwing feeding Kenwood, 40 Siskin feeding in trees by Bird Sanctuary Pond, 2 Treecreeper, Nuthatch, 2 Green Woodpecker, Great Spotted Woodpecker, Coal Tit, 10 Long-tailed Tit by feeders, Kingfisher on Hampstead No 1 Pond (Allan Stewart)
Hackney Marshes: 17 Stock Dove feeding in sport fields, 2 Greenfinches, 1 Peregrine (Marcin Kempa)
Juniper Top: c50 Hawfinch (Steve Gale)
Lavender Hill Cemetery, Enfield: Little Egret along brook (Robert Callf)
Leatherhead: f Lesser Spotted Woodpecker leisure centre & river area 0830 (Mark Davis via Surrey BN) TQ163560
London Wetland Centre: Bittern showing well from WWF Hide at 11.30, Jack Snipe from Peacock Tower (Quentin Given)
Margravine Cemetery: pr Mistle Thrush, c30 Redwing (Nathalie Mahieu)
Mayflower Park: 4 Reed Buntings, 2f Bullfinch and 1 Grey Heron (Isaiah Rowe)
Mickleham Downs (including White Hill): 22 Hawfinch (Steve Gale)
Primrose Hill: slight cold-weather movement - 6 Cormorant high E 07:40, Meadow Pipit foy SW 08:00 (Twitter)
Rainham RSPB: Iceland Gull juv, Caspian Gull 1w, Black Redstart (Dominic Mitchell per ELBF FB)
Regent's Park: m Firecrest still in area 4 (Twitter)
Richmond: Eastern race Lesser Whitethroat still in back gardens of Selwyn & Pagoda Avenues. Parking charges apply Mon-Sat. Scratch card vouchers available from Spar shop at end of Pagoda Avenue. Park only on visitors bays. (Franko J Maroevic)
Richmond Park: 3 Kestrel, Sparrowhawk f, 5 Woodcock, Little Owl, Tawny Owl (P. Redmond)
Ruislip Lido: Little Egret, Barnacle Goose (Martin Smith)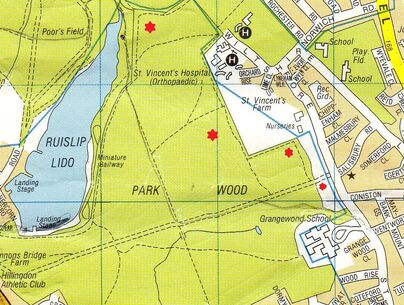 Ruislip Woods: 10+ Hawfinch in area down from Wiltshire Ln entrance 10:00 If anyone is interested in catching up with these birds at this site, I've uploaded a map marked with their favourite areas - red stars (Richard Francis); at Salisbury Rd/Fore St entrance 4 Greenfinch, 6 Goldfinch, pr of Bullfinch, 3 Redwing and a Goldcrest 1pm (Nigel Barratt)
Sevenoaks WR: incl Black-necked Grebe still, Peregrine eaat lake 1650 (per Susanna Clerici via Kent OS)
Surbiton Filter Beds: 1m Blackcap, 6 Gadwall, 3 Grey Heron, 1 Grey Wagtail, 1 Little Grebe (Nigel Jackman)
Totteridge Valley, Belmont Farm: 12 Canada Geese, Coot, Sparrowhawk, Kestrel, 5 Collared Dove, Goldcrest, 10 Fieldfare, 30 Redwing, Pied Wagtail (Samuel Levy)
Tyttenhanger GPs: Caspian Gull 2w main GP (per Herts BC)
Walthamstow Reservoirs: m Scaup still on No 4, Green Sandpiper on Lockwood, 2 Common Sandpiper on High Maynard, Stonechat on East Warwick; no definite sighting of Little Bunting by lunch time (David Bradshaw, Mike Messenger, Pete Lambert)
Walton-on-Thames: Red Kite low over Heart Centre (Neil Anderson)
Worcester Park: Beverly Brook - 1 Little Egret (Isaiah Rowe); Little Egret on horse field (Bob Smith)
Woodberry Wetlands: 3 Snipe, 2 Shelduck, c10 Redwing, 5 Lesser Redpoll (Chris Farthing) Hi Chris. Are there particular areas where it's more likely to spot the snipe and/or redpoll? Many thanks. Richard. Up to 5 Redpoll are on the woodland trail feeders every day recently. There's a picture of where the Snipe sit on my twitter feed [at]chris_farthing on Jan 31st (stand on boardwalk and look towards lagoons). Thanks Chris - I'm grateful for your help. Cheers. Richard
Sunday 11th February 2018Edit
Belvedere, River Thames: foreshore - incl. 26 Black-tailed Godwit, a Chiffchaff, 2 Gadwall, 2 Lapwing, 3 Redshank, 14 Ringed Plover and 14 Teal (Mike Robinson)
Brent Reservoir: Little Egret, 2 Cetti's Warbler, 12 Common Snipe, Kingfisher, 2 Greylag Geese, Kingfisher, Kestrel, 3 Siskin, Coal Tit, 5 Redwing, 2 Great Black-backed Gull (Brent Birders & RSPB NW London Group)
Brookmill Park: 2 Kingfisher, 4 Redwing (Conrad Ellam)
Broxbourne Woods: 7+ Hawfinch in to roost 14.00-15.00 (Laurence Drummond via Herts BC)
Cornmill Meadows: Bullfinch, Kingfisher, 6 Siskin, 12 Comon Snipe, 3 Shelduck, 3 Buzzard, Goldcrest, 2 Chiffchaff, 6 Fieldfare, 4 Redwing (Chris Baldwin)
Fishers Green: Water Rail feeding in open under feeders, red-head Smew still on Friday Lake, Kingfisher at bridge over Old River Lee (Andrew Lyburn)
Foots Cray Meadows: Cetti's Warbler, Grey Heron, 3 Common Gull, Lesser Black-backed Gull, 13+ Tufted Duck, 4 Mute Swan, Little Egret, Cormorant, 3 Little Grebe, Goldfinch, Chiffchaff {Jack Headley}
Ealing Broadway (Haven Green): 25+ Redwing (Neil Anderson)
Hackney Marshes: 2 Siskin (Jon Agar)
Ickenham Marsh; 100 Redwing with 20 Goldfinch & 20 Starling in amongst the sheep, Grey Heron, Grey Wagtail, 2 Siskin, 3 Bullfinch, Sparrowhawk (Nigel Dodd)
King George V Reservoir: Redwing, Fieldfare, Meadow Pipit, Jackdaw, Goldeneye, Goosander, Green Sandpiper, Mediterranean Gull, Smew (Graham Howie)
Lamorbey Park: Little Grebe, 2 Mute Swan, 4 Egyptian Goose, 4 Tufted Duck, 6 Redwing, 2 Jackdaw, Jay, Goldfinch (Mike Amos).
London Wetland Centre: 2 Bittern, 2 Jack Snipe, 8 Pintail, 2 Shelduck, Goldeneye, Peregrine (WWT website); Yellow-legged Gull 2cy (Josh Jones)
North Finchley: juv Sparrowhawk perched on garden fence c16.15 (John Colmans)
Nunhead Cemetery: Coal Tit, 2 Firecrest, Goldcrest, Green Woodpecker, Redwing (Graeme Wright)
Priest Hill, Ewell: 1 Common Buzzard, 6 singing Skylark but no large finch flock as seen earlier in the winter (Neil Batten)
Putney Heath: 1f Kestrel, 1 Mistle Thrush Ladies' Mile and 4 Shoveler 2m 2f Kingsmere (Les Evans-Hill)
Richmond: Eastern race Lesser Whitethroat still in back gardens of Selwyn & Pagoda Avenues early am. No parking charges on Sundays. (Franko J Maroevic)
Richmond Park: 27 Mandarin [Isabella], 7 Heron at nests, Buzzard, 5 Kestrel, 7 Redwing (Neil Anderson/K. Bull)
Ruislip Woods: 1 Hawfinch by entrance at Fore St/Salisbury Rd.10:00, 100+ Redwing (Allan Stewart)
Staines Reservoir: AMERICAN HORNED LARK at western end of causeway on South Basin bank, also drake Scaup & Redshank (Dominic Pia via Twitter)
Stocker's Lake: 9+ Red-crested Pochard, 7 Goldeneye, 2 Little Egret, 3+ Kingfisher (Andrew Steele via Herts BC)
Ten Acre Wood Area: 9 Lapwing, 5 Skylark, Peregrine interacting with Kestrel & Buzzard and then settled on the roof of the main Northolt aerodrome building, 2 Buzzard, 5 Teal, 2 Reed Bunting, 13 Lesser Redpoll 9 & 4, 10 Linnet, Nuthatch, Rook (Nigel Dodd)
Thames Barrier Park: Ring-billed Gull (Dante Shepherd, Jamie Partridge) pic here
Tooting Bec Athletics Track: c50 Redwing, 2 Mistle Thrush (S Woolfenden)
Totteridge Valley, Belmont Farm: 26 Canada Geese, 2 Egyptian Geese, 4 Mandarin Duck, Cormorant, Coot, Kestrel, Coal Tit, Nuthatch, 20+ Fieldfare, 25+ Starling, Pied Wagtail, 25+ Redwing (Samuel Levy)
Walthamstow Marshes: 16 Redwing, 6 Fieldfare, 2 Stonechat now in breeding plumage (Jon Agar)
Walthamstow Reservoirs: LITTLE BUNTING 8.10 in favourite bush (Geoff Gram) and showed well at 09.45 (Quentin Given). Are there any details regarding yesterday's report of a male Serin at the reservoirs, it would be a first for the site if we can find out who saw it. If you are no longer sure it would be appreciated if you could let us know to save us wasting time looking for it. Thanks [Walthamstow Birders]
Wapping Canal: Kingfisher (Roman Werpachowski)
Watercress LNR: Kingfisher, m Blackcap, 5+ Lesser Redpoll, 10+ Siskin (Alan Gardiner via Herts BC)
Wick Wood: 2 Great Spotted Woodpeckers, 2 Fieldfare, 15 Redwing, 2 Goldcrest, Muntjac (Harry Harrison)
Wimbledon Common: 1f Kestrel, 1 Stock Dove (overflight) The Plain; 1m Chaffinch The Ranger's Office (Les Evans-Hill)
Yeading Brook Meadows: Red Kite low, 75 Common Gull on playing field, 4 Greenfinch, 20 Redwing (Nigel Dodd)
Saturday 10th February 2018Edit
Amwell NR: 2 rh Smew Gt Hardmead L still (Mike Ilett via Herts BC)
Belvedere, River Thames: foreshore - incl. 54 Black-tailed Godwit, a Curlew, 4 Dunlin, 2 Gadwall, 4 Lapwing, an Oystercatcher, 5 Redshank, 9 Ringed Plover and 17 Teal (Mike Robinson)
Bramblehall Wood: 170+ Hawfinch (Steve Gale)
Brent Reservoir: 40+ Pochard, 3 Snipe, Water Rail, 15+ Redwing, Cetti's Warbler, Reed Bunting (Andrew Verrall, Roy Beddard, Patrick Hagglund) 3 Green Sandpiper - North Marsh, late PM (Charlie Farrell)
Broxbourne Woods: 3 PARROT CROSSBILL 2m f by cross tracks still (Mike Ilett via Herts BC) TL335083
Cowley Business Park / River Frays, UB8: 1 Kingfisher, pr. Gadwall. Good to see after recent diesel pollution incident up stream. Env. Agency dealt with it. (Roger Dewey)
Creekmouth: Adult Caspian Gull Thames shore early afternoon, Sparrowhawk, 2 Common Sandpipers, 4 Black-tailed Godwits, Curlew, Oystercatcher, 25 Redshanks, Cetti's Warbler, probable Siberian Chiffchaff briefly, Common Chiffchaff, 2 Grey Wagtails, 2 Reed Buntings (Sean Huggins)
Denham: 20+ Siskin with at least 1 Redpoll, 34 Redwing, Grey Wagtail, Kingfisher around Deep Lock (Dan Pinkham)
Erith Reach: foreshore - incl. 9 Black-tailed Godwit, 200+ Dunlin, 100+ Redshank and a Rock Pipit (Mike Robinson)
Hampstead Heath: C40 Redwing at most NW-point of Pryor's field (Callum Farrell-Morris)
Hartley Wood: 4+ Hawfinch [7th day] (BirdGuides)
Henry's Corner: Kestrel hunting from lampposts (Samuel Levy) [SL - which London district pls?]
Holmethorpe SPs: Barn Owl (Ken Noble via Surrey BN)
Lamorbey Park: Little Grebe, 2 Mute Swan, 2 Egyptian Goose, 3 Tufted Duck, 7 Common Gull, Green Woodpecker, 2 Song Thrush, Goldcrest, 6 Coal Tit, Jay, 3 Siskin (Mike Amos)
London Wetland Centre: 2 (possibly 3) Bittern, Jack Snipe, 2 Stonechat m f, Goldeneye, Red Kite heading W mobbed by crow, 4 Shelduck, 5 Common Snipe (Martin Honey et al.)
Pinner: Record garden count of 15 Blackbirds, Grey Wagtail & f Blackcap (Richard Francis).
Ravenor Park (Greenford): drumming Great Spotted Woodpecker, 2 Green Woodpecker, c100 Redwing, singing Mistle Thrush (Neil Anderson)
Richmond Park: Red Kite, 2 Dartford Warbler, c70 Redwing, 2 Stonechat (S Woolfenden)
Ruislip Manor: 1 Red Kite being harassed by crows over tube station (Reuben Braddock)
Ruislip Woods: 1 f Blackcap, 5+ Hawfinch calling and mobile in trees down public footpath from Wiltshire Lane entrance with one ground-feeding alongside Chaffinches and Redwings (Reuben Braddock)
St James's Park: Lesser Redpoll still feeding on the usual birch tree and also using the lone birch tree at the west end of the Lake by the wall (Frank Nugent).
Staines Reservoir: AMERICAN HORNED LARK still am (Samuel Levy via Twitter); also 6 Pied Wagtail, 20 Lapwing S (Looked to have come off KG Res), 10 Tufted Duck, Pochard, 80+ Wigeon, 15 Great Crested Grebe, 2 Little Grebe, 20 Teal, 20 Gadwall, 50+ Coot, 5 Linnet, 8 Meadow Pipit, 5 Cormorant, 20+ Shoveler (Samuel Levy)
Tower Hamlets Cemetery: Great Spotted Woodpecker, 6 Redwing, 4 Goldcrest and Mistle Thrush heard. (Harry Harrison)
Walthamstow Reservoirs: m SERIN between Visitor Centre & E Warwick Res 1335 (BirdGuides); LITTLE BUNTING still late-pm (Paul Whiteman via Twitter); 1 male Scaup, 2 male Goldeneye on Reservoir no.5, Linnet, Reed Bunting, Teal, Pochard, Shoveler, 2 Fieldfare (Christopher Wright). Update - Serin was seen and photographed by reliable birder Roy Hargreaves (Neville Smith). Serin was a first for the site.
Whitton, TW2: 2 Stock Dove in grounds of Kneller Hall (Iain Darbyshire)
Willows Farm: Willows Fm Lake - 3 Little Egret, Stonechat on silage pile by lake (Andrew Steele/Steven Pearce via Herts BC)
Woodberry Wetlands: 3 Snipe, 2 Shelduck, c20 Redwing, 4 Lesser Redpoll (Chris Farthing)
Friday 9th February 2018Edit
Beddington Farmlands: 1 juv/first-winter Glaucous Gull, 1 first-winter Iceland Gull, 1 first-winter Caspian Gull, 1 adult Mediterranean Gull (Peter Alfrey, Josh Jones) pics [1]
Belair Park: Over 200 Redwing present at 16:00 (Paul Collins)
Brent Reservoir: Little Egret behind dam 08:30 (Andrew Self)
Brookmill Park: Kingfisher, Great Spotted Woodpecker, Song Thrush, 5 Redwing, Goldcrest (Conrad Ellam)
Bursted Wood, Barnehurst: 105 Redwing on adjoining grassland (Chris Rose)
Coursers Farm: 4+ Tree Sparrow, 6 Yellowhammer (A & J Gardiner/P Delaloye via Herts BC)
Crouch End RG: 93 Redwing (James Palmer)
East India Dock NR: Kingfisher, Grey Wagtail, Sparrowhawk, 5 Shelduck, 36 Teal (Paul Hyland)
Finchley: Garden N3 - M Blackcap, Stock Dove, 3 Jay (Samuel Levy)
Garden Wood: 6+ Hawfinch still (Tyttenhanger Birders via Herts BC) TL193046
Harringay N15: Fieldfare in next-door's garden for second day in a row, possibly feeding on fallen apples (HarringayBirder)
KGV Reservoir: N. Basin - 2 Slavonian Grebe, 18 Goosander 8m, 13 Goldeneye 5m, Sparrowhawk, Green Sandpiper on Overflow channel towards William Girling, 12 Redwing over 1-2pm (Davey Leach)
Leyton Flats/Snaresbrook: Common Buzzard leaving roost N of Gilberts Slade, 12 Shoveler, Nuthatch, 3 Redwing, 4 singing Greenfinch, Kestrel, Sparrowhawk, no sign of Caspian Gull today (Stuart Fisher)
London Wetland Centre: 6 Snipe, 9 Pintail (5m 4f), f Goldeneye, (Shailesh Patel); Hi Shailesh - there was a hybrid Pochard X Tufted present today that looks like a male Scaup, also Bittern, Stonechat, Peregrine (Nick S) [surname pls?]; Hi Nick, Thank you for your comment.
Mayflower Park: Water Rail heard (Danny Ramsay per Bob Smith)
Middlesex Filter Beds: 2 Goldcrest, 1 Green Woodpecker at 08:30 (Alastair Dent)
Millfields E5: Peregrine on the substation pylon again at 08:15 (Alastair Dent)
Putney Heath: 6 Lesser Redpoll Ladies' Mile and 4 Shoveler 2m 2f Kingsmere (Les Evans-Hill)
Pymmes Park: Mediterranean Gull adult wearing yellow darvic ring seen briefly 13:10 returned 13:57 until 14:02 at least, 10 Common Gull incl 1st-winter and 2nd-winter, Stock Dove, 2 Pied Wagtail, 111+ Redwing feeding on playing field, 2 Mistle Thrush, Nuthatch (Robert Callf)
Richmond Park: 12+ Redpoll with Siskin, Red Kite (Friday Bird Group)
Ruislip Woods: 1 Hawfinch Fore St/Salisbury Rd entrance 10:05 (Richard Francis).
St James's Park: Lesser Redpoll still feeding on usual birch tree this afternoon (Frank Nugent)
Southwark Park: 2 Grey Heron, 8 Shoveler, 1 Little Grebe, 6 Tufted Duck, 2 Goldcrest, Mistle Thrush, 25+ Redwing (John & Janet Cadera)
Staines Reservoir: AMERICAN HORNED LARK still am (Christian Cogley & David Campbell via Twitter) Scaup (male) 4pm close in on south basin (Stephen Fordred)
Totteridge Valley/ Darlands Lake: 26 Canada Geese, 7 Mandarin Duck, 13 Teal, Grey Heron, 2 Common Buzzard, 87+ Common Gull, f Peregrine flew from Camden Playing fields carrying pray item, 5 Rook, Treecreeper, 4 Goldcrest, 18 Fieldfare, 104+ Redwing, 22 Starling, 21 Meadow Pipit, Reed Bunting, 5 Bullfinch, Barn Owl (Samuel Levy)
Tyttenhanger GPs and Willows Farm: fishing lake - 2 Little Egret, Oystercatcher; main GP - Water Rail, 10+ Snipe, Caspian Gull 2w [different bird], Kingfisher (Tyttenhanger Birders via Hergs BC)
Whitechapel: adult Peregrine flew in and perched on Royal London hospital 3:30pm (D Fletcher)
Whitton TW2: 1m Blackcap in garden opposite Kneller Hall (Iain Darbyshire)
Wimbledon Common: 1juv Sparrowhawk and 1f Kestrel Thatched Cottage (Les Evans-Hill)
Worcester Park: 2 Little Egrets on Beverley Brook (Green Lane) 08.30 (Simon Osborn)
Thursday 8th February 2018Edit
Amwell NR: 3 Smew still fr Gladwin hide, Bittern fr viewpt 0900, 4 Red Kite Gt Hardmead L, with Raven mobbing one of them (Allan Meadows via Herts BC & Twitter); Bittern on 1st island to R of big central isl fr viewpt TL378128 (Lee Cartwright via Herts BC)
Bramblehall Wood: 17 Hawfinch (Steve Gale)
Brookmill Park: Kingfisher, 5 Redwing, 2 Song Thrush, 2 Goldcrest (Conrad Ellam)
Cassiobury Park: Little Owl, Lesser Spotted Woodpecker drumming at Gade Ave end, 15 Redwing (Lee Evans via Herts BC)
Cuffley Station: Red Kite, Collared Dove, 7 Goldfinch, f Bullfinch (Robert Callf)
Frays Farm Meadows LWT: Barn Owl 6.45am, 2 Buzzard, Green Woodpecker (Dan Pinkham)
Golders Hill Park: 4 Egyptian Geese briefly, i.e. pair present chased off 2 that tried to join them; 25+ Redwings, 2 Mistle Thrushes, Song Thrush all on slope. Incidentally Rose-Ringed Parakeets now loiter close to sunset here so where is the roost? (James Levy)
Greenwich Ecology Park: Jack Snipe, Little Grebe, Kestrel, 2 Redwing, Chiffchaff, Goldcrest, Lesser Redpoll (John Bushell, Conrad Ellam & Richard Green) While the new education building is being built, the east hide, where the Jack Snipe is, will be closed. The bird can sometimes be seen distantly from the visitor's center.
Hampstead Heath: Water Rail calling at the Santuary Pond and nearby c15 Siskins feeding in alders with a few Goldfinches (Pete Mantle); 2 Teal on Men's Pond, 20 Redwing feeding in Kenwood, Sparrowhawk over Boating Pond, 2 Nuthatch, Treecreeper and Coal Tit by feeders at Bird Sanctuary Pond (Allan Stewart)
Harringay, N15: Fieldfare in garden briefly 08:30 (first I have seen in my street) (HarringayBirder)
Lee Valley, Bowyers Water: red-head Smew imm male, 18 Pochard, 50+ Tufted Duck, male Peregrine stooped at pigeons and missed (Simon Papps)
Lee Valley, Friday Lake: red-head Smew (different bird to the one on Bowyers), 3 Goosander (just to E on Horsemill Stream), Cetti's Warbler, 25+ Siskin, Lesser Redpoll (Simon Papps)
Lee Valley: Male Brambling with 500+ Chaffinch in crop field between Turnford brook bridge & Power station, also 30+ Linnet & Lesser Redpoll there, 2 Water Rail feeding under the bird feeders from Bittern_hide (J.Murray)
London Wetland Centre: Bittern, 13 Pintail, Goldeneye, 2 Shelduck, 93 Shoveler, 62 Wigeon, 34 Pochard, 68 Lapwing, 6 Fieldfare, Stonechat, 3 Siskin, 6 Redwing, Little Grebe, Snipe (WWT London website) 3 Bittern main lake 2 Jack Snipe, 5 Common Snipe, 1m 1f Stonechat wader scrape, 10 Redpoll, 9 Fieldfare, 2 Redwing and 1 Grey Wagtail E bund (Martin Honey)
Mickleham Downs (inc White Hill): 40+ Hawfinch (Steve Gale)
Northaw Great Wood: 3 Red Kite, 2 Common Buzzard, Tawny Owl mobbed by Blackbirds, 5 Coal Tit singing, 2 Marsh Tit pair incl singing male, 5 Nuthatch, 4 Treecreeper (Robert Callf)
Oxleas Wood, Treecreeper, 7 Chaffinch, 4 Great Spotted Woodpecker, 8 Goldfinch, 4 Goldcrest, 3 Jackdaw, 4 Kestrel 2m, 2 Firecrest, 5 Coal Tit, Nuthatch, 5 Stock Dove, male Sparrowhawk, Heron (Jack Headley and Ron Turner)
Raynes Park: 4 Redwing, Sparrowhawk dived onto one in the bushes but the Redwing got away after a high speed chase around the gardens (P. Redmond)
Richmond Park: 2 Dartford Warbler m&f pr, 3 Stonechat 1m 2f, 2 Mistle Thrush, Kestrel, Sparrowhawk (P. Redmond)
St James's Park: Lesser Redpoll still feeding in usual birch tree (Frank Nugent)
St James's Rd SE1: 2 Collared Dove (John Cadera)
Staines Reservoir: AMERICAN HORNED LARK still 10.00 to 11.00 showing well both banks either side of causeway (Robert John Martin via Twitter)
Tooting Commons: Firecrest in Tooting Graveney Woods near south end of athletics track, also 2 Coal Tit (Alan Wilkinson).
Totteridge Valley/Darlands Lake: 2 Treecreeper, fem Siskin, fem Reed Bunting, 5 Fieldfare, 2 Redwing, Kestrel, Sparrowhawk, 5 Teal (John Colmans)
Tower Hamlets Cemetery Park: Firecrest Sanctuary Wood, 2 Goldcrest (Paul Hyland)
Town Park, Enfield: 6 Shoveler, 4 male Common Pochard, Song Thrush, male Nuthatch (Robert Callf)
Twickenham: Red Kite lilting eastwards over rugby stadium 11.55 (Peter Hart)
Verulamium Park: Little Egret (Bill Free via Herts BC) TL141068
Victoria Park: 16 Redwing, 3 Mistle Thrush, 6 Red-crested Pochard 4m, 22 Tufted, 8 Shoveler, 5 Pochard, 6 Gadwall, 3 Great Crested Grebe, Little Grebe, 2 Goldcrest, Sparrowhawk (Jan Dobbie)
Walthamstow Marshes: 27 Fieldfare, 2 Redwing, 10 Linnet, 3 Mistle Thrush, 1 Pied Wagtail paddocks, 4 Stonechat m&f NE corner Bomb Crater Field & m&f NW corner Leyton Marsh, 1 Kestrel m BCF 09:00-10:00 (Alastair Dent)
Woodberry Wetlands: 3 Snipe, 2 Shelduck, Water Rail, 4 Shoveler, 16 Redwing, 3 Teal, Sparrowhawk (Chris Farthing)
Woodside, Hatfield: 2 Raven (per Herts BC)
Wednesday 7th February 2018Edit
Banstead Woods: Hawfinch flew from Coneyboro Hill am (CFBW Birds twitter)
Bloomsbury, UCL: pair of Blackbirds, feeding fledgling, approximately 4 weeks old (Jon Agar)
Boxer's Lake, Enfield: 2 Egyptian Goose, 4 Common Pochard 3m 1f, 16 Tufted Duck 11m 5f, 3 Common Gull adult, second-winter and first-winter, Lesser Black-backed Gull, Herring Gull third-winter (Robert Callf)
Bushy Park: 2 Green Woodpecker, 3 Meadow Pipit (Ian R Watson)
Chelsea waterfront (just east Imperial Wharf): fishing Common Seal (Neil Anderson)
Dulwich: 1m Blackcap in garden (Paul Collins)
Ellenbrook Fields: 3 Stonechat pr back of old BT site & m in sheep field (Rupert Evershed via Herts BC) TL192085
Finchley: Garden N3 - m Blackcap, 2 Great Spotted Woodpecker, 2 Jay, 10 Greenfinch, 18 Chaffinch, Stock Dove. (Samuel Levy)
Garden Wood: 1+ Hawfinch still (Alan Gardiner via Herts BC) TL195047
Greenhill Gardens, Barnet: Drake Shoveler, 2 Tufted Duck, ad Mediterranean Gull, 18 Canada Geese, Grey Heron, 12 Coot, 8 Moorhen, 28 Mallard, 80+ Black-headed Gull, 3 Goldfinch, 4 Siskin. (Samuel Levy) photo's here
Hackney Marshes: River Lea - 47 Coot, 21 Moorhen, 31 Mallard, 84 Teal, 26 Tufted Duck, 14 Gadwall, 2 Canada Goose, 6 Little Grebe, 1 Grey Heron, 1 Little Egret , 1 Grey Wagtail, 1 Stock Dove, 1 Chiffchaff, 1 Firecrest, 1 Goldcrest, 2 Greenfinch, 3 Chaffinch, 1 Kestrel. (Marcin Kempa)
Harmondsworth Moor: area south of lake - Dartford Warbler in field TQ055780, singing Blackcap in ivy by Moor Lane, 4 Bullfinch, Red Kite, Reed Bunting (A.Middleton, L.Goodyear)
Iver Heath: 110 Red Kite at Wood Lane Farm coming down to feed on offal put down for them. Spectacular sight with at least this number in the air and perching in surrounding trees. Hopefully this feeding regime will cease in the breeding season otherwise it will affect the population dynamic. (John Edwards) TQ023825
Lakeside, Enfield: 2 Shoveler m & f (Robert Callf)
London Wetland Centre: 2 Shelduck, 11 Pintail, Peregrine, 4 Snipe, 2 Stonechat, 4 Fieldfare, 1 Lesser Redpoll (WWT London website/Twitter)
Moor Lane: Cetti's Warbler calling & visible behind Travis Perkins fr canal path (Anna Marett via Herts BC) TQ063940
Oxleas Wood: 3 Great spotted woodpecker, Song thrush, 4 Nuthatch, 3 Firecrest, 2 Jackdaw, 2 Sparrowhawk [m/f], 2 Goldcrest, Coal tit, Chaffinch, Stock dove (Ron Turner) —  Ron, if you don't follow our standard format (like everyone else does), then your records will be missed by the automatic data-extraction to the LNHS database
Pinner (The Croft): Red Kite circling low 1pm (Nigel Barratt)
Putney Heath: 1f Kestrel and 1 Reed Bunting late pm (Les Evans-Hill); 4 Shoveler on Kingsmere (Keith Bates)
Richmond: Eastern race Lesser Whitethroat still in back gardens of Selwyn & Pagoda Avenues. Parking charges apply Mon-Sat. Park only in visitors bays. Redpoll sp over N and 8 Redwing W. (Bill Haines).
Ruislip Woods: 5 Hawfinch 11.55am path down from Wiltshire Lane entrance. 3rd time lucky visiting from Belsize Park following the helpful directions on this site. (Marion Hill) Well done Marion, they're certainly worth the effort aren't they [RF].
St James's Park: Lesser Redpoll still in situ this morning and throughout 14:00-15:00 when also Peregrine circling (Frank Nugent)
Staines Moor: 2 Little Grebe, 3 Red Kite, 2 Buzzard, Cetti's Warbler, 4 Stonechat (Robert Martin via Twitter); Shelduck, 3 Lapwing, Jack Snipe, 3 Water Pipit, 10 Stonechat (Lee Dingain via Twitter)
Staines Reservoir: AMERICAN HORNED LARK still 1030 & 1330 (BirdGuides); no sign AHL c3pm, m Scaup & Black-necked Grebe still both close to causeway s. basin w. end (Dom Pia via Twitter)
Stanwell Moor: 2 Shelduck, 12 Teal, 2m Bullfinch (John Martin via Twitter)
Stave Hill/Russia Dock Woodland: 15 Long-tailed Tit, 4 House Sparrow, Great Spotted Woodpecker, 1 Kingfisher, 2 Song Thrush, 1 Goldcrest, 1 Chiffchaff, Pied Wagtail, 1 Greylag, 1 Canada Goose (John Cadera)
Tottenham Marsh: 40 Linnet (James Palmer)
Tyttenhanger GPs: Caspian Gull 2w main GP (Alan Gardiner via Herts BC)
Walthamstow Forest: 1 Tawny Owl calling at 18:50 nr Beacontree Ave (Daniel Whitelegg)
Walthamstow Reservoirs: LITTLE BUNTING showing regularly this morning, Scaup on No 4, 2 Goosander and Common Sandpiper on High Maynard, 12 Goldeneye, Redpoll, 6 Lapwing (David Bradshaw, David Darrell-Lambert, Dave Morrison); 3 Goosander 2m f, 1 Peregrine, 1 Green Sandpiper, 3 Greenfinch, 5 Reed Bunting, 2 Kingfisher (Daniel Whitelgg)
Wimbledon Common: 1m Kestrel and 2 Meadow Pipit on the Plain plus an overflying Cormorant late pm (Les Evans-Hill); Keith, Kingsmere is technically Putney Heath, I now put my obs from Kingsmere under that heading [LE-H]; Thanks Les, I've lived in the borough of Merton for 30 years and I never knew that. I did notice your below record of Kingsmere under Putney Heath but merely thought that was a 'nearby' record. You live and learn. Record now corrected as per above [Keith Bates]
Woodberry Wetlands: 2 Shelduck (James Palmer)
Tuesday 6th February 2018Edit
Banstead Woods: 3 Hawfinch Coneyboro Hill n. side am (David Campbell via CFBW Birds twitter)
Battersea Park Lake: 4 Teal, pr Pochard, 10 Gadwall, 19 Shoveler, 110 Cormorants, Grey Herons at nests but in last 10 years gone down from 30+ to 20 - largest island used to have about 10 nests now only one, another island had 9 active nests now seems only to be 4 and no adults present today (Michael Mac)
Bishop's Park: ad Yellow-legged Gull on Thames foreshore (Rich Sergeant via Twitter)
Bramblehall Wood: 47 Hawfinch (Steve Gale)
Bushy Park: Sparrowhawk circling 1230 (Mike Foster)
Bushy Park: 2 Great Spotted Woodpecker, 2 Green Woodpecker, 1 Redwing, 2 Stonechat (Ian R Watson)
Churchill Gardens Housing Estate/Pimlico: 50+ (could have been 100?) House Sparrows in nest hedge 4pm (Michael Mac)
Ellenbrook Fields: m Stonechat TL193086, 2 Hawfinch Home Covert Wd TL200088 (Rupert Evershed via Twitter)
Essendon: 2 Hawfinch cricket grd (per Herts BC)
Finchley: garden N3 - m Blackcap (Samuel Levy)
Garden Wood: 1+ Hawfinch still (Steve Blake via Herts BC) TL194045
Golders Hill Park: 115+ Redwing, Mistle Thrush on central slope 4pm, also Great Spotted Woodpecker, regular pr Egyptian Geese (James Levy)
Hampstead Heath: 120 Redwing feeding by bandstand, 3 Great Spotted Woodpecker, Green Woodpecker and Treecreeper by feeders at bird sanctuary pond (Allan Stewart)
Holmethorpe SPs: Brambling behind Nutfield Church 1330 (Dudley Cox via Surrey BN)
KGV Reservoir: S. Basin - m Smew close to Sailing Club, m Scaup, 9 Goldeneye 4m, f Goosander in Overflow Channel, pr Sparrowhawk, 6 Redwing 12.30-1.15pm (Davey Leach)
London Wetland Centre: Bittern, 4+ Pintail, 4 Shelduck, Grey Wagtail, Fieldfare, 2 Stonechat, Peregrine, Snipe (Jo Edwards); also 7 Pintail, f Goldeneye, 2 Peregrine, 2 Redwing (WWT twitter)
Middlesex Filter Beds: Teal & Gadwall on river, Firecrest still present, 2 Chiffchaff in Japanese knotweed along river (Ernest Thomason)
Mickleham Downs: 16 Hawfinch (Steve Gale)
Oxleas Wood: 5 Great Spotted Woodpecker, 2 Sparrowhawk, Kestrel, 4 Jackdaw, 9 Goldcrest, mFirecrest, 3 Song Thrush, 2 Redwing, 10 Chaffinch, 4 Coal Tit, Nuthatch, 2 Stock Dove, Goldfinch (Ron Turner)
Painshill Park: m Goosander on R Mole 1200 (per Surrey BN)
Rainham RSPB: 23 Avocet, 6 Curlew, 6 Black-tailed Godwit, 300 Dunlin, Little Egret, 2 Peregrine, 2 Kestrel, Redwing, Cetti's Warbler, 35 Meadow Pipit, 8 Skylark, 13 Rook, Great Crested Grebe, 4 Stonechat, 4 Marsh Harrier, 2 Buzzard, pr Sparrowhawk (RSPB per ELBF FB)
Raynes Park: Song Thrush, 4 Redwing in garden, Sparrowhawk overhead (P. Redmond)
Regent's Park: m Firecrest still 09:50 at TQ274828 [same place & same weather as 7 Jan], also Water Rail in rail ditch still (Twitter)
Richmond: Eastern race Lesser Whitethroat still in back gardens of Selwyn & Pagoda Avenues. Parking charges apply Mon-Sat. Park only in visitors bays. (Franko J Maroevic)
Richmond Park: f Dartford Warbler still (Sula Riedlinger via Twitter)
River Thames - Crossness to Thamesmead GC: foreshore - 20 Cormorant, 56 Shelduck, 20 Wigeon, 42 Gadwall, 222 Teal, 66 Shoveler, 168 Lapwing, c250 Dunlin, 4 Curlew, 64 Redshank, Common Sandpiper, 455 Black-headed Gull, 12 Lesser Black-backed Gull, 5 Herring Gull, 7 Great Black-backed Gull, 2 Yellow-legged Gull, Stonechat (Ralph Todd)
Ruislip Woods: 1 Hawfinch Fore St/Salisbury Rd entrance 10:55 (Richard Francis) Hi Richard thank you so much for your detailed ref where the Hawfinches had been seen. After some patient searching I was rewarded with great views. Glad to be of assistance (RF).
St James's Park: 1 Lesser Redpoll again feeding on the usual birch tree at 14:40 (Frank Nugent)
Staines Reservoir: AMERICAN HORNED LARK showing well halfway across the causeway on the banks of the south basin following a flock of Meadow Pipits, also 2+ Goldeneye, drake Scaup and Black-necked Grebe all south basin (Adam Bolton); also ad Mediterranean Gull (Dom Pia via Twitter)
Stocker's Lake: 9 Goldeneye, Great Black-backed Gull still (Geoff Lapworth via Herts BC)
The Ridgeway, Mill Hill: 10 Canada Geese & Coot at Sheepwash Pond, also Sparrowhawk (Samuel Levy)
Tower Hamlets Cemetery Park: Firecrest male still Sanctuary Wood, 3 Goldcrest (Bob Watts)
Walthamstow Reservoirs: LITTLE BUNTING showed on and off 9.00-10.00, drake Scaup still, drake Goosander, Kingfisher (Conrad Ellam & Paul Watts); Lockwood res - drake Goldeneye, 1 Green Sandpiper in relief channel, 1 Great Black-backed Gull, Peregrine over - 12.30-2pm (Lol Bodini)
Wanstead Park: m Wigeon on the Basin (Bob Vaughan)
Woodberry Wetlands: 5 Snipe, 3 Lesser Redpoll, 8 Redwing, 2 Teal (Chris Farthing)
Monday 5th February 2018Edit
Alexandra Park: 2 Peregrine m/f over WG Reservoir 14:30, drumming Great Spotted Woodpecker, c30 Redwing, 14 Common Gull, 4 Song Thrush, 4 Tufted Duck, 1 Great Crested Grebe (Sam Jones)
Banstead Woods: 2 Hawfinch at Fames Rough, 2 Raven, 1 Stonechat (David Campbell/Geoff Barter) blog here DC thx for your records. Fyi to allow automatic data-extraction to the LNHS database, external links go outside the data record, i.e. after the observer names.
Brimsdown: 250+ Linnet at 10:45 on wasteland west of KGV Reservoir south basin [west side of canal] (Martin Shepherd)
Brookmill Park: Kingfisher, Song Thrush, 4 Redwing (Conrad Ellam)
Canons Farm: 2 Red Kite, 20 Skylark, 80 Linnet (David Campbell/Geoff Barter) blog
Chingford Mount: Flood Relief Channel - 2 Shelduck, 2 Redshank, 5 Green Sandpiper, Kingfisher, Redwing (James Palmer)
Cornmill Meadows: 30+ Teal, 75+ Wigeon, 4 Shoveler, 2 Sparrowhawk, 4 Snipe, male Blackcap, 1 Common Chiffchaff, 1 Siberian Chiffchaff type [seen & heard calling at TL376016], 15+ Redwing, 2 Fieldfare, 45+ Goldfinch, 120+ Siskin, 2+ Lesser Redpoll (Simon Papps)
Garden Wood: 12 Hawfinch still (per Herts BC) TL195047
Hampstead Heath: 120 Redwing feeding by bandstand, 800 Carrion Crow feeding on field by ladies pond at dusk (Allan Stewart)
Hartley Wood: 5-6 Hawfinch as y'day but more mobile betw Wd & trees in field (Linturn Hopkins via Twitter) TQ614679
Hilfield Park Reservoir: Common Scoter 1f but out of view most of the time (Jo Edwards)
Hollyoak Wood Park: Grey Wagtail, 3 Great Spotted Woodpeckers drumming, Coal Tit, 11 Long-tailed Tits, Jay, 3 Song Thrush, Mistle Thrush (Eric Brown) TQ458739
Leatherhead: Randalls Way - 1 Chiffchaff, 1 Common Gull (Neil Batten)
London Wetland Centre: 2 Bittern, 9 Pintail, 4 Shelduck, 20 Redpoll, 2 Siskin, 2 Stonechat, 2 Peregrine, 2 Snipe (WWT website); m Mealy Redpoll, w/ 14 Lesser Redpoll past pond dipping area nr sustainable gdns (Marc McLoughlin & Rachelle Regan via Twitter) Mealy pic posted to Images section here
Margravine Cemetery: 2 m Blackcap (Nathalie Mahieu); 20+ Redwing (Des McKenzie via Twitter)
Nunhead Cemetery: 20+ Redwing, 2 Song Thrush singing, 3 Great Spotted Woodpecker 1 drumming (Keith Chambers)
Ponders End Lock area: 1 Green Sandpiper & pr Grey Wagtail in Overflow Channel nr NW corner of William Girling Res, 3 Lesser Redpoll & 60+ Redwing w/ Starlings & mixed finch flocks in area (Davey Leach)
Rainham RSPB: 3 Lesser Redpoll, 28 Avocet, Curlew, Black-tailed Godwit, 240 Dunlin, 2 Great Crested Grebe, 4 Stonechat, 4 Marsh Harrier, Buzzard (per ELBF FB)
Richmond: Eastern race Lesser Whitethroat still in back gardens of Selwyn Avenue early am. Parking charges apply Mon to Sat. (Franko J Maroevic, Steve Connor)
Ruislip Woods: 9+ Hawfinch 3 Mad Bess Woods 10:50 & 4+ down from Wiltshire Ln entrance 11:10 & 2 nr Fore St/Salisbury Rd entrance 11:25 (Richard Francis)
St James's Park: 1 Lesser Redpoll feeding on usual birch tree throughout 14:00-15:00 (Frank Nugent); skein of 5 Black Swans in flight an impressive sight. Also nice to meet FN last week. (Ray Crouch)
Staines Reservoir: AMERICAN HORNED LARK still 1005 (RBA); also m Scaup s basin nw cnr, Black-necked Grebe, Red Kite hunting over western grass bank (Chris Sutton via Twitter)
Stocker's Lake: incl 4 Wigeon, Great Black-backed Gull (Steve Blake via Herts BC)
Surbiton Filter Beds: 12 Gadwall (Nigel Jackman)
Swanley Park: 2 Shoveler 2m, 35 Redwing, Coot [v.unusual] (Andy Meaton)
The Ridgeway, Mill Hill: 30 Canada Geese towards Belmont Farm 08:15, 6 Fieldfare, 2 Egyptian Geese, Coot (Samuel Levy)
Thorndon CP: N section - Buzzard, Coal Tit, Goldcrest, Nuthatch, 8 Song Thrush, 12 Hawfinch (Tony Kennelly via ELBF FB)
Upminster: Branfield School Field - 15 Starling, 100 Fieldfare, 10 Redwing (Ron Cook per ELBF FB)
Verulamium Park: Hawfinch still St Michael's churchyard midway along southern boundary 0800 TL135072 (Bill Free via Herts BC); Kingfisher (Lee Calcraft via Herts BC)
Walthamstow Reservoirs: LITTLE BUNTING still 1015 (William Last via Twitter); LB showing well every 20min or so 11:00-12:00 (Harringay Birder via Twitter)
Wandsworth Common: incl 10 Shoveler 6m 4f, 2 Stock Dove, 3 Great Spotted Woodpecker, Green Woodpecker, 2 Coal Tit, 3 Goldcrest, c60 Redwing, 4 Mistle Thrush (Peter White via Twitter)
Wanstead Flats: 33 Egyptian Geese, ad Great Black-backed Gull, 11 Meadow Pipits (Tim Harris)
Wanstead Park: Bush Wood - Firecrest, Nuthatch (Tim Harris)
Westbourne Park: Grand Union Canal - 15 Canada Goose, 2 Greylag Goose, 2 Egyptian Goose, 1 hybrid Goose (Francis O'Sullivan)
Woodberry Wetlands: 2 Snipe, 2 Lesser Redpoll, Yellow-legged Gull (Chris Farthing)
Sunday 4th February 2018Edit
Alexandra Park: 100+ Redwing, c25 Common Gull (Dominic Mitchell, Bob Watts)
Bramblehall Wood: 20+ Hawfinch (Steve Gale via Twitter) TQ189523]
Brent Reservoir: 16 Snipe, 2 Little Egrets, 110 Redwing, Cetti's Warbler (Andrew Self, Roy Beddard)
Bricket Wood Common: 4+ Hawfinch in treetops w/ Chaffinch flock along School Ln c1300 (Rupert Evershed via Herts BC) TL133012
Bushy Park: m Dartford Warbler am (Ralph Clark via Twitter)
Church Street Recreation Ground: 53 Common Gull incl three first-winter and one juvenile - perhaps suggesting L. c. heinei (Robert Callf) [new site for LNHS gazetteer TQ332937]
Connaught Water: Caspian Gull am (BirdGuides)
Ealing Green: c100 Redwing (Richard Woolley).
Finchley: garden N3 - m Blackcap still (Samuel Levy)
Gallions Reach: 2 Oystercatcher 1st returning birds back early, 5 Black-tailed Godwit, Common Sandpiper, 52 Redshank, 3 Chiffchaff (Dave Morrison via Twitter)
Greenford: Beechwood Ave - Fieldfare in small street tree (Neil Anderson)
Greenwich Peninsula Ecology Park: Jack Snipe still fr Gatehouse at waterline below East Hide on right-hand side 1030 (Richard Green via Twitter)
Hartley Wood: 5 Hawfinch in trees along solid wooden fence east of yew wd (Linturn Hopkins via Twitter) TQ614679 [grid ref confirmed by obs'r - LRA boundary lies just beyond]
Hatfield: Red Kite over Birchwood (Steven Pearce via Herts BC)
Hilfield Park Reservoir: Common Scoter 1f still, 1 Goldeneye (Tony Blake)
Islip Manor NR: 70+ Redwing (Deiniol Owen)
Juniper Top: singing Hawfinch (Steve Gale via Twitter)
KGV Reservoir: incl 20+ Pochard, m Scaup, 28 Goldeneye, m Smew, 20 Goosander, Slavonian Grebe, Little Egret, 3 Chiffchaff, 20 Redwing, 3 Stonechat, 8 Meadow Pipit, 36 Siskin (Neville Smith / Jez Dagley per ELBF FB)
London Wetland Centre: 2 Shelduck, 16 Mandarin, 5 Pintail, Goldeneye, 4 Bittern, Black-tailed Godwit grazing marsh pm, Jack Snipe, 2 Peregrine, 6 Fieldfare, 3 Redwing (WWT website)
M4: Barn Owl c9pm flying by side of eastbound lane c2.5mi [presumably west?] from M25 jn (Nathalie Mahieu, John Boorman) [cTQ006777 nr Ditton Pk]
Maple Cross: c3 Yellowhammer field hedge west of estate (Chris Bessant via Herts BC) TQ025925
Middlesex Filter Beds: 1 Firecrest again at 0930 (Alastair Dent); again c1315 (Matthew Cunningham)
Nazeing GP: Iceland Gull roosted again this evening (Adam Wilson)
Pymmes Park: 2 Little Grebe, Mediterranean Gull adult wearing yellow darvic ring present until 15:10 at least, Grey Wagtail, 55 Redwing, 14 Greenfinch pre-roost gathering at 15:30, 9 Goldfinch (Robert Callf)
Rainham RSPB: Pintail, Great Crested Grebe, 3 Marsh Harrier, Buzzard, Water Rail, 28 Avocet, 6 Golden Plover, 3 Curlew, 50 Black-tailed Godwit, 3 Ruff, 200 Dunlin, 4 Snipe, Stock Dove, Barn Owl, 2 Kestrel, Skylark, Cetti's Warbler, 3 Redwing, 3 Stonechat, Grey Wagtail, Meadow Pipit, Water Pipit, Rock Pipit (per ELBF FB)
Richmond: Eastern race Lesser Whitethroat still in back gardens of Selwyn & Pagoda Avenues. Parking charges apply Mon to Sat. (Franko J Maroevic)
Richmond Park: 31 Lesser Redpoll, Red Kite (Steve Woolfenden)
River Wandle - Goat Bridge to Mitcham Bridge: nr Poulter Pk - 16 Redwing, 2 Kingfisher, 5 Goldcrest, 1 Firecrest (Tomos Brangwyn)
Rye Meads RSPB: 2 Stonechat m f on meadow still (Allan Meadows via Herts BC)
Sevenoaks WR: Black-necked Grebe still (Andy Appleton via Twitter)
Staines Moor: Barn Owl early-am, Grey Wagtail (Dom Pia via Twitter)
Staines Reservoir: AMERICAN HORNED LARK showing well at 11:25 am (Harringay Birder via Twitter); m Scaup s. basin & Black-necked Grebe still (Tony Cummins via Surrey BN)
Stanborough Lakes: area - 2 Red Kite [2km west of site] (Steven Pearce via Herts BC) TL208110
Ten Acre Wood area: 2 Pheasant together, 6 Teal, 3 Buzzard seen same time incl pr together in & around field, Red Kite, Sparrowhawk, 2 Kestrel, 32-33 Lapwing, 3 Snipe, 10+ Stock Dove pr displaying, 13+ Skylark 4 & 9 & later singing bird, Redwing, 9 Lesser Redpoll 6 & 3, 5 Greenfinch, 12 Linnet (Neil Anderson); 1 Fieldfare & 10 Redwing feeding, 5 Reed Bunting (Deiniol Owen)
Theobalds Park Farm: Buzzard, 2 Kestrel, 6 Skylark, 10 Meadow Pipit, Grey Wagtail, Goldcrest, Brambling, 2 Reed Bunting (Neville Smith via Twitter)
Totteridge Valley: no sign of yesterday's Yellow-browed but only a brief visit - did have Little Egret, Sparrowhawk, Grey Wagtail, 33 Fieldfare, 10 Redwing and c130 Common Gull (John Colmans); Red-legged Partridge, c15 Siskin, 3 Bullfinch, 12 Linnet, Mistle Thrush, 13 Teal, 2 Coal Tit, 3 Nuthatch, Collared Dove, Common Buzzard (Simon Worsfold); Belmont Farm - 44 Canada Geese, 2 Egyptian Geese, Sparrowhawk, Kestrel, 2 Common Buzzard, Coot sheepwash, 23 Black-headed Gull, 28 Common Gull, 9 Herring Gull, 4 Lesser Black-backed Gull, 12 Stock Dove, 2 Collared Dove, Rook, 2 Goldcrest, f Stonechat, 20+ Fieldfare, 77+ Redwing, Pied Wagtail (Samuel Levy)
Walthamstow Reservoirs: LITTLE BUNTING still 1220 (Shaun Harvey via Twitter); then in isolated tree at 1430 (Matthew Cunningham); also m Scaup still, Sparrowhawk, Kingfisher 20 Linnet (Tom Bell per ELBF FB)
Weald CP: 4 Goosander 3m f, 2 Great Crested Grebe, Kingfisher, 2+ Coal Tit, 7 Nuthatch incl 2pr, Treecreeper singing, f Bullfinch, 50+ Siskin (Andrew Cox via EBwS BN)
Worcester Park: female Blackcap in observer's garden and Red Kite SW (Bob Smith)
Wormwood Scrubs: pr Stonechat in grassland still, 5 Meadow Pipit (Paul Thomas via Twitter)
Saturday 3rd February 2018Edit
Alexandra Park: 136 Redwing, 5 Pochard (Dominic Mitchell, Bob Watts)
Bentley Priory: 6+ Hawfinch 5+ around northern perimeter fence TQ154931 & 1 in deer park, 3 Bullfinch, c80 Redwings (Tony Blake)
Brent Reservoir: 19 Common Snipe, Cetti's Warbler seen and heard (Steve Blake, Andrew Verrall); Little Egret behind dam (Andrew Self)
Buckland Sand Pits: 60 Siskin, 92 Wigeon, 20 Mandarin Duck, 2 Shoveler, 3 Snipe, 2 Egyptian Goose at Park Pit (David Campbell)
Bushy Park: 2 Great Spotted Woodpecker, 4 Green Woodpecker (Ian R Watson)
Colney Heath: Little Egret on R Colne (Steven Pearce via Herts BC) TL197062
Crayford: adult Yellow-legged Gull at Viridor pm (Richard Bonser)
Dulwich: around Rosendale Rd 13:30 saw a Peregrine Falcon fly over weighed down by a prey item. Through binoculars I realised it was carrying a dead Woodcock (Paul Collins)
Frays Farm Meadows LWT: upsetting to find feather remains of Barn Owl in compartment TQ053858 this morning (Dan Pinkham)
Ickenham Marsh: Treecreeper, 25 Siskin, 20 Redwing, Grey Wagtail (Nigel Dodd)
KGV Reservoir: Egyptian Goose, 12 Gadwall, 28 Teal, Scaup, 28 Goldeneye, Smew. 11 Goosander, 12 Little Grebe, 2 Slavonian Grebe, 11 Lapwing, 2 Stock Dove, Cetti's Warbler, Goldcrest, Mistle Thrush, 2 Stonechat, 2 Grey Wagtail, 8 Meadow Pipit, 4 Greenfinch, 127 Linnet (Neville Smith via Twitter)
Lamorbey Park: Little Grebe, 2 Great Spotted Woodpecker drumming, 4 Song Thrush, Coal Tit (Mike Amos)
London Wetland Centre: 10 Pintail, 1 Jack Snipe, 1 Water Pipit, 2 Shelduck & 4 Snipe (Shailesh Patel); also 2 Bittern main lake n. shore, 8 Snipe, Coal Tit s. route feeders, 18 Redwing, Stonechat (WWT website); 2 Jack Snipe wader scrape, 6 Fieldfare and 2 Redwing on E. bund, 2 Stonechat m f grazing marsh, 1f Goldeneye main lake, 1 Goldcrest southern route (Martin Honey, S. Fogg, A. Innes)
Middlesex Filter Beds: 1 Firecrest in knotweed on W bank of Old R. Lea just downstream of stones, 1 Goldcrest, 4 Stock Dove feeding on meadow outside Marshes gate at 10:00 (Alastair Dent)
Moor Park nr Rickmansworth: Lesser Spotted Woodpecker drumming, Great Spotted Woodpecker drumming, Green Woodpecker calling, 50 Fieldfare (Steve Carter via Herts BC)
Putney Heath: 2 Kestrel m & f; 1m Shoveler Kingsmere (Les Evans-Hill)
Queen Mary Reservoir: Black Redstart trapped & ringed am - no public access (Steve Chastell via Twitter)
Rainham RSPB: 5 Pintail in first pool slightly to right of visitor centre, Common Snipe from first hide walking clockwise, Greylag Goose, Peregrine Falcon, Marsh Harrier, Little Egret, noticeable number of Redwing, 2 Black-headed Gull in breeding plumage (Terence Baker); 5 Marsh Harrier, Buzzard, 21 Shoveler, 16 Gadwall, 14 Pintail, 25 Pochard, 30 Tufted Duck, 24 Avocet, Curlew, 230 Dunlin, Barn Owl, 10 Skylark, 3 Rock Pipit (Alan Shearman per ELBF FB)
Ravenscourt Park: flock of c200 Redwing (Twitter)
Richmond: Little Egret flying west across Thames at 1000 (Mike Foster)
St James's Park: 2 Lesser Redpoll still in situ (Frank Nugent)
Southgate: Dalrymple Close N14 - male Blackcap in neighbours garden (Robert Callf)
Staines Reservoir: AMERICAN HORNED LARK 10:55 halfway along causeway, also Water Pipit (Andrew Self via Twitter); Greater Scaup, Black-necked Grebe (Thomas Gibson)
Streatham: Little Egret flew NE over High Street at 8.20am (Richard Bonser)
Ten Acre Wood Area: 3 Bullfinch, 2 Lesser Redpoll, 2 Teal, Buzzard, Kestrel, Pheasant, 40 Lapwing, 2 Skylark (Nigel Dodd)
Thorndon CP: N section - Lesser Spotted Woodpecker calling nr 2nd car park, Great Spotted Woodpecker, 3 Green Woodpecker, 3 Coal Tit, Goldcrest, Nuthatch, Treecreeper, 2 Song Thrush, 2 Mistle Thrush; S section - 2 Great Spotted Woodpecker drumming, 2 Green Woodpecker, 8 Redwing, 2 Bullfinch nr Rookery Wd (Andrew Cox via EBwS BN)
Totteridge Valley: 2 drumming Great Spotted Woodpecker, 2 Nuthatch, 6 Goldcrest, Yellow-browed Warbler with a flock of Goldcrest in Oakfields c100m from Partingdale/Ridgeway entrance but very elusive, 19 Redwing, 7 Song Thrush; also Muntjac, Wood Mouse (Samuel Levy)
Tulse Hill: Great Spotted Woodpecker in flight over top of Tulse Hill Rd and dropped into gardens on west side (Matthew J. Bradbury)
Tyttenhanger GPs and Willows Farm: Caspian Gull still, 9 Tree Sparrow; no sign of Hawfinches in Gdn Wd am (Rick Flesher via Twitter)
Walthamstow Reservoirs: LITTLE BUNTING still 0900 (Andrew Self via Twitter), again 11:48 (Fernley Symons); 2 Goosander, Scaup, 2 Goldeneye, Peregrine, 2 Kingfisher (Magnus Andersson, Tom Bell per ELBF FB)
Wanstead Flats: 1-2 Little Owl, 2 Stonechat, 3 Fieldfare, 2 Redwing, 10 singing Song Thrush, 5 Stock Dove, 3-5 Reed Bunting, 15+ Greenfinch, 5 Skylark, 9 Meadow Pipit, 10 Shoveler, 6 Gadwall, 4 Teal, 4 Pochard, 16 Tufted Duck, Goldcrest, Sparrowhawk, Kestrel, feathery remains of a Woodcock (Nick Croft/JamesHeal)
Wanstead Park: f Goldeneye [first for 2 years], 7 Pochard, 13 Tufted Duck, 16 Teal, 38 Gadwall, 10+ Shoveler, 3 Little Grebe, Great Crested Grebe, Water Rail, Little Egret, 4 Goldcrest, Nuthatch, Coal Tit, 10+ Siskin, 6 Stock Dove, 12 Fieldfare, 40+ Redwing, Mistle Thrush, Sparrowhawk, Kestrel (Nick Croft/James Heal)
Wimbledon Common: 1m Sparrowhawk bathing and 2 Redwing Bluegate Pond; 1 Buzzard calling Putney Vale Cemetery; 14 Mandarin 7m 7f and 12 Tufted Duck 6m 6f Queensmere (Les Evans-Hill)
Woodberry Wetlands: 2 Shelduck, 2 Snipe, Lesser Redpoll (Chris Farthing)
Worcester Park: 90 Redwings on horse fields (Bob Smith)
Wormley West End: 12 Hawfinch 1135 (BirdGuides); 38+ Hawfinch peak count (Graham White via Herts BC)
Wormwood Scrubs: pr Stonechat, Meadow Pipit (Paul Thomas via Twitter)
Friday 2nd February 2018Edit
Amwell NR: Gt Hardmead L - 7 Goldeneye 4m 3f, f Smew fr gladwin hide, 3 Red Kite over viewpt (Simon West via Herts BC)
Brookmill Park: Stock Dove, singing Song Thrush, 2 Redwing (Conrad Ellam)
Broxbourne Woods: 8 Hawfinch came into roost 13:20-14:45 (Laurence Drummond via Herts BC)
Bushy Park: 2 Green Woodpecker, Kestrel, Nuthatch (Ian R Watson)
Edgware: Red Kite low over Edgware Library 1330 (Andrew Haynes)
Ellenbrook Fields: pr Stonechat on fence at back of old BT site (Rupert Evershed via Herts BC) TL194083
Garden Wood: c20 Hawfinch still but mobile - viewed fr public f/p at TL193045 (TyttGP twitter); 15-20 Hawfinch in oaks mid-morning fr open field (Jo Edwards) Is it useful to have an entry for 'Garden Wood', which is not listed on Google Maps, when the wood is half way along the footpath between Tyttenhanger pits and Willows Farm (see below) and in view of both? The hawfinches are viewable from the same spot as the little owl below! JE - Understood but Tytt'r GPs & Gdn Wd are both grid-referenced [the latter's g-r is more accurate of course] in the LNHS gazetteer [available as a spreadsheet-download from the LNHS website here], so either heading is OK so long as each day's sightings from GW are grouped together, which is why yours was moved - apologies for not noting the fact. Feel free to group the GW sightings under TGP if you prefer.
Greenwich Park: Red Kite over 1050 (Catherine MacLean via Twitter)
Iver Heath: 145 Red Kite 14.45 being fed locally (Chris Lamsdell)
KGV Reservoir: 1 Slavonian Grebe N. basin, m Scaup S. basin, 9+ Goosander 4m, 18+ Goldeneye incl 6m, 14 Meadow Pipit in 1 flock, Green Woodpecker 12.45-1.30pm (Davey Leach)
Leyton Marsh: 10 Meadow Pipit on former pitch & putt golf course (Richard Hack)
London Wetland Centre: 1f Goldeneye, 1 Bittern N shore main lake, 8 Pintail, 6 Fieldfare on E bund, 1 Redwing southern route, 2 Stonechat m f (Martin Honey)
Mayflower Park: male Pheasant - rare here (Danny Ramsay per Bob Smith)
Middlesex Filter Beds: 2 Peregrines in a dogfight over the beds at 10:00 the larger of which then perched on the pylon behind the Millfields orchard/sub-station, also in the orchard 1 Green Woodpecker, 1 Great Spotted Woodpecker & 10 Stock Dove [2 in orchard & 8 on Hackney Marshes meadow just outside the MFBs]; 1 Firecrest reported along Old River Lea (Alastair Dent)
Mile End Park: 25+ Redwing (Bob Watts)
Myatt Fields, Camberwell: 8 Redwing 0800 (Keith Chambers)
Nazeing GP: Iceland Gull roosted this evening (Adam Wilson)
North Met Pit: pr Goosander, Water Rail, m Peregrine, Kingfisher, 2 Treecreeper, 6 Siskin (Dave Morrison via Twitter)
Putney: 3 Collared Dove on rooftops Dover House Rd SW15 - a scarce migrant in this area (J.Wilczur)
Rainham RSPB: 29 Pintail, 4 Marsh Harrier 2m2f, Water Rail, 26 Avocet, Ringed Plover, 6 Curlew, 312 Black-tailed Godwit, 3 Ruff, 121 Dunlin, 10 Snipe, Barn Owl, Green Woodpecker, 2 Kestrel, Cetti's Warbler, Fieldfare, 9 Redwing, 3 Song Thrush, 6 Stonechat, Meadow Pipit, Water Pipit, Rock Pipit (per ELBF FB)
Richmond Park: Red Kite SW over Pondslade c0850 (Sula Riedlinger via Twitter)
Ruislip Woods: 2 Hawfinch at Fore St/Salisbury Rd entrance 9.00-0.15 (Richard Francis)
St James's Park: 4 Lesser Redpoll still in situ three at 08:00 joined by a fourth at 08:30 (Frank Nugent). Thanks for the directions below but there are three silver birch on that stretch of the path and was hoping for clarification that it was the one nearest to the bridge. Yes, the birch on its own nearest to the bridge, not the two together nearer to the Pelican rocks [FN] Thanks v much Frank - off to check now.. update.. two birds there at 13:00 - no red visible on crown of either through bins - perhaps first winter birds? HB There is a lovely brightly coloured male with them on occasion too [FN]; still 2 Lesser Redpoll 13.45 (Mike Amos)
Staines Reservoir: AMERICAN HORNED LARK showing well c10am (Simon West via Twitter); m Scaup S basin west end (Dom Pia via Twitter); also s/p Black-necked Grebe still (Niall Keogh via Twitter)
Swanscombe Marsh: 17 Lapwing, 100+ Redshank, 7 Turnstone, 1 Water Pipit, 1 Green Sandpiper, 2 Grey Plover, 3 Dunlin, 14 Meadow Pipit, 2 Rock Pipit, 45+ Mallard & 100+ Teal & 50+ Gadwall all on river, 8+ Jack Snipe, 6 Snipe, 2 Stonechat m f different loc'ns, 2 Raven, 1 Cetti's Warbler h, 1 Kestrel, 1 Grey Heron, 2 Shelduck, 3 Pheasant 13.30-16.30 (Roger Keith / Paul Larkin)
Totteridge Valley: 10 Redwing, 2 Egyptian Geese & Coot at Sheepwash (Samuel Levy) Dec Report here
Tower Hamlets Cemetery Park: 1 Firecrest still in Sanctuary Wood (Richard Hack)
Turnford Marsh GPs: c10 Goosander 5m 5f Ashley Pit (Ann Doubleday via Herts BC)
Tyttenhanger GPs and Willows Farm: Tyttenhanger Fm - 5+ Skylark, 11 Tree Sparrow; main GP - 2 Little Egret, 2 Red Kite, Green Sandpiper, 3 Snipe, Caspian Gull 3cy, Kingfisher, Yellowhammer; Willows Fm - Stonechat, 100+ Fieldfare (TyttGP twitter); Little Owl willows fm (Jeff Bailey via Herts BC)
Victoria Park: west lake - Red-crested Pochard, 12 Pochard, 14 Shoveler, 2 Great Crested Grebe, Little Grebe (JW Davies)
Wallington: private gdn - Green Woodpecker 4pm garden first and 50th bird seen from/in garden (Arjun Dutta)
Walthamstow Reservoirs: LITTLE BUNTING still 0910 & 1255 (RBA); drake Scaup still in NE corner of No.4 at 11:45, plus 5 Goldeneye (Alastair Dent)
Woodoaks Farm: m Stonechat along main track (Geoff Lapworth via Herts BC)
Wraysbury GPs: 42 Goldeneye, 6 Goosander, 250 Tufted Duck, 19 Little Egret, 29 Great Crested Grebe, 40 Redwing, 2 Fieldfare, 280 Coot, 200 Jackdaw. The most interesting birds and some of the higher counts - 38 species total - all of the Wraysbury and Horton complex covered (Thomas Gibson)
Thursday 1st February 2018Edit
NB The East Hide & its access path at Greenwich Peninsula Ecology Park are now closed till March for redevelopment. (per Richard Green via Twitter)
Brent Valley Golf Course: Red Kite 12 noon mobbed by crows - first sighting in this part of west London (Richard Lefley)
Brookmill Park: Kingfisher, Goldcrest, 2 Redwing (Conrad Ellam)
Bury Wood: c1 mile from Chingford Stn at Bury Rd - a road-kill boar Badger at 9am [not present on my return 4.5 hours later]. The first Badger that I've encountered locally in 60 years (Ken Murray)
Dulwich Village: on Lovers Walk behind the tennis courts - a Hedgehog rooting for worms in the rain at 7pm. Rare in Dulwich although sometimes encountered around the village (Paul Collins)
Erith Reach: foreshore - incl 80+ Black-tailed Godwit, 17 Dunlin, 2 Gadwall, 60+ Redshank, a Rock Pipit, 4 Shelduck and 33 Teal (Mike Robinson)
Fairlop Waters: 70 Lapwing, 6 Golden Plover (Steve Bacon per ELBF FB)
Finchley: garden N3 - Tawny Owl calling 06:54 (Samuel Levy)
Forty Hall CP: 5 Goosander 3 ad male and 2 fem fishing lake near Turkey Brook (Robert Callf)
Frays Farm Meadows LWT: 2 Barn Owl 7am, Water Rail; also Water Vole (Dan Pinkham)
Grays Gorge: incl m Peregrine, 10 Redwing, 7 Lesser Redpoll (Alan Shearman per ELBF FB)
Greenwich: Firecrest Maze Hill Stn c8am (Joe Beale via Twitter)
Greenwich Peninsula: Meantime Nursery Field 3 Meadow Pipit (Richard Green)
Greenwich Peninsula Ecology Park: no sign of Jack Snipe [park warden had a look from East Hide], 5 Redwing, Goldcrest, Chaffinch, 6 Siskin, Kingfisher (Richard Green, John Bushell)
Guy Lodge Farm, Enfield: Mediterranean Gull 1st-winter in pig field at TQ334999 with other gulls until 14:20 at least (Robert Callf)
Hampstead Heath: 120 Redwing still feeding by bandstand, 6 Egyptian Goose 3pr on Heath Ponds and 8 Long-tailed Tit (Allan Stewart)
Ingrebourne Valley: incl pr Shelduck, 2 Gadwall, 20 Teal, 15 Red-legged Partridge, Sparrowhawk, 4 Buzzard 2pr, 90 Lapwing, 6 Golden Plover, Kestrel, 30 Skylark, Chiffchaff, 10 Fieldfare, 3 Redwing, 2 Linnet, 2 Redpoll, 30 Yellowhammer, 8 Reed Bunting (Dave McGough, Russ Sherriff, Mike Hughes per ELBF FB)
Juniper Top: 6+ Hawfinch still 1100 (G Wilkinson via Surrey BN)
Lion Gorge: incl Sparrowhawk, Firecrest, Goldcrest, 13 House Sparrow, 5 Fieldfare, pr Bullfinch, 2 Greenfinch (Alan Shearman per ELBF FB)
London Wetland Centre: Bittern, 2 Stonechat, 7 Pintail, 2 Shelduck, 3 Redwing, 3 Snipe (WWT website)
Mayflower Park: Peregrine - probably different to Motspur Park bird (Bob Smith)
Morden Cemetery: Little Owl heard (Bob Smith)
Motspur Park: Peregrine to gasholder (Bob Smith)
Oxleas Wood 5Greatspottedwoodpecker 3Kestrel[2fm/1m] 11Goldcrest 2Jackdaw 8Goldfinch 2Stockdove Firecrest 7Chaffinch[Ron Turner]
Rainham RSPB: 5 Marsh Harrier 2m3f, 3 Golden Plover, 7 Curlew, 2 Yellow-legged Gull, 2 Water Pipit (RSPB via ELBF FB)
Richmond: Eastern race Lesser Whitethroat still in back gardens of Selwyn & Pagoda Avenues. Parking charges apply Mon to Sat. (Franko J Maroevic)
Richmond Park: 2 Linnet m f in southern fringes of Pond Plantation (Laurence Mitchell)
Ruislip Woods: Salisbury Rd entrance. 4 Greenfinch, Green Woodpecker, 6 Redwing and a male Muntjac along wood edge in south paddock (Nigel Barratt); not sure what time you were there Nigel but I had a pair of Hawfinch there at 10:00 (Richard Francis)
St James's Park: 3 Lesser Redpoll again feeding on the birch tree throughout 14:00-15:00 (Frank Nugent); 2 birds still at 16:00 (Jo Lawrence) Hi, is it the birch nearest to the east side of the bridge, between the path and the south side of the lake? Thanks [see directions of 26 Jan below]
Scotsbridge Mill Watercress Beds nr Rickmansworth: 2 Water Rail, Snipe (Geoff Lapworth via Herts BC)
Sevenoaks WR: Black-necked Grebe still East Lake 20yd from path, 2 Egyptian Geese, 5 Siskin, 3 Redwing, 7 Common Snipe (Eric Brown & Jim Butler)
Staines Moor: 2 Red Kite, 4 Buzzard, Stonechat m, Bullfinch m [possibly my first for site] (Robert Martin via Twitter)
Staines Reservoir: AMERICAN HORNED LARK still 1025 & 1230 (RBA)
Stanwell Moor: 2 Egyptian Goose, 2 Shelduck, 2 Shoveler, 12 Mallard, 8 Teal, 20 Fieldfare (Robert Martin via Twitter)
Stocker's Lake: 4 Egyptian Goose, 5 Red-crested Pochard, 2 Goldeneye, 2 Red Kite, 4 Ring-necked Parakeet (Steve Carter via Herts BC)
Swanley Park: 2 Shoveler pair present for 1wk (Andy Meaton)
Sydenham Hill Woods: 2 Egyptian Goose, Tawny Owl calling 16.40, Kestrel, 4 Redwing, Green Woodpecker, 4 Great Spotted Woodpecker, Treecreeper (Keith Chambers)
Tufnell Park: Firecrest again this time in rear garden in Huddleston Rd, also 2 Goldcrest, Coal Tit, Jay, Mistle Thrush, many Redwing (Reuben Braddock); male Blackcap skulking in Pyracantha at top of Chetwynd Rd midday occasionally singing (Pete Mantle)
Verulamium Park: 2 Red Kite (Alan Gardiner via Herts BC)
Walthamstow Reservoirs: LITTLE BUNTING again in its favourite bush at 9:55 but elusive today, m Scaup back on No4 at lunchtime (David Bradshaw)
Wanstead Flats: area [Capel Rd E7] - 25+ House Sparrows in back gardens (Harry Harrison); Bush Wd - Firecrest still, Nuthatch (Tim Harris via Twitter)
Warren Gorge: incl 4 Shoveler, 6 Gadwall, 6 Teal, 2 Pochard, 2 Great Crested Grebe, 4 Little Grebe, Great Egret S from Gorge 7am, 77 Cormorant, 2 Water Rail, Kingfisher, 5 Cetti's Warbler, 2 Goldcrest, 5 Siskin (Alan Shearman per ELBF FB)
Whitechapel: Sparrowhawk east over The Royal London, mobbed by a Crow 11am (D Fletcher)
Woodberry Wetlands: 2 Shelduck, Snipe, 4 Teal, Water Rail, Sparrowhawk (Chris Farthing)
---
Archived News Edit
Link to previous months