January highlights: a Waxwing invasion at lastEdit
My nomination for January's bird of the month is the Waxwing. After just a handful of London reports in November and December, these Scandinavian immigrants finally invaded the capital in larger numbers during January. However, this winter's influx has been much less impressive than the bumper irruptions of 2010–11 and 2012–13. Although this wiki has had 150 mentions of Waxwing during January, many sightings have been single birds, and the largest flock has comprised only about 40. This compares with throngs of 150 four years ago and 300 six years ago.
(January could possibly finish up with a more spectacular bird of the month, but only if its sole observer can convince the Rarities Committee to accept it as a first for London. On the morning of 24th January, Samuel Levy was watching Redwing pass through his Finchley garden as they left their roost and noticed an unusual pale thrush among them. It was still with the flock when the birds returned in the late afternoon, and he identified it as a female Black-throated Thrush. Unfortunately, he did not get a chance to photograph it and, although he and others looked for it over the next few days, it was not seen again.)
Water birds Edit
January's best anatid sighting was a one-day-only Ferruginous Duck at Staines Reservoir on the 26th. Staines also hosted a drake Scaup for part of the month, as did Walthamstow Reservoirs. Apart from eight Barnacle Goose over Walton-on-Thames (8th) and 12 Dark-bellied Brent Goose at Rainham Marshes (30th), January's reports of wild geese mainly involved single birds, including White-fronted Goose at both Rainham and Rye Meads.
On the 24th a sick Slavonian Grebe was found at Fishers Green, and on the 29th and 30th a healthier bird was at William Girling Reservoir, along with some of the Lea Valley's regular wintering Black-necked Grebe.
Wetland birds Edit
Tyttenhanger GP's two long-staying Great White Egret were both present until 19th Jan, and a single bird was last reported on the 21st. A Cattle Egret was at Rainham Marshes on the 10th and another was seen in Totteridge Valley on the 15th. By the end of the month the London Wetland Centre was hosting at least six wintering Bittern.
Birds of prey Edit
Notable birds of prey were a Goshawk at Weald Park on 20th Jan and Merlin at four different sites during the month. Away from their regular winter haunt at Rainham Marshes, Short-eared Owl were seen hunting on more than one date at both Fairlop Waters and Ellenbrook Fields, Hatfield.
Gulls and waders Edit
January's leading larids were white-winged jobbies: on the 6th an Iceland Gull was seen over West Molesey and a juvenile Glaucous Gull was at Beddington Farmlands; later in the month a young Glauc was reported variously from Barking Bay, Creekmouth, Stratford, Leyton and Walthamstow. Otherwise, the most notable gulls were Kittiwake, with three sightings, and Little Gull, with one at Rainham Marshes on the 31st. (Caspian Gull seems to be no longer worth mentioning in these round-ups, having become so common that more than 60 sightings were reported this month.)
Most interesting among the 18 wader species recorded during the month were a couple of Ruff at Purfleet on the 21st.
Passerines Edit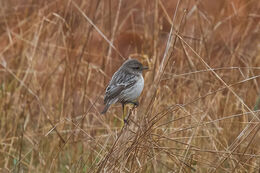 Sadly for twitchers who dashed off to Richmond Park to tick the pallid female Stonechat, DNA testing of its droppings has shown that the bird was not after all an exotic Stejneger's Stonechat but merely a washed-out European Stonechat. (And a DNA re-test has shown that the Dungeness bird previously identified as a Stejneger's was also just a pale European bird.)
A Swallow at Walthamstow Filter Beds on the 25th to 28th broke London's previous earliest record of 29th Jan (1809). In recent years a few Swallow have remained into the winter in southern England, and this bird was presumably a hardy overwintering bird rather than an early spring migrant. Also on the 25th, a Common Whitethroat at West Drayton was London's first January record since one managed to overwinter at Walthamstow reservoirs in 2011–12.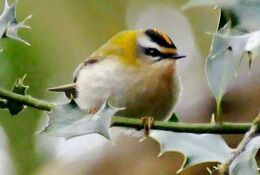 The Wanstead Flats Yellow-browed Warbler, first reported on 7th Dec, managed to hang around into the new year and was last seen on 4th Jan. Siberian Chiffchaff and Firecrest were both reported from a few sites in early January, and at least one of each species survived the long cold spell later in the month. Lamorbey Park's Firecrest, first reported on 27th Nov, remained right through the month, being last seen on the 30th.
On 2nd Jan a Bounds Green birder had a rare treat when a Marsh Tit popped into her garden. And on the 8th another garden, in Hertfordshire, produced the recording area's first Hawfinch of the winter. A Great Grey Shrike that showed itself occasionally in Ingrebourne Valley in the second half of the month had apparently first been seen on the 5th, although not reported at the time.
More photographs, please Edit
Finally, it's good to see that London birders have uploaded two dozen photographs to the wiki this month. Several of these images feature in the daily reports below, and I have added three others to this summary in the hope of encouraging more birders to show off their images here.
(Contributed by Andrew Haynes, who accepts full responsibility for any errors. Historical information is mainly based on earlier reports on this wiki and on 'The Birds of London' by Andrew Self.)''
Tuesday 31st January 2017Edit
Monday 30th January 2017Edit
Sunday 29th January 2017Edit
Saturday 28th January 2017Edit
Friday 27th January 2017Edit
Thursday 26th January 2017Edit
Wednesday 25th January 2017Edit
Tuesday 24th January 2017Edit
Monday 23rd January 2017Edit
Sunday 22nd January 2017Edit
Saturday 21st January 2017Edit
Friday 20th January 2017Edit
Thursday 19th January 2017Edit
Wednesday 18th January 2017Edit
Tuesday 17th January 2017Edit
Monday 16th January 2017Edit
Sunday 15th January 2017Edit
Saturday 14th January 2017Edit
Friday 13th January 2017Edit
Thursday 12th January 2017Edit
Wednesday 11th January 2017Edit
Tuesday 10th January 2017Edit
Monday 9th January 2017Edit
Sunday 8th January 2017Edit
Saturday 7th January 2017Edit
Friday 6th January 2017Edit
Thursday 5th January 2017Edit
Wednesday 4th January 2017Edit
Tuesday 3rd January 2017Edit
Monday 2nd January 2017Edit
Sunday 1st January 2017Edit
Archived News Edit
Link to previous months
Ad blocker interference detected!
Wikia is a free-to-use site that makes money from advertising. We have a modified experience for viewers using ad blockers

Wikia is not accessible if you've made further modifications. Remove the custom ad blocker rule(s) and the page will load as expected.