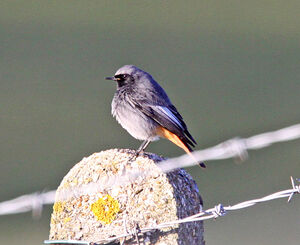 Welcome to the London Bird Club wiki
This site has all the information you need to know about birding in London – based on the LNHS Recording Area. It's run by London Birders - see Birders Profiles but anybody can contribute to it. If you want to ask a question about birding in London, please visit our forums.For the most recent sightings go to LatestNews.
NEW: To see what species have been recorded at which sites visit Site Lists.
Announcements - London Bird Report 2016
The latest issue of the London Bird Report has just been published and contains a wealth of information for people who live or work in London, or bird watch in London. This is one of the annual publications that members of the London Natural History Society (LNHS) receive as part of their membership. See www.lnhs.org.uk for details about how to join the LNHS. If you just want to buy a copy of the London Bird Report you can also find details on that website.
This issue of the London Bird Report includes a paper about two new species for the London Area: Cory's Shearwater at Regent's Park and Oriental Turtle Dove in Otford, as well as An Historic Review of the Birds of the Inner Thames Kentish Marshes. The report also gives a summary of the status of all the birds that were reported in London in 2016. .
Listing - Now open for registrations: the 2018 Patchlist Competition. See results for 2017.
How to use this site If you want to know where to go birding in London then look at the LocalPatches page. For information about meetings and walks see the Events page. For more general birding information visit the Noticeboard or to find links to other birding sites see BirdingLinks. If you have birding related items for sale please see the SmallAds. If you would like to add something to a page or create a new page then please visit the Help pages.

Latest activity