Bird of the Month: a lingering OspreyEdit
When migrating Osprey cross the London recording area they usually pass straight through, but occasionally a bird may linger for anything from a few minutes to a few days. And this month one hung around Panshanger Park for a fortnight, thereby allowing itself to be twitched and qualifying as my Bird of the Month for September.
Any birder spending a couple of hours at the site in the middle of the month had a good chance of spotting the Osprey, either perched in a dead tree or fishing for trout and grayling in the park's lakes and along the Mimram River (a rare clean chalk-stream tributary of the River Lea).
Because sightings at Panshanger Park seldom make it onto the LBC wiki, London birders may be unaware that this recreational area, created from a former sand and gravel quarry west of Hertford, is by far the best Osprey-spotting site in the LNHS realm. It even holds the record for the longest ever recorded stopover in the London area — a bird that stuck around for 47 days in autumn 1930. No wonder the site's largest water feature has long been known as Osprey Lake.
If you delve into this wiki's archives you will find that the most recent reports of Osprey at this site are from 8th–12th September 2015. But, according to Herts Bird Club records, this bird was actually present for 10 days. And the following year one dallied for nine days but was not reported here even once. Before 2015 the wiki's only record for Panshanger is a bird that loitered for seven days in September 2006. But in each of the following three years a female tarried for at least a week in September without ever being noted here. Multiple September sightings in 2012 and 2014 also failed to make it onto this wiki.
Furthermore, according to a September 2017 Hertfordshire Life article, originating from the Herts & Middlesex Wildlife Trust, Osprey have loitered in the park EVERY September since the turn of the century, hanging around for anything from a few days to a couple of weeks. Their occurrence has been so consistent that an Osprey viewpoint has been created and artificial nest platforms and perches have been installed to encourage birds to stay.
So Panshanger Park (also a successful nest site for Hobby this year) is clearly somewhere that London birders should consider visiting next September if they wish to add Osprey to their London year lists.
Pelecaniforms Edit
Great White Egret are nowadays reported so frequently that the species hardly needs mentioning here. This month there were no fewer than a dozen reports, beginning with three birds at Barnes on the first day of the month and ending with sightings from two Lea Valley sites on the last day.
Also occurring increasingly frequently is Cattle Egret. One was seen at Queen Elizabeth II Reservoir on the 2nd and 3rd, and a sighting over Staines Moor on the 3rd may have been the same bird, since the sites are only a few miles apart. Another was briefly at Brent Reservoir early on the 18th.
A ringed White Stork flew west over Ebbsfleet and Dartford on the 10th and then turned south to settle in at Sevenoaks Wildlife Reserve until the 17th. As with most reported storks, its appearance suggested an escape from a collection, but its leg rings apparently indicate that it may have been a refugee from a Spanish reintroduction programme.
On the morning of 23rd Sep, a flock of 19 Spoonbill took off south after roosting at Beddington Farmlands (presumably the 19 birds that had been reported over Stetchworth, Cambridgeshire, the previous day). Five days later 16 Spoonbill circled high over Beddington before heading south, and a Glossy Ibis also flew over.
Another muddled Manxie Edit
An exhausted Manx Shearwater was picked up in Tooting on 8th Sep and taken into care. This is not a particularly rare occurrence. Manxies — usually juveniles — occasionally enter the Thames estuary in autumn and sometimes continue into central London. But they are often found debilitated, disorientated, disabled or dead. Manxie records from the past decade include a frazzled bird rescued from a communal bin-shed in Paddington (Oct 2008), a dozy bird caught and eaten by a Great Black-backed Gull near the M25 Dartford Crossing (Oct 2009), a weakened bird attacked by gulls at Rainham (Oct 2010), a pooped bird picked up in Kensington Gardens (Sep 2012), a dead bird found in Surbiton (Sep 2017) and a grounded bird taken into care near Kings Cross (Sep 2017).
Other notable birds Edit
Other notable bird sightings this month include the following: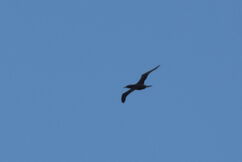 On the 24th, four juvenile Gannet were seen over Rainham (08:20) and Wanstead (08:30), with single birds then reported over Hampstead Heath (09:29) and Alexandra Park (10:28). These reports emphasise the value of recording precise times to help track overflying rarities. (Juveniles were also seen at Gallions Reach on the same day and over Worcester Park on the previous afternoon.)
Honey-buzzard were seen over West Putney (4th), Bookham Common (7th) and Hook (25th).
A Black Kite was reported over Totteridge Valley on the 15th.
An Arctic Skua was seen at Gallions Reach & Rainham on the 5th.
Three Great Skua flew up and down the lower Thames on the 23rd and were last seen in west London at Queen Mary Reservoir before bonxing off high in a south-west direction.
No fewer than 26 species of wader were recorded during the month, the most interesting being a juvenile Pectoral Sandpiper at Rainham Marshes from the 23rd to the 30th and a Grey Phalarope at Staines Reservoir from the 22nd to the 27th. (Unfortunately, the Red-necked Phal seen at Staines on 31st Aug did not linger into September.)
Many reports of migrating terns include a juvenile Roseate Tern at Rainham on the 23rd.
Wryneck were seen briefly at Hanger Hill Park (5th), Warren Gorge (7th) and Island Barn Reservoir (21st).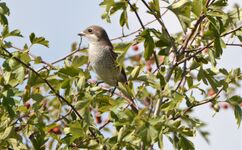 (Contributed by Andrew Haynes, who accepts full responsibility for any errors. Historical information is mainly based on this wiki's archived records and 'The Birds of London' by Andrew Self.)
---
Sunday 30th September 2018Edit
Alexandra Park: Siskin NW, 8 Chaffinch NW, Skylark low S, 11 Meadow Pipit, Song Thrush, Mistle Thrush, 2 Swallow W, 4 Chiffchaff, Kingfisher Wood Green Res, Little Grebe, 2 Shoveler and Aythya hybrid Boating Lake (APOG Birders)
Banstead Woods: Grey Heron, Cormorant, Buzzard, 2 Swallow, Chiffchaff, 2 Blackcap, 25 Redwing, 2 Song Thrush, Mistle Thrush, Stonechat, 5 Meadow Pipit, 2 Greenfinch, 2 Linnet, 20 Goldfinch - incl 90min-vismig hither field (Darragh Culley per CFBW BG tweet)
Beckton Creek NR: 2 Buzzard, Green Sandpiper (James Palmer)
Brent Reservoir: 3 Wigeon, 4 Lapwing, 8 Snipe, Green Sandpiper, Common Whitethroat (Andrew Self); also incl 40 Canada Goose, 41 Mute Swan, 20 Mallard, 8 Tufted Duck, Little Grebe, 7 Great Crested Grebe, 2 Grey Heron, 2 Little Egret, 40 Cormorant, Buzzard, 5 Moorhen, 199 Coot, 130 Black-headed Gull, Common Gull, 2 Great Black-backed Gull, 32 Herring Gull, 3 Lesser Black-backed Gull, 2 Carrion Crow, Rook (Toby Mylett tweet)
Bromley Town Centre: 2 Peregrine on Churchill Theatre 18:20 (Jo East)
Bromley-by-Bow: 4 Little Egret on R Lee (Twitter)
Canons Farm: incl 150 Stock Dove, Kestrel, 30 Skylark, Chiffchaff, Nuthatch, 2 Stonechat reads bottom, 2 Meadow Pipit (Paul Goodman per CFBW BG)
Crossness: 114 Black-tailed Godwit, 1 Dunlin, 2 Wigeon, 14 Shoveler, 2 Little Egret, 1 Common Buzzard, 2+ Chiffchaff, 1 Jay; 2 Common Seal (John Archer)
Dungeon Hill: 5 Stonechat incl 2m gt parsons land, Meadow Pipit pm (Ian Ward tweet)
Gallions Reach: Osprey S 1120, Buzzard, 3 Redshank, Cetti's Warbler, Chiffchaff 0800-1300 (Gary James via Essex BwS)
Greenford UB6: Red Kite drifting over 12.00 (Neil Anderson/K. Bull)
Hampstead Heath: Stonechat f/imm nr bandstand, 3 Swallows S and 2 Cormorants ad juv v high E over P. Hill (Pete Mantle)
Hendon: N Hendon - poss Tawny Owl hooting betw Sunny Hill Pk & Parson St 1130, 2 Little Owl h 0015 (Toby Mylett tweet)
Hilfield Park Reservoir: 1 Hobby, 1 Red Kite, 1 Common Sandpiper, 1 Wigeon, 59 Shoveler, 2 Blackcap, 4 Chiffchaff, 8 Meadow Pipit (Tony Blake)
KGV Reservoir: Wheatear, 2 Yellow Wagtail (Phil Rhodes)
London Wetland Centre: 17 Wigeon, Red Kite S, 2 Buzzard NE, 13 Snipe, Peregrine, 5 Chiffchaff, Grey Wagtail, 3 Meadow Pipit (WWT website); Brambling by south route feeders (Simon Fogg); Brambling under fdrs still 1050-1340 at least (WWT tweets)
Northolt & Greenford CP: 7 Egyptian Geese, Kestrel, 5 Meadow Pipit, Chiffchaff; Common Blue, Comma & Speckled Wood (Neil Anderson/K. Bull) When abbreviating 'and', pls use '&' rather than the plus-sign, which confuses the database software - thx
Rainham Marshes: juv Pectoral Sandpiper, 1w Caspian Gull, Brambling (Dante Shepherd); 2 Wigeon, 2 Pintail, 2 Marsh Harrier, Buzzard, 13 Avocet, Curlew, 103 Black-tailed Godwit, Ruff, Snipe, Redshank, Yellow-legged Gull, Kestrel, Jay, Bearded Tit, 3 Swallow, Cetti's Warbler, Chiffchaff, Stonechat, 6 Yellow Wagtail (Patrick Hart per ELBF FB)
Richmond Park: Whinchat (S.Read per JW)
Rowley Farm Iver: 5 Red Kites swooping on a Crow feeding on roadkill, 2 Kingfishers, Buzzard, small flock of Ring-necked Parakeets, Grey Wagtail (Nigel Barratt)
Rye Meads NR: Great Egret landed on HMWT meadow 1210-1235 fr lapwing_hide then left toward otter_hide (RSPB tweets)
Sewardstone Marsh: 3 Redwing, 5 Stonechat 3 as y'day & 2 south of marsh by Picks Fm (Neville Smith)
South Norwood CP: incl Red Kite, 2 Water Rail, Common Gull, 12 Collared Dove, 9 Chiffchaff, Stonechat, Grey Wagtail (John Hughes via Croydon Birders)
Totteridge Valley: 4 Chiffchaff, Sparrowhawk, Meadow Pipit, Bullfinch, c70 Stock Dove, Mistle Thrush, 10 Chaffinch, Jays very much in evidence; Speckled Wood (John Colmans); also 3 Siskin over Darlands Lake c8.30, 15 Meadow Pipit NW, Linnet, Reed Bunting, 3 Barn Swallow, Little Owl h (Simon Worsfold)
Tyttenhanger GPs: main gp - 14 Wigeon, 4+ Little Egret, 8+ Snipe, 2 Kingfisher, 10+ Swallow, 2 Blackcap, 15+ Tree Sparrow fdrs & by mound, also 20 Siskin in widespread small flocks am, 2 Yellowhammer (Rupert Evershed via Herts BC)
Walthamstow Reservoirs: [N side] Wheatear, 2 Meadow Pipit, Peregrine, Kingfisher, pr Teal 12-1pm (Lol Bodini); 2 Common Sandpiper, 2 Grey Wagtail 2 Meadow Pipit, 1 House Martin (Rhys Evans)
William Girling Reservoir: Great Egret S toward Walthamstow Wetlands 1120 (Neville Smith tweet)
Saturday 29th September 2018Edit
Alexandra Park: 2 Redwing N, 20 Meadow Pipit, 10 Jackdaw mostly west, 6 Chaffinch, 11 Mistle Thrush, Kingfisher h Wood Green Res, 4 Chiffchaff, Swallow SW, Blackcap (APOG Birders)
Brent Park: incl 2 Mute Swan, 63 Mallard, 3 Grey Heron, 21 Moorhen incl 1 chick, 6 Coot, 9 Black-headed Gull (Toby Mylett tweet)
Brent Reservoir: Little Egret, 6 Common Snipe, Green Sandpiper, Common Sandpiper, 2 Lapwing, 2 Kingfisher, Reed Bunting, 2 Cetti's Warbler & 2 Meadow Pipit E over West Hendon Playing Fields (Simon Worsfold & Roy Beddard)
Brookmill Park: 2 Kingfisher (Tom Moulton)
Canons Farm: c15 Skylark, 5 Stonechat, Yellow Wagtail, 40+ Meadow Pipit, Hawfinch S midday, Bullfinch, c20 Linnet (Arjun Dutta w/ Calum Mckellar tweet)
Cassiobury Park: Treecreeper, 3 Nuthatch, 2 Grey Wagtail, Red Kite, Common Buzzard (Charlie Farrell)
Crayford Recycling Centre: 2 Caspian Gulls both 1w commuting betw Jolly Farmers & small lake off Bob Dunn Way; also 3 Yellow-legged Gulls (Richard Bonser, Josh Jones)
Dallas Road NW4: Blackcap (Toby Mylett)
Garden Wood: 6 Siskin (Rupert Evershed via Herts BC)
Greenford UB6: Red Kite circling low over gdn 16.00 & mobbed by 2 Magpies (Neil Anderson)
Hampstead Heath: 2 Gadwall flew onto High No.1, Linnet NE (Pete Mantle)
Kensal Green: 5 Jay, Great Spotted Woodpecker over (Charlie Farrell)
London Wetland Centre: 17 Wigeon, 2 Water Rail, 3 Snipe, 2 Stonechat, 4 Meadow Pipit W, 4 Chiffchaff (WWT website); plus Sparrowhawk soaring over Castlenau, high Buzzard over to east, 2 Peregrine on Charing Cross hosp (Martin Honey et al.)
Queen Mary Reservoir: Whinchat ringed (Steve Chastell tweet)
Rainham Marshes RSPB: Pectoral Sandpiper still showing well at Butts Hide 10-11am at least (Andrew Gouldstone); juv Pectoral Sandpiper still 12.00-12.15 but elusive, also 4 Pintail, 3 Sparrowhawk, 3 Marsh Harrier, Water Rail h, 8 Avocet, Ruff, Green Sandpiper, Barn Owl, Hobby, Bearded Tit, Swallow, 9 Cetti's Warbler, 9+ Stonechat incl family of 5 0930-1530 (Simon Satchell via Essex BwS); also 4 Pintail, 249 Teal, 26 Buzzard S 1230-1530, 10 Avocet, 66 Black-tailed Godwit, Snipe, 2 Common Sandpiper, Kingfisher, 6 Kestrel, 10 Bearded Tit, 6 Skylark S 0915, 3 Chiffchaff, Sedge Warbler (Alan Shearman, Alan Lewis et al per ELBF FB)
Richmond Park: 2 Raven (P.Pentek per JW)
Sewardstone Marsh: Stonechat one on Patty Pool meads early-am (Neville Smith); 3 Stonechat 2m & 1 f/1w there late-aft (NS tweet)
South Norwood CP: Teal, 16 Cormorant, 2 Water Rail, Stonechat (John Hughes via Croydon Birders)
Staines Reservoir: 2 Black-necked Grebe, Dunlin, Swallow, 6 Yellow Wagtail am (Dave Carlsson tweet)
Tyttenhanger GPs and Willows Farm: Main Pit - Green Sandpiper, 6 Common Snipe, 11 Wigeon, Water Rail, 2 Great Black-backed Gull, 3 Egyptian Goose, Peregrine Falcon, Siskin, 4 Buzzard, Red Kite, 3 Little Egret, Barn Owl; Willows Fm - Meadow Pipits & Linnets rear of c/p 1 (Tyttenhanger Birders); also 4+ Little Egret, 10+ Swallow (Rupert Evershed tweet); Barn Owl willows fm (Rupert Evershed via Herts BC)
Wanstead Flats: Yellow-browed Warbler Long Wd 0830 (Tony Brown tweet)
Waterworks NR: 47 Teal, 3 Sparrowhawk, 2 Little Grebe ad juv, 4 Chiffchaff 16:00 (Sue Barry)
Worcester Park: gdn - Skylark S, 2 Redwing S, Yellow Wagtail S, 6 Meadow Pipit mostly S, 4 Grey Wagtail 1 high NE, 50 Herring Gull E vismig 07:20-7:40, also 2 Blackcap and Common Buzzard circling (Isaiah Rowe)
Friday 28th September 2018Edit
Alexandra Park: Reed Bunting, 2 Linnet & 2 Siskin E, 6 Meadow Pipit, 2 Common Buzzard, m Peregrine, 2 Sparrowhawk, 4 Chiffchaff, Aythya hybrid Boating Lake (APOG Birders)
Banstead: m Common Redstart gdn still 1415 (Duncan Jennings via Surrey BN)
Beddington Farmlands: 16 Spoonbill again - circled high then S 0955 (per Surrey BN); Glossy Ibis W midday (Roger Browne)
Cheshunt Park: Fieldfare (Glen Fowler via Herts BC)
Kelvedon Hatch: Raven h on or nr BT tower 1900-1915 (David Jobbins via Essex BwS & Twitter)
Kew Gardens: Red Kite S across Thames at Brentford to Gdns 0905 (Jo Francis tweet)
Leatherhead, Randalls Way: 1 Red Kite low n 12:40 (Neil Batten)
London Wetland Centre: 3 Snipe, Coal Tit, Kestrel, Peregrine, 4 Chiffchaff, 6 Meadow Pipit (WWT website)
Maple Cross: Denham Way gdn - Hobby over, Grey Wagtail (Steve Carter via Herts BC)
Newgate Street: Stonechat west of Park Fm (per Herts BC)
Rainham RSPB: Great White Egret 1710 over Thames at Aveley Bay flying towards Rainham. Bad picture to prove it if necessary, also 4 Buzzard drifting SE earlier (T. Smith); 2 Pintail, Buzzard, 17 Avocet, Ringed Plover, Curlew, 70 Black-tailed Godwit, 2 Ruff, Snipe, 120 Redshank, Yellow-legged Gull, Stock Dove, Barn Owl, 2 Kestrel, Jay, 14 Cetti's Warbler, Chiffchaff, Meadow Pipit (Patrick Hart, Andy Tweed per ELBF FB)
Richmond Park: 2 Little Grebe, 6 Great Crested Grebe, 23 Cormorant, Tree Pipit, 9 Meadow Pipit, 30+ Goldfinch, 3 Reed Bunting (J.Wilczur); Grey Wagtail, 12 Stonechat (RPBG); Wheatear (N. Jackman)
St James's Park: 2 Kingfisher (Frank Nugent)
South Norwood CP: 17 Egyptian Goose [site record] incl flock of 14 SE, Teal, Peregrine S, Whinchat still (John Hughes et al via Croydon Birders)
Trent Park: 4 Mandarin Duck, m Shoveler, f Tufted Duck, 3 Goldcrest, Coal Tit singing, 3 Nuthatch; Comma, f Common Blue, 17 Small Copper, 2 Speckled Wood, Small Heath (Robert Callf); also 5 Coal Tit in large tit flock, Blackcap (Pete Lowman)
Tyttenhanger GPs and Willows Farm: Green Sandpiper, Common Sandpiper, Hobby, Peregrine Falcon, 2 Red Kite, 4+ Buzzard, Kingfisher, 9 Wigeon, 2 Red-crested Pochard, 2 Little Grebe, 3 Egyptian Goose, 2 Kingfisher, 2+ Grey Wagtail, 6 Common Snipe, 6 Little Egret, 22+ Ring-necked Parakeet, 8+ Tree Sparrow (Tyttenhanger Birders); Raven crossed main pit & landed for 5min below viewpt then E over tytt'r fm (David Booth via Herts BC)
Wormwood Scrubs: Kestrel, 2+ Meadow Pipit (Charlie Farrell)
Thursday 27th September 2018Edit
Alexandra Park: f/imm Stonechat SW perimeter cricket pitch, 5 Siskin NW, 3 Reed Bunting E, Skylark S, 20+ House Martin drifted W, Swallow, 7 Meadow Pipit, 5 Chiffchaff; Small Copper, 6 Common Blue, Red Admiral (APOG Birders)
Bankside SE1: f Sparrowhawk hiding in pyracantha bushes by Tate Modern until flushed (Reuben Braddock)
Banstead: m Common Redstart gdn as y'day 1015 (Duncan Jennings via Surrey BN)
Brent Cross: Little Egret next to shopping centre in river (Allan Stewart)
Frays Farm Meadows LWT: Barn Owl 6.30am (Dan Pinkham)
Harrow Lodge Park: 3 Grey Wagtail (Dave McGough per ELBF FB)
Hogsmill SW: Green Sandpiper (John Gale per Surrey BN)
Lake Farm Country Park: 1 Spotted Flycatcher, 1 Lesser Whitethroat, 1 Stonechat, 10 Chiffchaff, 2 Bullfinch (Dave Morris per FJM)
London Wetland Centre: 2 Peregrine, Yellow Wagtail S, 5 Snipe, 16 Wigeon, 27 Mute Swan [high count here], 3 Water Rail (WWT website)
Olympic Park: Little Grebe, Sparrowhawk, Kingfisher, Green Woodpecker (Richard Harrison per ELBF FB)
Rainham RSPB: 18 Avocet, 60 Black-tailed Godwit, Whinchat, 20 Yellow Wagtail (Andy Tweed per ELBF FB)
Redhill: 2 Raven over (per Surrey BN)
Rainham Village: Cetti's Warbler (Richard Harrison per ELBF FB)
Roding Valley Meadows LNR: Sparrowhawk, 4 Buzzard, Kestrel, Swallow, 3 Chiffchaff, 2 Stonechat, 2 Bullfinch (Alan Shearman per ELBF FB)
Rye Meads NR: f Marsh Harrier am (RSPB tweet); 2 Stonechat HMWT meadow (Allan Meadows via Herts BC)
St James's Park: 2 Kingfisher (Frank Nugent)
Sanderstead: Golden Plover h over Briton Hill Rd 22:45 (John Birkett)
Sewardstone Marsh: m Stonechat 10:56 on Pattypool Mead, Cetti's Warbler and Sedge Warbler in riverside vegetation (Martin Shepherd)
South Norwood CP: incl 2 Teal, 3 Water Rail, Tawny Owl (John Hughes via Croydon Birders)
Staines Reservoir: Grey Phalarope still s basin 0655 (Dave Carlsson tweet); still showing s basin 13.45; also very high count of 750+ Cormorant (Alex Massey); GPhalarope s basin still e side 1600, also Black-necked Grebe, 3 Dunlin & 3 Yellow Wagtail still (Paul Watts tweet); also 1 f Goldeneye s basin close in to n shore towards e side c14:30 (Toni Piccolo)
Trafalgar Square: calling Kestrel which then sat on top of Nelson's Column for a while (John Colmans)
Trent Park: Blackcap, 5 Mandarin 3m 2f, m Shoveler, Song Thrush; Small Heath, Speckled Wood (Pete Lowman)
Tyttenhanger GPs: Little Egret, 3 Common Snipe, 2 Kingfisher, Hobby, Blackcap, 2 Tree Sparrow, Yellow Wagtail (per Herts BC)
Walthamstow Marshes: rear paddocks - 3 Yellow Wagtail, 50+ Pied Wagtail, 6 Meadow Pipit, 20+ Linnet, Jay (JW Davies)
Wednesday 26th September 2018Edit
Alexandra Park: Hawfinch E over cricket scrub 0855, 3 Redwing, Sand Martin S, 120+ House Martin slowly drifted W/SW, 17 Swallow, 5 Meadow Pipit, Shoveler, Aythya hybrid and Little Grebe Boating Lake, 7 Chiffchaff, Blackcap (Dominic Mitchell, Bob Watts) [also just southwest of London RA - 5 Hawfinch at Dick Focks Common, Surrey c10am]
Amwell NR: Garganey still 1850 (Ron Cousins tweet)
Banstead: m Common Redstart gdn 1100 & for several hrs thereafter (Duncan Jennings via Surrey BN); 6 Redwing 2W 0850 & 4 dropped in 1800 (Steve Gale tweets)
Bedfont Lakes CP: juv Hobby (Jon Middleton tweet)
Brent Reservoir: E Marsh – 3 Little Egret incl 2 N Marsh, 4 Lapwing, Green Sandpiper, Common Sandpiper, 3+ Common Snipe, Kingfisher (Andrew Haynes)
Canons Farm: 4 Whinchat & 2 Stonechat reads bottom at crossing to horse pasture 1115 (Andrew Pearce via Surrey BN)
Coppice Wood: Hobby (Alan Gardiner via Herts BC)
Coursers Farm: c6 Tree Sparrow by fdrs TL205047 (Peter Delaloye via Herts BC)
Danson Park: 2 Kingfishers, 13 Cormorant, Little Grebe, 4 Great Crested Grebe, Green Woodpecker, Song Thrush, 1200+ Ring-necked Parakeets flying to roost from A2 direction - didn't count full roost (Ralph Todd)
Elstree Village: 3 Red Kite, 2 Buzzard, 2 Sparrowhawk (Allan Stewart)
Greenwich Park: 6 Meadow Pipits over, 1 Little Grebe, Chiffchaff, Blackcap (Joe Beale)
Hampstead Heath: Parliament Hill area - 20+ House Martin W, 5 Meadow Pipit, 3 Chiffchaff (Reuben Braddock)
Leatherhead, Randalls Way: 1 Red Kite, 3 Common Buzzard, 1 Kestrel, 1 Sparrowhawk, 3 Swallow, 21 House Martin & 1 Meadow Pipit s (Neil Batten)
London Wetland Centre: 6 Water Rail, Little Egret, Red-crested Pochard main lake, 9 Wigeon, Peregrine, 5 Snipe, 3 Chiffchaff, 7 Meadow Pipit (WWT website)
Nonsuch Park: Nuthatch, Redwing, 3+ Mistle Thrush pm (Isaiah Rowe tweet)
Queen Mary Reservoir: Wheatear (Jon Middleton tweet)
Rainham RSPB: 18 Avocet, 60 Black-tailed Godwit, Pectoral Sandpiper still, Wheatear, Whinchat, 20 Yellow Wagtail (Andy Tweed per ELBF FB)
St James's Park: Kingfisher (Frank Nugent)
Sevenoaks WR: 4 Black Tern main lake midday (David Thrussell via Kent OS)
South Norwood CP: Water Rail, Whinchat still (John Hughes via Croydon Birders)
Staines Reservoirs: 1 Grey Phalarope on S basin from central alcove but distant till mid am at least, 3 Dunlin causeway bank (Bob Warden per FJM); 3 Black-necked Grebe, 7 Yellow Wagtail, 1 Northern Wheatear; on N basin 2 Little Ringed Plover, 1 Ringed Plover (Dave Morris per FJM); GP s basin still e end mid-pm, also BNG & 3 Dunlin still (Dom Pia tweet)
Stanford Rivers: Sparrowhawk, 3 Red Kite, 8 Buzzard, 28 Collared Dove, 2 Hobby, 2 Chiffchaff, 60 Linnet (Alan Shearman per ELBF FB)
Stoneleigh Station KT17: 4 Swallow s am (Neil Batten)
Trent Park: Raven seen briefly in flight & h Camlet Hill, f Bullfinch 'The Clump' - v poor breeding season no juvs seen; Comma, 4 Small Copper, 3 Common Blue, Speckled Wood, 2 Small Heath (Robert Callf); also Common Buzzard, 2 Goldcrest, 4 Mandarin 3m f, 2 Nuthatch, 3 Tufted Duck (Pete Lowman)
Tyttenhanger GPs: 10 Wigeon, 8 Little Egret, Snipe, juv Caspian Gull mian gp briefly, Kingfisher, 1+ Hobby, 2 Swallow, 7+ Chiffchaff (TyttGP tweet); also Common Sandpiper fishing lake, Whitethroat by fdr & 2+ Tree Sparrow in hedge by Lawsons at tytt'r fm (Alan Gardiner)
Walthamstow Marshes: Whinchat, 2 Yellow Wagtails (J-P Elmes)
Walton Res (Knight & Bessborough): Black Tern Bessborough Res 1105 (BirdGuides); also Wheatear & Yellow Wagtail Bessborough Res 1120 (Jon Middleton tweet)
Wanstead Flats: Sedge Warbler, 3 Blackcap, 6 Chiffchaff, Stonechat, 10+ Meadow Pipit, 2 Skylark, 3 Reed Bunting, 2 Buzzard, Sparrowhawk, Kestrel, 20+ Swallow, 3 House Martin, 3 Gadwall, Little Owl (Wanstead Birders)
Wanstead Park: Spotted Flycatcher, 10+ Chiffchaff, 6 Swallow, Hobby, Sparrowhawk, Buzzard, Kingfisher, 2 Little Egret, 80+ Gadwall, 20+ Shoveler, 20+ Teal, 4 Little Grebe, Great Crested Grebe (Nick Croft)
Warley: Firecrest singing weakly at southern edge of Holly Wd just north of Vaughan Williams Way 1745 (Andrew Stroud via Essex BwS)
Wormwood Scrubs: 2 Stonechat grassland 0745 (Paul Thomas tweet)
Tuesday 25th September 2018Edit
Alexandra Park: 2 Redwing NE 0802 fos, 20+ Meadow Pipit, 11 Swallow SW, 10 Chiffchaff, 3 Mute Swan 2ad juv flew onto Wood Green Res (APOG Birders)
Bayhurst Wood area: Barn Owl 6.15am (Dan Pinkham)
Bexley DA5 (Upper College Farm): Little Egret E, Common Buzzard, 10+ Swallow, 50+ House Martin, Meadow Pipit, 2-3 m Stonechat, Chiffchaff, 3+ Bullfinch (Ian Stewart)
Brent Reservoir: vis-mig - Little Egret, Pied Wagtail, 2 Grey Wagtail, 19 Meadow Pipit, 7 Chaffinch, 2 Starling (Brent Birders); North Marsh - Common Sandpiper, Common Snipe; East Marsh - 8 Common Snipe, Common Sandpiper, 2 Little Egret, 4 House Martin, Buzzard 9:30-11:30am (Steve Blake)
Brookmill Park: Kingfisher, 2 Great Spotted Woodpecker (Conrad Ellam)
Canons Farm: Red Kite, 10+ Buzzard, 2 Golden Plover S 0710, 5 Stonechat & Tree Pipit horse pasture, also 400 Stock Dove, 64 Skylark incl 44S, Grey Wagtail & 100 Meadow Pipit S, only a few hirundines or warblers 0700-1200 (Steve Gale tweets)
Dungeon Hill: Stonechat (Graham Harris via DHSW Birds)
Erith (Thames Foreshore): incl 12 Black-tailed Godwit, 2 Common Gull and 7 Linnet (Mike Robinson)
Foots Cray Meadows: 4 Egyptian Geese, 4 Gadwall, 2 Little Grebe, Little Egret, c50 House Martin, 13 Meadow Pipit landed after sunset, Chiffchaff, Goldcrest (Ian Stewart)
Gallions Reach: 10 Buzzard together, 5 Little Egret, 2 Redshank, Cetti's Warbler (Kevin McManus)
Grays Gorge: incl 2 Blackcap, 8 Meadow Pipit W (Alan Shearman via ELBF FB)
Hook: Honey-buzzard low W 1600 (Geoff Barter tweet)
Ingrebourne Valley: 30 Teal, 4 Grey Heron, Sparrowhawk, 70 Lapwing, 3 Snipe, 2 Kingfisher, 10 House Martin, 5 Cetti's Warbler, 2 Willow Warbler, 5 Chiffchaff, 2 Blackcap, 2 Bullfinch (Dave McGough per ELBF FB)
London Wetland Centre: 5 Snipe, Common Sandpiper, Kingfisher, Peregrine, 2 Swallow, 2 Willow Warbler, 5 Chiffchaff, 2 Meadow Pipit (WWT website)
Olympic Park: 2 Gadwall, 8 Little Grebe, Peregrine (Richard Harrison per ELBF FB)
Panshanger Park: Green Sandpiper [no access] (Murray Brown via Herts BC)
Rainham RSPB: 2 Pintail, imm Spoonbill, 8 Little Egret, 2 juv Marsh Harrier, 2 Buzzard, 9 Avocet, Curlew, 70 Black-tailed Godwit, 2 Ruff, 2 Snipe, 2 Green Sandpiper, 2 Raven, 10 Bearded Tit, 13 Swallow, 5 House Martin, 5 Chiffchaff, Blackcap, 5 Yellow Wagtail, Grey Wagtail, 2 White Wagtail, 3 Pied Wagtail, 33 Meadow Pipit W (Howard Vaughan via ELBF FB); also 4 Green Sandpiper, Hobby, Sedge Warbler 1030-1400 (Mark Gregory via Essex BwS)
Rainham Village: Cetti's Warbler (Richard Harrison per ELBF FB)
Riddlesdown: Siskin over [1st this autumn], 3 Linnet, 20+ Meadow Pipits, 1 Buzzard (John Birkett)
Richmond Park: Snipe upper pen ponds (RPBG)
St James's Park: Kingfisher (Frank Nugent)
Sidcup DA15: 11+ Common Buzzard 2SE 3S 2SW 4E & 5+ unidentified large raptors very distant/high, Sparrowhawk, Peregrine, c70 House Martin drifting W, 2 Swallow S (Ian Stewart)
South Norwood CP: incl Water Rail wetlands stream, Tawny Owl seen & h nr Elmers End entrance 0610, Whinchat & 3 Meadow Pipit moat field (John Hughes via Croydon Birders)
Town Park, Enfield: 21 Magpie; Common Blue Damselfly (Robert Callf)
Trent Park: 6 Chiffchaff, 17 Mandarin 11m 6f, Song Thrush (Pete Lowman)
Tyttenhanger GPs: 5 Little Egret, Green Sandpiper n pit, 1+ Grey Wagtail (TyttGP tweet)
Walthamstow Marshes: 11 Meadow Pipit, 30 Linnet rear paddocks (Jon Agar)
Walthamstow Reservoirs: Spotted Flycatcher, Green Sandpiper, Yellow Wagtail S, c20 Meadow Pipit (Jamie Partridge)
Wanstead Flats: 2 Stonechat, 15+ Meadow Pipit, 2 Skylark, 12 Chiffchaff, 3 Blackcap, 9 Swallow, House Martin, Hobby, Kestrel, 2 Buzzard, Sparrowhawk, 6 Gadwall, 3 Teal, 3 Shoveler, 3 Little Owl, Snipe (Wanstead Birders)
Wanstead Park: 4 Meadow Pipit S, Buzzard, 2 Chiffchaff (Nick Croft)
Warren Gorge: f Ring Ouzel 0720 (Alan Shearman via BirdGuides); also incl 4 Great Crested Grebe, 38 Cormorant, 2 Kingfisher, 3 House Martin, 3 Chiffchaff (Alan Shearman per ELBF FB)
Woodford Green: 4 Redwing NE 8.08 am (Ken Murray)
Wormwood Scrubs: 3 Whinchat grassland early-am (Paul Thomas tweet)
Monday 24th September 2018Edit
Alexandra Park: juv Gannet N over Wood Green Res 1028, Common Buzzard N, Siskin, 2 Linnet, 40+ Meadow Pipit, 5 Chiffchaff, Blackcap, 5 Swallow, 6+ House Martin, Kingfisher Wood Green Res, Little Grebe & Aythya hybrid Boating Lake (Bruce Carson, Dominic Mitchell, Bob Watts)
Amwell NR: Garganey still evng (Ron Cousins tweet)
Bankside SE1: 3 Blackcap, 1 Chiffchaff, 1 Greenfinch, just 1 Peregrine on Tate Modern chimney today (Reuben Braddock)
Barnes, Barn Elms Playing Fields: Red Kite SW, 4 Buzzard SW/NW, 3 Kestrel, 2 Sparrowhawk, 5 Collared Dove N/SW, Great Spotted Woodpecker SW, 81 House Martin SW, 50 Swallow S/SW, 2 alba Wagtail W/SE, 2 Yellow Wagtail S, Grey Wagtail, 103 Meadow Pipit mostly S/SW, 9 Magpie SW, 2 Jay S, Blackcap, 2 Chiffchaff, Nuthatch, 2 Dunnock SW/NW, Linnet SW, Siskin SW (R.Kaye)
Brookmill Park: Kingfisher (Conrad Ellam)
Clapham Common: 5 Yellow Wagtail over (Nick Rutter)
Ellenbrook Fields: 2 Stonechat (per Herts BC)
Gallions Reach: juv Gannet came upriver and then was mobbed by 3 large gulls and returned downriver, Cetti's Warbler, Buzzard (Kevin McManus)
Hampstead Heath: juv Gannet W over first hedge [stone of free speech] 0929; around Parliament Hill - 100+ Meadow Pipits, 3 Goldfinch N, 6 Linnets S, 150 Swallows mostly SW, 75 House Martins SW, 20 Woodpigeon N, 6 Shoveler dropped on to High No1, Kingfisher and 10 Chiffchaffs at Sanctuary Pond (Pete Mantle)
KGV Reservoir: 4 Wigeon, 150+ Teal, 100+ Shoveler, 40+ Pochard, 300+ Tufted Duck, Goldeneye, Little Egret, 2 Common Sandpiper, Green Sandpiper, 10+ Sand Martin, 10+ House Martin, 10+ Swallow, Stonechat, Wheatear, 3 Yellow Wagtail, 30+ Meadow Pipit, 2 Rock Pipit (Simon Papps)
Leatherhead, Randalls Way: 14 Meadow Pipit n in 20min, 10 House Martin sw, 1 f Sparrowhawk se possibly migrating; 1 Hornet (Neil Batten)
London Wetland Centre: Green Sandpiper, Whinchat, 2 Stonechat, 3 Yellow Wagtail, 2 Water Rail, 5 Snipe, 4 Swallow, 30+ House Martin, Grey Wagtail, 8 Wigeon, 2 Peregrine, 12 Meadow Pipit S/W (WWT website)
Nonsuch Park: 1 Barn Owl in lowest field - excellent views 19.15-19.20 (Simon Osborn)
Pinner: The Croft Park Red Kite circling 10am (Nigel Barrett)
Pinner Park Farm: 2 Stonechat m & f, Peregrine, 1 Yellow Wagtail (Richard Francis)
Rainham Marshes: 4 juv Gannet W toward City of London 0820 (Howard Vaughan tweet); Curlew, 2 Ringed Plover, 5 Avocet, 80+ Black-tailed Godwit, Wheatear 10:30am aveley bay; 2 Ruff, 2 Yellow Wagtail, Pectoral Sandpiper still 12:00pm tringa pool, Snipe butts scrape (Eduardo López-Salas); Tree Pipit (Sean Huggins per ELBF FB); Short-eared Owl E up mar dyke valley mid-aft (Howard Vaughan, Julie Foreman, Simren Soor et al via ELBF FB); also 3 Sparrowhawk, 6 Marsh Harrier, 6 Buzzard, 8 Avocet, 130 Lapwing, 101 Black-tailed Godwit, 3 Snipe, Green Sandpiper, 4 Yellow-legged Gull, 40 Stock Dove, Kingfisher, 6 Kestrel, Hobby, Peregrine, 6 Jay, 12+ Bearded Tit, 10 Skylark, 4 Sand Martin, 300 Swallow, 50 House Martin, 16 Cetti's Warbler, Willow Warbler, 6 Chiffchaff, 3 Blackcap, 5 Yellow Wagtail, Grey Wagtail, 14 White Wagtail, 5 Pied Wagtail, c600 Meadow Pipit, 16 Reed Bunting (Martin Jordan, Howard Vaughan, Sean Huggins via ELBF FB)
Raynes Park: Chiffchaff calling in gdn - first ever (P. Redmond)
Richmond Park: 3 Raven (S.Read, J.Wilczur); Whinchat (P.Pentek); 25+ Buzzard - most mid-afternoon approaching from SE, Red Kite, juv m Peregrine, 2 Hobby, 19 Pochard, Kingfisher, 150+ Swallow part of steady sustained passage, 140+ House Martin, 3 Skylark S, 140+ Meadow Pipit 100 stopping on the way S am & 40 NW aft, Pied Wagtail, 8 Stonechat, 30 Goldfinch, 5 Reed Bunting (J.Wilczur)
St James's Park: Kingfisher (Frank Nugent); 2 Kingfisher being very vocal and chasing each other around the western island mid afternoon. Possibly another bird there as well, also probable hybrid Mediterranean Gull intermittently on lawn nr Horse Guards Parade w/ Black-headeds. Looked good for Med in head and in bill shape but a little small (only just bigger than Black-headed) and mid-brown not black on primaries, 1 Grey Wagtail, 1 Great Spotted Woodpecker (Bill Haines)
Sevenoaks WR: 2 Kingfisher (Willow Hide), 4 Egyptian Geese (Bexley Birdbrains)
South Norwood Lake: Hobby SW (John Watson via Croydon Birders)
Staines Reservoirs: 1 Grey Phalarope s basin early am, 1 Black Tern, 1 Little Ringed Plover (Bob Warden per FJM); Grey Phalarope & Black Tern still late-am, also 4 Wigeon, 2 Goldeneye, Skylark, c200 House Martin, Yellow Wagtail; no sign of Grey Phalarope since 12, Black Tern still, 3 Yellow Wagtails (Franko J Maroevic per BW); also Dunlin, Wheatear pm (Dom Pia tweet); also 3 Black-necked Grebe still, Common Sandpiper (Andy Merritt tweet)
Stocker's Farm: 2 Raven (Charlie Ramsay via Berks BC)
Trent Park: 4 Chiffchaff, Common Buzzard, 2 Great Spotted Woodpecker 1 drumming, 8 Ring-necked Parakeet, m Sparrowhawk (Pete Lowman)
Tyttenhanger GPs and Willows Farm: incl 6+ Wigeon, 6+ Little Egret, 2 Red Kite, Common Sandpiper, Hobby, 10+ Swallow, 7+ Chiffchaff, m Stonechat willows fm on fence above pumpkin field, 3 Yellow Wagtail, 4+ Meadow Pipit, Linnet, 4+ Reed Bunting (TyttGP tweet/per Herts BC); also 4+ Tree Sparrow back in usual hedge & visiting fdr at tytt'r fm after a month's absence pm (Alan Gardiner tweet)
Walthamstow Marshes: cow field - 2 Stonechat (JW Davies)
Wanstead: City of London Cemetery - 4 juv Gannet W 0830 (Frank Toloi per ELBF FB)
Wanstead Flats: Spotted Flycatcher, m Stonechat [first returning bird of the autumn], 110+ Meadow Pipit streaming N, 2 Grey Wagtail, 5 Swallow, 1-2 Hobby, Sparrowhawk, Buzzard, Yellow-legged Gull 2cy, 11 Chiffchaff, Blackcap, 6 Gadwall, Shoveler, Teal, 2 Linnet (Wanstead Birders)
Woodberry Wetlands: Water Rail, Peregrine, Kestrel, 2 Teal, c20 House Martin (Chris Farthing)
Worcester Park: gdn - 2 Yellow Wagtail N [patch tick], 19 Meadow Pipit S [record count], Mistle Thrush W and a Sparrowhawk (Isaiah Rowe)
Sunday 23rd September 2018Edit
Alexandra Park: 10 House Martin mostly west, 2 Jackdaw SW, 2 Meadow Pipit SW, 5 Pochard Wood Green Res, 2 Wheatear (APOG Birders)
Amwell NR: Garganey still & Common Sandpiper Gt Hardmead L (Mike Ilett via Herts BC)
Beddington Farmlands: [permit only] 10+ Spoonbill n lake c11am (Roger Browne per Dave Harris tweet); being spooked by motorbikes 1105 (Twitter); 19 Spoonbill left S 1130 (Steve Thomas/Steve Gale tweets) pics here
Brent Reservoir: 9 Common Snipe, 2 Lapwing, Common Sandpiper, Wigeon (Andrew Self); and 3 Little Egret, 3 Green Sandpiper, Common Buzzard, 200+ House Martin (Roy Beddard)
Capel Manor (Enfield): 9 House Martins low S over rd (Alan Lewis)
Crossness Nature Reserve: 3 Wheatear, 3 Little Egret, 400+ Teal, 25+ Magpie, 1 Common Sandpiper by outflow, 1 Cetti's Warbler, 3 Chiffchaff (John Mead)
Gallions Reach: 3 Little Egret, Osprey NW upriver 1230, Buzzard, Oystercatcher, 2 Lapwing, 3 Common Sandpiper, 5 Arctic Tern, 20 Common Tern, 3 Great Skua upriver 0910 then downriver & later W inland 0935, Kingfisher, 14 House Martin, Chiffchaff 0830-1330 (Gary James via Essex BwS)
Garden Wood: 2+ Hobby still (Rupert Evershed via Herts BC)
Hampstead Heath: 3 Siskin NW, Hobby, Peregrine, 12 Meadow Pipit W, 46 House Martin Parliament Hill pm (Frank Nugent)
Island Barn Reservoir: 3 Black-necked Grebe, Green Sandpiper, Yellow Wagtail (Tony Quinn per Surrey BN)
Isle of Dogs: 2 Sandwich Terns ad juv on Thames shore opp Cutty Sark. Flew to far side of river 2.55pm and lost to view (Sean Huggins)
London Wetland Centre: Common Sandpiper, 2 Whinchat, 2 Shelduck, 4 Yellow Wagtail, 6 Meadow Pipit, Grey Wagtail, 6 Wigeon, Kingfisher, 4 Snipe, Water Rail, 40+ House Martin, 10 Swallow, 3 Sand Martin, Common Gull (WWT website)
Potters Bar: Whitethroat (Don Wigmore via Herts BC)
Purfleet: Thames foreshore - 6 Little Egret, Marsh Harrier, 4 Avocet, 153 Lapwing, Ruff, Mediterranean Gull, 8 Yellow-legged Gull, 12 Sandwich Tern, 12 Arctic Tern, 3 Common Tern, Great Skua, 19 Meadow Pipit (Fraser Simpson tweet)
Queen Mary Res: 3 Great Skua s end flew off high SW 11.25 when rain stopped (FJM per AS & BW)
Rainham RSPB: 2 Sandwich Tern, Arctic Tern aveley bay early-am (Paul Hawkins tweet); 3 Great Skua floating upriver 1030 (BirdGuides/Twitter); 4 Bonxie photographed on river am (Neville Smith tweet); 6 Pink-footed Goose W, juv Pectoral Sandpiper tringa pool 1200, Caspian Gull 3cy (Graham Beevor, Stevenage RSPB grp per ELBF FB); juv Roseate Tern upriver am (Howard Vaughan, Andy Tweed, Alan Shearman et al via ELBF FB); Common Sandpiper, 2 Whinchat, 3 Stonechat, 7 Wheatear & 100+ Meadow Pipit all at stone barges mid-pm (Shaun Harvey tweet); also 2 Pintail, 4 Sparrowhawk, 2 Marsh Harrier, Buzzard, 7 Avocet, 90 Black-tailed Godwit, 10 Dunlin, 3 Common Sandpiper, Green Sandpiper, 25 Redshank, 8 Sandwich Tern, 16 Arctic Tern, 22 Common Tern, Raven, 25 Sand Martin, 30 Swallow, 600+ House Martin, 14 Chiffchaff, 2 Blackcap, 13 Yellow Wagtail, Grey Wagtail, 8 Pied Wagtail, 6 Siskin (Stevenage and Gravesend RSPB grps, Howard Vaughan, Andy Tweed et al); 2 juv Hobby (Ralph Vaughan blog)
Richmond Park: 20 Skylark, 80+ Meadow Pipit grounded, Wheatear, 130+ Starling left roost (J.Wilczur); Whinchat, Common Sandpiper, 2 Little Grebe (R Dunne)
St James's Park: Kingfisher, 2 Shoveler (Frank Nugent)
Staines Reservoir: 4 Black Tern still, Yellow Wagtail 1550 (Stuart Cossey tweet); also Common Sandpiper, 16 Common Tern, 2 Peregrine, 3 Yellow Wagtail pm (Dom Pia tweet); 8 Sandwich Tern NW 12.30 (Dave Morris & Franko J Maroevic); 3 Black-necked Grebe, 1 Hobby late-pm (FJM)
Swanley Park: 3 Tawny Owls h 2am, 3 Egyptian Geese, Grey Wagtail, 10 House Martin (Andy Meaton)
Thames Barrier: Yellow-legged Gull and Common Tern (Joe Beale)
Thurrock: 20 Skylark S 1520 (Alan Shearman per ELBF FB)
Totteridge Valley/Darlands Lake: Common Buzzard, Sparrowhawk, Grey Wagtail, 2 Rook, 6 Chiffchaff (Simon Worsfold)
Tyttenhanger GPs and Willows Farm: juv Sandwich Tern fishing lake 1515-1525 then left toward main gp (Rupert Evershed tweet); Sandwich Tern back on fishing lake [north end] c1645 (Steve Pearce per RE tweet); also 7 Wigeon, Common Sandpiper, Green Sandpiper, 2 Greenshank, Tree Sparrow main gp fdr, Yellow Wagtail (per Herts BC); flock of 50+ Meadow Pipit willows fm in field by c/p (Rupert Evershed tweet)
Walthamstow Marshes: 2 Wheatear, c10 Linnet, c15 Pied Wagtail (rear paddocks), c40 Meadow Pipit (5 rear paddocks & c35 Bomb Crater Field), c20 House Martin (feeding over Leyton Marsh) 16:00 (Alastair Dent)
Walthamstow Reservoirs: (pm) Redshank, 1 Common Sandpiper, 2 Green Sandpipers, Wheatear, c30 House Martin, 3 Swallow, Meadow Pipit, c15 Shoveler, 2 Kingfisher, Kestrel, Sparrowhawk, Peregrine (Lol Bodini, Graham Howie)
Walton Res (Knight & Bessborough): Black Tern (Tony Quinn per Surrey BN)
Wanstead Flats: Whinchat, 6 Wheatear, 25+ Chiffchaff, Willow Warbler, 2 Lesser Whitethroat, Whitethroat, 3 Blackcap, 9 House Martin, 3 Swallow, 20+ Meadow Pipit, 4 Pied Wagtail, Skylark, Reed Bunting, Siskin, 2 young Little Owl calling, Hobby, Kestrel, 2 Sparrowhawk, Yellow-legged Gull, 4 Common Gull, 2 Little Grebe, Teal, 2 Shoveler (Nick Croft)
West Putney, SW15: 2 Shelduck W, Hobby w/ House Martin prey, Buzzard NW, 3 House Martin, 20+ Meadow Pipit S all after rain stopped (J.Wilczur, R.Kaye)
Woolwich: 1 Little Egret riverside (John Mead)
Worcester Park: gdn - Northern Gannet juv NE 15:45 (Isaiah Rowe)
Wraysbury GPs: Garganey, 350 Tufted Duck (Thomas Gibson)
Saturday 22nd September 2018Edit
Alexandra Park: 185+ Meadow Pipit mostly S by 1130, also 18 House Martin W/SW, Buzzard low E, 4 Chiffchaff, Aythya hybrid Boating Lake (APOG Birders)
Bow Creek: 2 Redshank fos in high tide roost, also Little Egret (Frank Nugent)
Bow Creek Ecology Park: Cetti's Warbler (Frank Nugent)
Boxer's Lake, Enfield: 10 Mandarin Duck, 7 Northern Shoveler (Robert Callf)
Brent Cross: Little Egret fdg in river by Shopping Centre (Allan Stewart)
Brent Reservoir: 7 Common Snipe, 3 Lapwing, 2 Common Sandpiper, 3 Green Sandpiper, 5 Meadow Pipit, Common Buzzard, Little Egret, 5 Swallow, 100+ House Martin (Simon Worsfold, Andrew Haynes, Roy Beddard)
Bury Lake: 50+ House Martin (Charlie Ramsay via Herts BC)
Canons Farm: Firecrest holly wd am (Paul Goodman per CFBW tweet); 75+ Meadow Pipit & 10 Yellowhammer doric field, Whinchat & Stonechat horse pasture pm (Ian Ward tweet)
Coombe Wood, Great Warley: Spotted Flycatcher am (Andrew Cox via Essex BwS)
East India Dock: 2 Little Egret, Reed Bunting, Cetti's Warbler, Grey Wagtail, 48 Teal (Frank Nugent)
Fairlop Waters: 2 Whinchat, Grey Wagtail, Swallow, House Martin, Sand Martin, Lapwing, Whitethroat, Chiffchaff, Blackcap, Bullfinch, Reed Bunting, Common Buzzard, Kingfisher (Alan Thomas/Neil Twyford)
Foots Cray Meadows: 30 House Martin and 10 Barn Swallow stopping off to feed low over Five Arches Bridge 1100 (Patrick English)
Gallions Reach: Little Egret, 12 Common Tern, Sandwich Tern, Kingfisher 0800-1200 (Gary James via Essex BwS)
Harlow, Herts: Common Sandpiper over Potter St am (Laurence Drummond tweet)
Hatfield Park: 80+ House Martin, Yellow Wagtail, 15 Meadow Pipit (per Herts BC)
Hemans Estate Community Garden: 30+ House Sparrows often up to 60 - highest count since early 90's and this is first year when I throw bread down for pigeons the sparrows come down, this is what it used to be like in the London parks (Michael Mac) This is directly across the river from the Churchill Gardens Estate, where there is a colony of House Sparrows maintained by feeding. Looks as if they've spread. [Ralph Hancock] Hi Ralph House Sparrows been in this area for decades and for years they weren't fed by me - there are a few at Battersea Power Station (in between the Churchill and here) that feed a lot on the rubbish from the bin lorries - but in a few years this will have gone. [Michael Mac]
Hyde Park: 70+ Meadow Pipit mainly SW midday (Des McKenzie tweet)
Kew Gardens: incl 28 Gadwall [bird census] (Toby Mylett tweet)
London Wetland Centre: Grey Wagtail on the Centre roof, 9 Common Snipe main lake & grazing marsh, f/juv Stonechat grazing marsh, Heron caught and ate probably juv Moorhen main lake, lots of House Martin fdg over grazing marsh and reservoir lagoon in rain (Martin Honey et al.); also 10 Wigeon, Common Sandpiper lagoon, 2 Water Rail h, 70 House Martin, 5 Chiffchaff (WWT website)
Margravine Cemetery: 54+ Goldfinch fdg on nearby roof, 2 Mistle Thrush (Nathalie Mahieu)
Queen Mother Reservoir: 3 Wheatear 0900 (Peter Newbound via Berks BN); 7 Wheatear & c20 Meadow Pipit 1455 (Marek Walford via Berks BN)
Rainham Marshes: 2 Pintail, Little Egret, Common Buzzard, Avocet, 2 Snipe, 80 Black-tailed Godwit, Barn Owl, Skylark, Sand Martin, 3 Yellow Wagtail, Whinchat, 10 Cetti's Warbler, Blackcap, 10 Chiffchaff, Siskin (Andrew Self, John & Janet Cadera); Osprey low S 14.30 (Louis Freeland-Haynes); 12 Siskin (David Hutley per ELBF FB); also 171 Greylag, 8 Shelduck, 12 Shoveler, 10 Gadwall, 144 Teal, 8 Little Egret, 2 Sparrowhawk, juv Marsh Harrier, Water Rail, 2 Curlew, 2 Ruff, 20 Dunlin, 12 Redshank, 36 Arctic Tern, Peregrine, 3 Kestrel, 8 Sand Martin, 26 Swallow, 10 House Martin, 4 Stonechat, 13 Meadow Pipit (Alan Shearman, Howard Vaughan et al per ELBF FB); pr Bearded Tit (Nick Lay per ELBF FB)
Richmond Park: 8 Stonechat (S.Read per JW)
St James's Park: Kingfisher (Frank Nugent)
South Lodge Farm, Enfield: Sand Martin fdg at low level, 5 Barn Swallow, 3 Meadow Pipit, 3 Goldfinch (Robert Callf)
South Norwood CP: incl 3 Blackcap, Whitethroat, Whinchat still am, 2 Grey Wagtail, Bullfinch, Reed Bunting (John Hughes/Peter Phillips via Croydon Birders)
Staines Reservoirs: 1 Grey Phalarope on S Basin but distant. Mid way from causeway till 14.30 at least. (Bob Warden et al.); also 2 Ringed Plover, 2 Little Ringed Plover, c50 Arctic Tern s basin briefly early-am [left W shortly after arr'g from KGVI Res], 4 Black Tern (Dom Pia tweet); 4 Common Tern, 2 Golden Plover W mid-am, 3 Black-necked Grebe, 3 Goldeneye (Franko J Maroevic); 3 Yellow Wagtail over (Jonathan Nasir); several thousand House Martin also low over the water and impossible to estimate true number (John Edwards)
Stocker's Farm: 2 Whinchat, c20 Meadow Pipit over, c200 Sand Martin, c200 House Martin and 3+ Swallow over Stocker's and Bury Lakes (Michael Robinson)
Swanscombe Marsh: 6+ Whinchat, 2 Wheatear, 2 Stonechat, 3 Common Whitethroat, 2 Raven, 26 Linnet, 1 Stock Dove, 3 Cetti's Warbler, 1 Lapwing, 5 Reed Bunting, 2 Chiffchaff (Roger Keith)
Ten Acre Wood area: 8m Pheasant, Buzzard, Sparrowhawk, 2 Golden Plover [3rd site record] S 08.45, 3 Skylark, 169 Meadow Pipit 17 on deck & 152 S/SW, Grey Wagtail, Swallow S, m Stonechat, 5+ Rook w/ c30 Jackdaw (Neil Anderson)
Thorndon CP: [s section] incl 3+ Skylark over 0800-0930 (Andrew Cox via Essex BwS)
Walthamstow Marshes: 12 Linnet, Chiffchaff (Jon Agar)
Wanstead Flats: 265 Meadow Pipit, 3 Grey Wagtail, Yellow Wagtail, 2 Swallow, 9 Blackcap, 7 Chiffchaff, 2 Skylark, 2 Yellow-legged Gull ad 1w, 2 Common Gull, 17 Gadwall, 7 Teal, 6 Shoveler, Siskin, Kestrel, 2 Sparrowhawk (Wanstead Birders)
West Putney, SW15: Hobby N, Grey Wagtail W, 3 Swallow N, 190 Meadow Pipit S/SW (R.Kaye, J.Wilczur)
Yeading Brook meadows: m Pheasant, Kestrel, Chiffchaff, 7 Greenfinch (Neil Anderson)
Friday 21st September 2018Edit
Alexandra Park: 4 Meadow Pipit SW, 4+ Chiffchaff, Blackcap; 2 Small Copper (APOG Birders)
Amwell NR: Garganey still late-aft (Murray Orchard tweet)
Berrylands (Hogsmill Nature Reserve): Green Sandpiper (N. Jackman)
Brent Reservoir: Garganey, 57 Teal, 6 Common Snipe, Common Sandpiper, Green Sandpiper, Hobby, 100+ House Martin, 2 Sand Martin (Dominic Mitchell)
Brookmill Park: Kingfisher (Conrad Ellam)
Canons Farm: incl Red Kite, 3 Willow Warbler (Paul Goodman per BFBW BG)
Crossness: 3 Peregrine, Kestrel, Stonechat, Common Sandpiper, 2 Little Egret am (Donna Zimmer tweet)
Dartford Marshes: Merlin, Wheatear 1300-1315 (Phillip Royston via Kent OS)
Essendon: Raven, c73 House Martin (per Herts BC)
Greenwich Park: Little Grebe (Ray Crouch)
Howe Green: Hobby (per Herts BC)
Island Barn Reservoir: Wryneck in roadside vegetation outside entrance am but not relocated since initial sighting ('BI' per Ed Stubbs tweet)
London Wetland Centre: Water Rail h, 3 Snipe, Kingfisher, Peregrine, 52 House Martin (WWT website); Garganey wader scrape still pm (John Rowland tweet/BirdGuides)
Nonsuch Park: f Sparrowhawk, Barn Owl, Tawny Owl h, Little Owl, Hobby late-evng (Dilshan Muthalib tweet)
Panshanger Park: no sign of Osprey by 1430 (Lee Evans tweet)
Rainham RSPB: 2 Ruff, ad Little Gull, Mediterranean Gull (Alan Shearman per ELBF FB); 144 Greylag, 43 Teal, Sparrowhawk, 14 Ringed Plover, 73 Black-tailed Godwit, 3 Dunlin, 43 Arctic Tern, 3 Common Tern, 9 Sand Martin, 45 Swallow, 31 House Martin, 3 Stonechat, Yellow Wagtail, 11 Meadow Pipit, 100 Goldfinch, 5 Skylark (Alan Shearman, Howard Vaughan via ELBF FB); Curlew (Andrew Litchfield per ELBF FB)
Richmond Park: 19 Cormorant, Buzzard, Common Sandpiper, Kingfisher, Grey Wagtail (J.Wilczur); 15+ Meadow Pipit (N.Jackman); Red-legged Partridge still (Friday BG)
St James's Park: Kingfisher (Frank Nugent)
Sevenoaks Wildfowl Reserve: 10 Egyptian Goose, 2 Shoveler, 2 Little Grebe, 1 Green Sandpiper, 1 Kingfisher (Jack Headley tweet)
South Norwood CP: Common Sandpiper still around island 1230 (John Birkett via Surrey BN)
Staines Reservoir: Peregrine, Little Ringed Plover, Sanderling, 3 Common Sandpiper, 2 Wheatear, 10+ Yellow Wagtail am (Jim Sweetland tweet)
Stocker's Lake: Cetti's Warbler by R Colne, Chiffchaff (Gordon Cox via Herts BC)
Sutcliffe Park: Little Grebe & 2 chicks, 2 Tufted Duck, 2 Chiffchaff (Conrad Ellam)
Tower Bridge: c20 tern sp. poss Arctics upriver over bridge c1:30pm (Peter Massini tweet)
Tyttenhanger GPs: 6 Wigeon, 6 Little Egret, 3 Common Sandpiper, Green Sandpiper, 2 Greenshank fishing lake, 29 House Martin, 14 Chiffchaff, Spotted Flycatcher main gp, 35 Meadow Pipit (TyttGP tweet); also Greenshank, 4 Hobby 3 juv & ad by main gp scrape midday (Rupert Evershed tweet)
Walthamstow Reservoirs (Lockwood): Hobby, 30 House Martins, 15 Pied Wagtails 16.00-17.00 (Lol Bodini)
Wandsworth Common: Swallow, 3 Chiffchaff 2 singing, Meadow Pipit over (Peter White tweet)
Wanstead Flats: 40+ Meadow Pipit, Yellow Wagtail, 3 Skylark, 2 Chiffchaff, 2+ Yellow-legged Gull, Common Gull, Kestrel, Swallow (Nick Croft)
Wanstead Park: 50+ Gadwall, 20+ Shoveler, 12 Teal, Pochard, 4 Little Egret, 2 Little Grebe, Great Crested Grebe, Coal Tit, 10 Chiffchaff, 2 Goldcrest, Siskin, Hobby, 4 Meadow Pipit S (Nick Croft)
Wildhill: Redstart seen fr car flying across Wildhill Rd 200m east of woodman pub 1510 (Anders Gray via Herts BC)
Wormwood Scrubs: c2 Meadow Pipit - the first in a while (Charlie Farrell)
Thursday 20th September 2018Edit
Alexandra Park: 105+ House Martin drifted S, 4 Swallow SW, 6 Meadow Pipit SW, including one briefly chased by f Kestrel, 2 Chiffchaff (Bob Watts); 2 Willow Emerald one betw middle and upper platforms & second at Conservation Pond [1st site record] (Gerry Rawcliffe, Bob Watts)
Amwell NR: incl Garganey still, Common Sandpiper, 2 Yellow-legged Gull 1w & nr-ad evng (Ron Couains tweet)
Bankside SE1: 2 Blackcap m f at east end of Tate Modern (Reuben Braddock)
Ingrebourne Valley: 23 Teal, 31 Snipe, 7 Green Sandpiper, 5 Jay, 33 House Martin, 40 Goldfinch (Dave McGough per ELBF FB)
London Wetland Centre: 4 Snipe, 2 Swallow S, 46 House Martin 16S & 30 fdg over main lake, 7 Chiffchaff, Yellow Wagtail SE, 2 Meadow Pipit SW (WWT website)
Panshanger Park: Osprey still 1000-1010 in tree west of riverside cottage then E over osprey_lake before returning W along R Mimram (Simon West tweet); 2 Red Kite, Hobby (SW via Herts BC); also 5 Little Egret, 5 Red Kite, 4 Kingfisher, Cetti's Warbler (Lee Evans via Herts BC)
Rainham RSPB: Caspian Gull juv w/ yellow ring XCCA [probably of German origin] in private area nr Coldharbour Pt 13:10 and 31 Yellow-legged Gulls, Raven (Dominic Mitchell); juv Marsh Harrier, Buzzard, 60 Lapwing, Curlew, 71 Black-tailed Godwit, 3 Ruff, 9 Arctic Tern (Andy Tweed, RSPB per ELBF FB)
Richmond Park: Buzzard, ad Water Rail, Common Sandpiper, 40+ House Martin (J.Wilczur)
St James's Park: Kingfisher, 14 House Martin SW (Frank Nugent); 2 Jackdaw (Toby Mylett)
Soho (N Dean Street): imm Black Redstart calling & seen intermittently 1400-1430 (Francis Tusa)
South Norwood CP: incl Common Sandpiper, 3 Swallow, 4 House Martin, Whinchat still (John Hughes via Croydon Birders)
Staines Reservoirs: 3 Black Tern, 1 Sanderling S basin causeway bank, 2 Dunlin, 4 Common Sandpiper, 4 Yellow Wagtail early-am (Bob Warden per FJM); 2 Dunlin, 2 Black Tern s basin still, 5 Yellow Wagtail early-aft (Dom Pia tweet)
Tyttenhanger GPs: 3+ Little Egret, 2 Snipe, Common Sandpiper, 3+ Green Sandpiper, 2+ Greenshank, Hobby, 4 Yellow Wagtail (TyttGP tweet)
Woodberry Wetlands: Spotted Flycatcher, Kingfisher, 140 House Martin, Sand Martin, Coal Tit, Common Gull, Kestrel, Teal, 52 Shoveler (Chris Farthing & Tony Butler)
Wednesday 19th September 2018Edit
Alexandra Park: Meadow Pipit SW, Kingfisher Wood Green Res, 4 Pochard, 3 Chiffchaff, Blackcap (APOG Birders)
Brookmill Park: Little Egret, Kingfisher (Conrad Ellam)
Garden Wood: 4 Hobby chasing each other over Wd (Rupert Evershed via Herts BC)
Hackney Marshes: Peregrine on pylon by filter beds, 4 Little Egret on Old River & Tufted Duck fos 08:30 (Alastair Dent)
Ingrebourne Valley: 5 Shoveler, 30 Teal, Red Kite, Hobby, 5 Snipe, 6 Green Sandpiper, 4 Jay, 3 Swallow, 5 House Martin, 4 Chiffchaff (Dave McGough per ELBF FB)
Ladywell Fields: Kingfisher, Chiffchaff singing, 2 Grey Wagtail (Tom Moulton/S Gore/J Simmons)
London Wetland Centre: Spotted Flycatcher, Garganey, 3 Snipe, 5 Chiffchaff, Peregrine (WWT website); Green Sandpiper; Clouded Yellow (Simon Fogg)
Nonsuch Park: incl 2 Buzzard thru, 3 Hobby 2 juv (Isaiah Rowe tweet)
Old Coulsdon: poss Barn Owl 0130 ['very pale'] TQ318580 (Mark Baldwin via Surrey BN) If anyone knows more about this sighting I would love to hear from you as it is a potential first in Croydon for many years. [John Birkett - Croydon Birders]
Osterley Park: pr Ruddy Shelduck [most likely escaped from private collection nearby - first seen last week], 3 Shoveler 2f & m eclipse (K.Woolmore/Osterley BG)
Pinner: The Croft Park Red Kite, 2 Coal Tit, 9 Magpie in tight group, Green Woodpecker calling (Nigel Barratt)
Rainham RSPB: 5 Little Egret, 3 Sparrowhawk 2f m, Marsh Harrier, Buzzard, Curlew, 51 Black-tailed Godwit, 4 Stock Dove, 2 Kingfisher 6 Kestrel, 60 Swallow, 12 Sand Martin, 55 House Martin, Yellow Wagtail (Howard Vaughan, Patrick Hart via ELBF FB)
St James's Park: 2 Kingfisher (Frank Nugent)
South Norwood CP: incl Common Sandpiper, 12 Swallow, 6 House Martin, Whinchat still, Reed Bunting (John Hughes via Croydon Birders)
Southwark Bridge: Yellow-legged Gull 1cy (Nick Senior)
Staines Reservoir: 2 Little Ringed Plover, Sanderling, 2 Dunlin, Common Sandpiper, 2 Black Tern, 100+ House Martin, 10+ Yellow Wagtail ['double figures'] before 0730 (Paul Watts tweet); incl showy Sanderling s basin causeway bank & 2 Black Tern s basin still, Ringed Plover n basin mid-aft (Dom Pia tweet); Ringed Plover briefly 1715, Sanderling & 2 Dunlin s basin causeway, Wheatear n basin gantry, 4 Yellow Wagtail late-aft (Paul Mattos via Surrey BN)
Stave Hill: 2 Spotted Flycatcher aft, 1 Chiffchaff (John Cadera)
Trent Park: Common Buzzard, 7 House Martin W 13:04; Small Copper, 2 Small Heath (Robert Callf)
Tyttenhanger GPs and Willows Farm: 9+ Wigeon, 6+ Little Egret, 5 Snipe, 3 Common Sandpiper, 3 Green Sandpiper, 2+ Greenshank, Little Owl, 3 juv Hobby main gp, 10+ Swallow, Wheatear willows fm nr manure pile am (TyttGP tweet)
Walton Res: Common Sandpiper (Tony Quinn per Surrey BN)
Wanstead Flats: 2 Yellow-legged Gull, 2 Hobby, Peregrine Falcon, 2 Sparrowhawk, 3 Meadow Pipit, 2 Skylark, 5 Swallow, 10 House Martin (Nick Croft)
Wanstead Park: first returning Siskin, 40 Gadwall, 10 Shoveler, 12 Teal, Pochard, 3 Little Grebe, Great Crested Grebe, 5 Little Egret, Kingfisher, 4 Chiffchaff 1 singing, Blackcap, 2 Goldcrest, Nuthatch, Hobby, Sparrowhawk, 17 Swallow, Grey Wagtail (Nick Croft/Mike Messenger)
Tuesday 18th September 2018Edit
Alexandra Park: Willow Warbler, 5 Chiffchaff, 3f Pochard & 2 House Martin Boating Lake, Kingfisher Wood Green Res; Small Copper (Bob Watts); 5 Swallows W over gdn centre midday (Pete Mantle)
Amwell NR: Garganey Gt Hardmead L (Barry Reed via Herts BC); Spotted Flycatcher in orchard still 1640 (William Bishop tweet)
Bankside SE1: 1m Blackcap still, 1 Chiffchaff (Reuben Braddock)
Barking Abbey: Grey Wagtail (Howard Vaughan via ELBF FB)
Brent Reservoir: Cattle Egret roosting in willows on n bank viewable fr path to hides by houses (Andrew Self); flew to pontoon on n bank alighting briefly before flying low E but couldn't see if it resettled 0820, also 3 Green Sandpiper, Common Sandpiper, 3 Snipe, Lapwing, 2 Chiffchaff, 40+ House Martin (Bob Watts)
Brookmill Park: Little Egret, Kingfisher (Conrad Ellam)
Footscray Meadows, Sidcup: Kingfisher, Grey Wagtail, Little Egret five arches, 2 Stock Dove, 2 Swallows, 12 Goldfinch (Eric Brown)
Hyde Park: 8 House Martin (Ray Crouch)
Island Barn Reservoir: Black Tern am (Chris Turner tweet)
Leatherhead, Randalls Way: 115 House Martin 11 s & later 104 sw in two flocks late-pm, 1 Hobby s (Neil Batten)
London Wetland Centre: Garganey still, Yellow Wagtail, 30 House Martin, 9 Wigeon & 3 Snipe main lake, Peregrine, 12 House Martin (WWT website)
Panshanger Park: Osprey fishing 0745-0830 then left w/ fish (Simon Radcliffe tweets)
Queen Mary Reservoir: Wheatear (Steve Minhinnick tweet)
Rainham RSPB: Buzzard, f Merlin still (Andy Tweed, Russell Sherriff per ELBF FB); Kingfisher (Mark Vale); 2 Ruff (Eduardo Lopez-Salas)
Richmond Park: 17 Cormorant, Peregrine, Kingfisher (Nigel Jackman)
Rye Meads NR: 13 Snipe on HMWT meadow (Jenny Sherwen via Herts BC)
St James's Park: Kingfisher, 1 Shoveler (Frank Nugent)
Sevenoaks WR: incl 4 Shoveler, 9 Gadwall, 10 Teal, Sparrowhawk, Red Kite over 1600, 5 Lapwing, 4 Snipe, Common Sandpiper, 2 Green Sandpiper, 5 Chiffchaff, 8 Swallow, 30 House Martin, 2-3 Bullfinch poss family calling nr office (per Susanna Clerici via Kent OS)
South Lodge Farm, Enfield: 6 Mistle Thrush, 52 Starling (Robert Callf)
South Norwood CP: incl Common Sandpiper, Hobby, Whinchat, Reed Bunting (John Hughes via Croydon Birders)
Staines Moor: 3 Little Egret, Red Kite, 2-3 Buzzard, Whinchat western side midpoint on thistle heads 1145 (Peter Hambrook via Surrey BN)
Staines Reservoir: incl Sanderling, Common Sandpiper, 2 Dunlin early-am (Paul Watts tweet); also Sandwich Tern, Black Tern, Knot, Swift, 25 Yellow Wagtail, Whinchat, Wheatear mid-am (Dave Morris per Dom Pia tweet); also Black-necked Grebe, Little Ringed Plover, 3 Common Sandpiper, 10+ Yellow Wagtail but no sign Knot 1330-1440 (Dom Pia tweet); Black-necked Grebe, Little Ringed Plover, Sanderling, Common Tern, 2 Black Tern, 2 Wheatear, 33 Yellow Wagtail evng (Tony Sweetland tweet)
Trent Country Park, Cockfosters: Red Kite, 2 Common Buzzard, Kestrel, leucistic Grey Heron & Grey Wagtail both upper lake, 2 Swallow S (Bob Husband w/ Enfield RSPB Grp); also pm Common Buzzard, leucistic Grey Heron, Hobby, Kestrel, Kingfisher, 5 Mandarin 2m 3f, Song Thrush, Swallow (Pete Lowman)
Tyttenhanger GPs and Willows Farm: incl 6 Pochard, 2 Little Egret, 6 Snipe, 6 Green Sandpiper, 2+ Greenshank, Common Gull, 4+ Swallow, 2 Grey Wagtail am (TyttGP tweet); 3 Yellow Wagtail willows fm in cattle pasture nr silage pile (Steve Pearce via Herts BC)
Walthamstow Reservoirs (Lockwood): Redshank & Yellow Wagtail am, Whimbrel through S 15.45, also f Tufted Duck w/ green nasal-saddle 'N3'. Can anyone advise on origin? (Lol Bodini, Pete Lambert)
Wanstead Flats: 2 ad Yellow-legged Gull, 2 Common Gull, 100+ Black-headed Gull, 40 Swallow S, 8 House Martin, Chiffchaff, 7 Gadwall, f Teal, 2 Hobby, Kestrel, 3 Meadow Pipit, Grey Wagtail (Nick Croft)
Walton Res: 2 Greenshank am (Chris Turner tweet)
Woodberry Wetlands: 8 Little Grebe incl 2 chicks, 3 Gadwall, 26 Northern Shoveler, 27 Common Pochard, Sand Martin amongst House Martin flock, Barn Swallow, 3 Chiffchaff incl 1 singing, Willow Warbler (Robert Callf)
Monday 17th September 2018Edit
Alexandra Park: f-type Wheatear playing fields, Common Buzzard, 2 Sparrowhawk both 1cy, F Kestrel, 2 Kingfisher, 83 lge gulls Wood Green Res, Meadow Pipit S, 3 Chiffchaff, Blackcap; Brown Argus, 4 Small Copper (APOG Birders)
Amwell NR: Spotted Flycatcher in orchard along track to railway crossing TL375127 late-aft (William Bishop via Twitter/Herts BC)
Bankside SE1: 1m Blackcap in Tate community gdn, 2 Peregrine on Tate chimney as usual (Reuben Braddock)
Barking Park: m Sparrowhawk, Grey Heron, Little Egret, Grey Wagtail (per ELBF FB)
Brook Farm, Upminster: incl Sparrowhawk, 6 Buzzard incl 3S, Kingfisher, 3 Kestrel, Hobby, 7 Sand Martin S, 100 House Martin SE, Cetti's Warbler, Chiffchaff, 1000 Jackdaw, 700 Rook (Alan Shearman per ELBF FB)
Brookmill Park: Little Egret, Stock Dove, 2 Kingfisher, 2 Song Thrush, Blackcap (Conrad Ellam)
Canons Farm: incl Kestrel, Peregrine, Whinchat, 2 Stonechat (per CFBW BG)
Croxley Common Moor: Wheatear (Paul Lewis via Herts BC); Yellowhammer (Paul Lewis tweet)
Hampstead Heath: 50 House Martins & 30 Swallows SW over Parliament Hill pm (Pete Mantle)
Horsenden Hill: dark Common Buzzard w/ distinctive white patch on left upper wing mobbed by Crows 10am (Martin Smith)
Ingrebourne Valley: 35 Teal, 30 Snipe, 5 Green Sandpiper, Cetti's Warbler (Shaun Harvey per ELBF FB)
Lakeside Retail Park: 2 Grey Wagtail (Howard Vaughan vie ELBF FB)
London Wetland Centre: Whinchat, Stonechat, Wheatear, Garganey, 4 Snipe, 2 Meadow Pipit S, 7 Chiffchaff, 2 Water Rail (WWT website); Hobby, 2 Spotted Flycatcher (Simon Fogg); 3 Spotted Flycatcher (Michael Frankling tweet)
Norwood Park: Common Buzzard E over Sydenham Hill 3:30pm (Michael Mac)
Panshanger Park: Osprey over osprey_lake then W 1530, 3 Red Kite (Jeff Bailey et al via Herts BC); 2 Hobby 1300 (James Russell via Herts BC)
Rainham RSPB: 3 Buzzard, 2 juv Little Ringed Plover, Snipe, f Merlin (Sean Huggins per ELBF FB); 6 Ringed Plover, Curlew, 72 Black-tailed Godwit, Ruff, 5 Dunlin, Little Stint, 7 Redshank, Greenshank, 2 Yellow-legged Gull, Stonechat (Andy Tweed, Dominic Mitchell per ELBF FB); 2 Sparrowhawk, juv Marsh Harrier, Kingfisher, 5 Kestrel, 2 Hobby, Mistle Thrush, Grey Wagtail, 4 Meadow Pipit (Howard Vaughan via ELBF FB)
Richmond Park: 2 Kingfisher, 2 Grey Wagtail; Clouded Yellow (M.Delpy per JW)
St James's Park: Kingfisher, 11 Swallow S (Frank Nugent)
Sanderstead: Linnet over Briton Hill Rd 11:10 (John Birkett)
Sevenoaks WR: nearby White Stork fr sheep field gate still (per Susanna Clerici via Kent OS)
South Norwood CP: incl Common Sandpiper, 16 Chiffchaff, Whinchat, Reed Bunting (John Hughes via Croydon Birders)
Staines Reservoir: Ringed Plover, Little Ringed Plover, Sanderling, 2 Dunlin, 2 Common Sandpiper, 40+ Yellow Wagtail incl 25 on KGVI Res fence line early-am (Paul Watts tweet); also 3 Wheatear together on pipes at e end, 38 Yellow Wagtail 21 causeway & 17 KGVI late-am (Jim Sweetland tweet); Sanderling still s basin causeway bank, 15+ Yellow Wagtail causeway w end mid-aft (Dom Pia tweet)
Town Park, Enfield: 3 Willow Emerald Damselfly incl pr mating (Robert Callf)
Twickenham: Common Buzzard circling above Brouge pub 1045 (Mike Foster)
Tyttenhanger GPs: Mediterranean Gull juv/1w main gp briefly, 3 Little Egret, 2 Common Sandpiper & 2 Greenshank fishing lake by 1005 (TyttGP tweet); also 6 Wigeon, 6 Snipe & Green Sandpiper main gp (Steve Blake via Herts BC)
West Norwood Cemetery: m Kestrel low straight through (Michael Mac)
Woodford Green: Goldcrest, Chiffchaff, Blackcap, Sparrowhawk 11.06 & Hobby 11.20 over (Ken Murray)
Sunday 16th September 2018Edit
Alexandra Park: Red Kite S with second higher unidentified raptor over Wood Green Res, 2 Meadow Pipit, 7 Chiffchaff, Blackcap; 3 Small Copper (APOG Birders)
Brent Reservoir: 2 Little Egret over, 2 Lapwing, Snipe, 2 Green Sandpiper, Common Sandpiper, Cetti's Warbler (Andrew Self); 5 Little Egret E Marsh, 3 Snipe, 3 Lapwing, 4 Common Sandpiper, 2 Green Sandpiper, 25+ House Martin (Roy Beddard, NW London RSPB)
Brook Farm, Upminster: 3 Buzzard, 3 Kestrel, Hobby, 5 House Martin (Alan Shearman per ELBF FB)
Canons Farm: 20 Swallow, 12 House Martin, Whinchat, w/ Stonechat both still in Horse Pasture, 6 Yellowhammer (Paul Goodman per CFBW BG)
East End Green: Osprey (Barry Reed via Herts BC)
Fairlop Waters: incl 6 Shoveler, 14 Teal, 10 Pochard, 5 Tufted Duck, 12 Little Grebe, 3 Great Crested Grebe, 10 Grey Heron, 6 Cormorant, 2 Sparrowhawk, Buzzard, 6 Lapwing, Snipe, Common Sandpiper, Kingfisher, Coal Tit, 6 Chiffchaff, 2 Blackcap, 3 Goldcrest, 20 Meadow Pipit (Steve Bacon per ELBF FB)
Gallions Reach: Black-tailed Godwit am (Kevin McManus tweet); 4 Little Egret, Hobby, flock of 27 Arctic Tern upriver 0915, Black Tern w/ Arctics, 12 Sand Martin, Reed Warbler, 2 Chiffchaff 0830-1230 (Gary James via Essex BwS)
Greenwich Ecology Park: Spotted Flycatcher, Little Grebe, Stock Dove, 2 Grey Wagtail, Kingfisher, 2 Blackcap, Reed Warbler, Chiffchaff, Willow Warbler (John Bushell & Conrad Ellam)
Hilfield Park Reservoir: 3 Common Sandpiper, 1 Little Egret over S, c10 Linnet (Tony Blake)
Ingrebourne Valley: 9 Snipe, 8 Green Sandpiper, Tawny Owl, Kingfisher, 20 Chiffchaff, 6 Blackcap, 2 Whitethroat, 25 Meadow Pipit, Tree Pipit (Paul Hawkins per ELBF FB); 4 Bullfinch (Dave McGough per ELBF FB)
London Wetland Centre: 3 Spotted Flycatcher wildside, Whitethroat, Willow Warbler, Garganey main lake, 4 Wigeon, Peregrine, 2 Yellow Wagtail grazing marsh, Grey Wagtail, 5 Chiffchaff, 3 Snipe (WWT website)
Mardyke Valley, Stifford-Aveley: incl Sparrowhawk, 5 Buzzard, Coal Tit, 3 Swallow, 3 Cetti's Warbler, Willow Warbler, 7 Chiffchaff, 4 Reed Warbler, 4 Blackcap, 2 Goldcrest, 2 Treecreeper, 3 Pied Wagtail, 2 Meadow Pipit (Alan Shearman per ELBF FB)
Nonsuch Park: 2+ Hobby parent still with them, Little Owl h, 20+ House Martin high SW and 2 Mistle Thrush (Isaiah Rowe); I just missed the Barn Owl seen at 19.40 by others - it's easy to be in or looking at the wrong field, 4+ Tawny Owl h, 2 Hobby including 1+ juv 19.00-19.30 (Simon Osborn) Is the Barn Owl at the 2 meadows behind the hedge what was once Cuddington village? or Warren Farm? Park at London Road (A24), walk down a hundred yards or so and look in any of the long grass fields on the right, on the top, on the slope and the long meadow in the bottom, they could be ranging in other areas too I don't know [Simon O.]
Osterley Park: pr Ruddy Shelduck on Middlelake, Little Grebe, 2 Chiffchaff, 3-4 Grey Wagtail, pr Shoveler (K.Woolmore/Osterley BG)
QE2 Reservoir: Dunlin, 9 Little Egret, 2 Common Sandpiper, 7 Meadow Pipit, 5 Yellow Wagtail, 2 Wheatear and Hobby (Chris Turner)
Rainham RSPB: 2 Pintail, Buzzard, Curlew, 65 Black-tailed Godwit, 2 Ruff, Snipe, Yellow-legged Gull, Barn Owl, 2 Kestrel, Jay, 2 Bearded Tit, Swallow, Cetti's Warbler, Chiffchaff, Blackcap, 6 Yellow Wagtail (Patrick Hart per ELBF FB)
Richmond Park: Wheatear, 4 Chiffchaff, Sparrowhawk and Common Buzzard (P Davies & P Redmond)
Sevenoaks WR: White Stork still but distant 0730 (Drew Young tweet); White Stork still fr sheep field gate past willow hide tho distant, Wood Sandpiper fr willow hide (Jack Headley tweet)
Sewardstone Marsh: Garganey still in relief channel (Neville Smith); Whinchat evng (NS tweet)
Staines Moor: Osprey fishing R Colne 1610-1625 then S (James Byatt tweet)
Staines Reservoir: 2 Wigeon, Ringed Plover, 2 Little Ringed Plover, 2 Dunlin, 5 Common Sandpiper, Little Gull, 600+ hirundines almost all House Martin incl brownish bird w/ pale brown rump and streaks on rear flanks, Wheatear, 24 Yellow Wagtail, Grey Wagtail, 10+ Meadow Pipit am (Dom Pia tweets); 6 Ringed Plover & Dunlin left towards KGVI Res 09.00 (Franko J Maroevic); Greenshank early-am, Green Sandpiper N basin mid-am (Bob Warden per FJM); Sanderling (Thomas Gibson)
Thorpe Park: 2 Garganey manor lake (Kevin Duncan via Surrey BN)
Town Park, Enfield: Willow Emerald Damselfly on overhanging branches Carr's Basin (Robert Callf)
Tyttenhanger GPs: 9+ Golden Plover over 1025 - may have landed in fields nr Tollgate Rd, also 6 Wigeon, 4+ Little Egret, 2+ Snipe, 2+ Green Sandpiper, 2+ Greenshank, Mediterranean Gull 1w early-am, prob Yellow-legged Gull 3cy [poss atlantis], 2+ Hobby, Peregrine, 10+ Swallow, singing Reed Warbler & Grey Wagtail main pit am (Rupert Evershed via Twitter/Herts BC); also 6 Sand Martin evng (Chris Ruis tweet)
West Molesey: Raven SW am (Adam Cheeseman per Surrey BN)
Wood Farm, Stanmore: 1 Hobby, 1 Yellow Wagtail SW, c10 Swallow (Tony Blake) site ref TQ171933
Wormwood Scrubs: Whinchat grassland 0910 (Paul Thomas tweet)
Saturday 15th September 2018Edit
Alexandra Park: 3 Meadow Pipit, Willow Warbler, 6 Chiffchaff, 3 Blackcap, 2 Swallow W (APOG Birders)
Boyles Court Farm: Spotted Flycatcher (Colin Jupp per ELBF FB)
Brent Reservoir: juv Garganey, 3 Lapwing, 3 Snipe, 2 Common Sandpiper (Andrew Self); plus Lapwing [4th], Green Sandpiper, 2 Little Egret, Cetti's Warbler, 26 House Martin through 20&6, Red Kite over north bank (Roy Beddard, Andrew Haynes)
Canons Farm: Whinchat, Stonechat & Wheatear owl_meadow, also 5 Buzzard, 2000+ Woodpigeon, Swallow, Chiffchaff, 16 Meadow Pipit, Yellowhammer (Ian Ward per Surrey BN)
Crossness: Sparrowhawk, 2 Kestrel, Hobby, 2 Peregrine (Donna Zimmer tweet)
Dagenham Chase: 2 Teal, Common Sandpiper, 2 Willow Warbler, 6 Chiffchaff, 2 Blackcap (Steve Bacon per ELBF FB)
Dungeon Hill: 80+ House Martin (Graham Harris via DH Wildlife FB)
Fairlop Waters: incl 8 Chiffchaff, 3 Blackcap, Reed Bunting (Dan Barrett per ELBF FB)
Finsbury Square: juv Black Redstart as y'day (Saffia Rawat tweet)
Grovelands Park: multiple mixed tit flocks around lake 15:30 incl Chiffchaff, Treecreeper, 2 Goldcrest (Katy McGilvray)
Hanwell W7: 2 Hobby ad juv over Brent Valley GC (Simon Fogg)
Ingrebourne Valley: 14 Teal, 3 Snipe, 3 Green Sandpiper (Steve Bacon per ELBF FB)
Kelvedon Hatch: 2 Raven on or nr BT tower 1100-1130 (David Jobbins via Essex BwS & Twitter)
London Wetland Centre: 6 Wigeon, 3 Little Grebe, 4 Snipe, Swallow, 8 House Martin, 3 Reed Warbler, 2 Blackcap (WWT website)
Newgate Street: Hobby cold harbour fm, c25 Swallow, c40 House Martin, Wheatear park fm, c11 Meadow Pipit (per Herts BC)
Nonsuch Park: incl 4+ Little Owl, Tawny Owl h, Hobby hunting at dusk (Isaiah Rowe tweet)
Panshanger Park: Osprey still 1400 - caught trout then W toward riverside cottage (Mick Gray via Herts BC)
Queen Mary Reservoir: 4 Common Sandpiper mid-pm (Franko J Maroevic)
Rainham Marshes: 1cy Caspian Gull Aveley Bay, juv Little Stint Aveley Pools (Sean Huggins); juv Little Gull aveley bay 1315 then downriver (Martin Parker per Simon Worsfold tweet); also 2 Wigeon, 10 Shoveler, 15 Gadwall, 2 Pintail, 180 Teal, 4 Little Grebe, 2 Pochard, 49 Lapwing, Curlew, 61 Black-tailed Godwit, 2 Ruff, 4 Snipe, juv Yellow-legged Gull, Marsh Harrier, 2 Sparrowhawk, 13 Common Buzzard drifting SE 10am-2pm incl flocks of 4 at 11:30 & 3 at 13:45, Barn Owl, 2 Kingfisher, 7 Kestrel, 3 Hobby, 2 Jay, Sand Martin, 10 Swallow, 22+ House Martin, 8 Cetti's Warbler, Willow Warbler, 2 Blackcap, 11 Chiffchaff, 3 Grey Wagtail, 7 Yellow Wagtail, Pied Wagtail, 25 Meadow Pipit; Clouded Yellow (Samuel Levy, Simon Worsfold et al); also 16 Buzzard, Little Ringed Plover, Common Sandpiper (per ELBF FB); Lesser Whitethroat (Barry Jackson per ELBF FB)
Richmond Park: 8 Common Buzzard, Red Kite W, Peregrine, Common Sandpiper, Tree Pipit, Whinchat, Stonechat, Kingfisher (F.Nugent, S.Woolfenden, J.Wilczur); Whinchat, Stonechat, 9 Sand Martin, Red-legged Partridge, Little Owl (A. Bayley)
Sevenoaks WR: White Stork nearby fr sheep field gate pm w/ metal ring on L tibia poss'y from Spanish [or Swedish - ring comb'n tbc] reintroduction (Mathew Bournat tweet); 2 Shoveler, c15 Teal, 2 Pochard, 2 Little Grebe, 7 Lapwing, Hobby, 6-7 Chiffchaff (Jack Headley tweet); Wood Sandpiper fr willow hide (per Susanna Clerici via Kent OS)
Sewardstone Marsh: Garganey in relief channel fdg w/ Teal early-am (Neville Smith); still present 17:41 (NS)
Staines Moor: 12 Yellow Wagtail, 1 Northern Wheatear, 2 Chiffchaff w/ large tit flock at n end, 1 Little Egret, 2 Common Buzzard (Franko J Maroevic)
Staines Reservoir: Black-necked Grebe, 2 Dunlin, Common Sandpiper, 2 Wheatear, 10+ Yellow Wagtail am (Jim Sweetland tweet)
Stocker's Lake: 2 Common Tern 7.20am fr heron_viewpt (Michael Robinson via Herts BC)
Sutcliffe Park: pr Little Grebe & 2 chicks, 3 Chiffchaff (Conrad Ellam)
Totteridge Valley: BLACK KITE reported over folly fm 1130 (Tony Clancy per Simon Worsfold tweet/BirdGuides); also 1 Whinchat, 1 Hobby, 6 Lapwing, 50 Stock Dove, 2 Swallow, 1 Buzzard folly farm (Tony Clancy)
Tyttenhanger GPs and Willows Farm: 2+ Wigeon, 3 Little Grebe, 6 Little Egret, Common Sandpiper, Green Sandpiper, 2-3 Greenshank, Hobby, m Stonechat willows fm lake briefly, c60 Linnet am (TyttGP tweet/Herts BC)
West Harrow: Willow Warbler through gdn [foy here] (Alex Massey)
Friday 14th September 2018Edit
Alexandra Park: m Gadwall boating lake - first record on this water body - all previous records on Wood Green Res, 10+ Meadow Pipits, 6 Swallow SW, Willow Warbler, 3 Chiffchaff, Blackcap; 4 Small Copper, 4+ Common Blue (APOG Birders)
Camberwell: 2 Peregrine, hopping around the under frame of Kings College Hospital Helipad (SJ Elvin)
City of London: Guildhall - inside the building - a Wren keeps popping in and out through a window of the Old Library (Simon Robinson)
Crayford Marshes: 4 Gadwall, 40+ Teal, Great Crested Grebe, 4+ Little Egret, 5+ Buzzard, 3+ Sparrowhawk, inc juv chasing one of 6+ Kestrel, 2 Hobby, c15 Lapwing, c10 Dunlin, 3 Redshank, 1+ Greenshank, 5 Black-tailed Godwit, Curlew, 4 Snipe, ad Common Gull, c20 Yellow-legged Gull, c20 Arctic Tern W along Thames in tight flock 12.40 presumably the Rainham birds - quite close to Kent side but I only got onto them after they had passed - heard one call only which sounded like- but not- Common Tern, 4 Skylark, 20+ Swallow, 20+ House Martin, 30+ Meadow Pipit, Grey Wagtail, Blackcap, 3+ Cetti's Warbler, 2+ Chiffchaff, 2 Rook; 6+ Willow Emerald Damselfly (Ian Stewart)
Finsbury Square: juv Black Redstart to left of NCP pedestrian entrance on City Rd 2pm [TQ32828199] (Mark Fairless)
Green Park: 4 House Martin, Goldcrest, 3 Chiffchaff (Samuel Levy)
Hyde Park: 86 Greylag, 89 Canada Geese, 63 Mute Swan, 25 Egyptian Geese, Shoveler, 10 Red-crested Pochard, 83 Tufted Duck, 16 Great Crested Grebe, 86 Coot, 142 Black-headed Gull, 8 Cormorant, 2 Grey Heron, 4 Swallow, 2 Sand Martin, 64+ House Martin, 2 Coal Tit, Chiffchaff, Goldcrest, Grey Wagtail (Samuel Levy)
Ingrebourne Valley: 14 Snipe, 6 Green Sandpiper, Spotted Flycatcher (per ELBF FB)
Kensington Gardens: 30 Mute Swan, 3 Shoveler, 16 Red-crested Pochard, 26 Pochard, 66 Tufted Duck, 6 Great Crested Grebe, 225 Coot, 10 Cormorant, Grey Heron, Coal Tit, 5 Goldcrest, 3 Chiffchaff (Samuel Levy)
King George V Reservoir: juv Black-necked Grebe sw cnr of s basin, Little Grebe, juv Ringed Plover, 4 Common Sandpipers, 130 Shoveler, 2 Wigeon, Egyptian Goose, 6 Grey Wagtails, 25 Yellow Wagtails, 2 Meadow Pipits, 10 Linnets, 3 Goldfinches, 60 Swallows, 2 Cetti's Warblers (Sean Huggins)
London Wetland Centre: 8 Wigeon, 2 Little Grebe, 5 Snipe, 18 House Martin, Chiffchaff, 5 Blackcap, 2 Yellow Wagtail grazing marsh (WWT website)
Maple Lodge NR: [members only] Bittern distantly, 2 Green Sandpiper (Steve Carter via Herts BC)
Nonsuch Park: 1 Barn Owl hunting 19.55 onwards in field betw London Rd & mansion house, also 2 Little Owl, 1 Tawny Owl h, 3-4 Hobby (Neil Batten)
Queen Mother Reservoir: Yellow-legged Gull & 2 Wheatear 0800 (Peter Newbound via Berks BN)
Rainham RSPB: 2 Pintail, 3 Sparrowhawk, 2 Marsh Harrier, Buzzard, 5 Avocet, 7 Ringed Plover, Curlew, 71 Black-tailed Godwit, 2 Ruff, 8 Dunlin, Little Stint, 7 Snipe, Green Sandpiper, 17 Redshank, ad Common Gull, 4 Yellow-legged Gull, 21 Arctic Tern, Barn Owl, 7 Kestrel, 2 Hobby, juv m Peregrine, 30 Sand Martin, 40 Swallow, 40 House Martin, Cetti's Warbler, Willow Warbler, Chiffchaff, Whitethroat, 3 Stonechat, 3 Yellow Wagtail, Grey Wagtail, Pied Wagtail, 37 Meadow Pipit, 6 Reed Bunting (Patrick Hart, Howard Vaughan via ELBF FB)
Richmond Park: 3 Buzzard, Common Sandpiper, Grey Wagtail, 4 Whinchat, 1 Wheatear, 5 Stonechat, 4 Blackcap (Hugh Bradshaw, Friday BG)
Rye Meads RSPB: 2 Raven on or nr pylons 0900 (Vicky Buckel via RSPB tweet/Herts BC)
St James's Park: Kingfisher (Frank Nugent); also 108 Greylag, 7 Egyptian Geese, 15 Gadwall, 4 Red-crested Pochard, 11 Pochard, 61 Tufted Duck, 3 Little Grebe, 117 Coot, 14 Cormorant, 6 Grey Heron, 5 Chiffchaff (Samuel Levy)
St Paul's Cathedral area: Black Redstart on roof of London Stock Exchange (Twitter)
Sewardstone Marsh: 2 Whinchat, 6 Yellow Wagtail, Meadow Pipit, 2 Hobby, 2 Common Buzzard, c200 House Martin, c150 Swallow, Kestrel (Martin Shepherd)
South Norwood CP: incl Sparrowhawk, Common Sandpiper, Kingfisher, 2 Kestrel, Willow Warbler, Reed Warbler, 6 Blackcap, Whitethroat, Grey Wagtail, Meadow Pipit (John Hughes via Croydon Birders)
Staines Moor: 2 Whinchat centrally nr bush amid live & partly-dead trees TQ030731 & Wheatear 1630 (Richard Haydon via Surrey BN)
Staines Reservoir: Black-necked Grebe, Dunlin, Common Sandpiper, Wheatear, Yellow Wagtail pm (Dom Pia tweet)
Stoneleigh Station KT17: 1 Hobby, 1 singing Blackcap am (Neil Batten)
Tyttenhanger GPs and Willows Farm: Spotted Flycatcher tytt'r fm paddock in low trees, c40 Meadow Pipit & 60+ Linnet willows fm, also 2+ Little Egret, 5 Snipe, 2 Common Sandpiper, 4 Green Sandpiper, 2+ Greenshank, 2 Common Tern, Little Owl, 3 Hobby, 1+ Yellow Wagtail h (TyttGP tweets)
Wandle Park: Whinchat am (Sue Henning per John Birkett tweet)
Wimbledon Common: Tree Pipit over, Stonechat, 3 Buzzard, 80 House Martin, 3 Swallow, 9 Cormorants over (Adrian Podmore)
Woodside Park Station: 3+ Yellow Wagtail over calling 12:10 (Samuel Levy)
Thursday 13th September 2018Edit
Alexandra Park: Yellow Wagtail NE 0851, Northern Wheatear briefly 1150 [PF sw cnr], 22+ Meadow Pipits incl 8 & 4 which briefly landed, 7 Chiffchaff, Blackcap; 2 Small Copper, 2 Common Blue (APOG Birders)
Beckton: 20 Arctic Tern up R Thames 0720 (Dave Morrison tweet)
Brent Reservoir: 2 Lapwing, 4 Common Sandpiper, 5 Green Sandpiper, 1 Common Snipe (Andrew Haynes)
Brookmill Park: Kingfisher (Conrad Ellam)
Crayford Marshes: 4 Gadwall, c30 Teal, 6+ Little Egret, 2+ Buzzard, 6 Kestrel, 3-5 Hobby, Peregrine, 5 Ringed Plover, 8 Lapwing, 10 Dunlin, 2-3 Common Sandpiper, 20 Redshank, 3 Greenshank, 2 Black-tailed Godwit, c20 Yellow-legged Gull, 4 Sandwich Tern E then back W along Thames, Kingfisher, 18+ Swallow, c20 House Martin, 10+ Meadow Pipit, Blackcap, Lesser Whitethroat, 4 Cetti's Warbler, 2 Reed Warbler, Spotted Flycatcher, Jay; Clouded Yellow, Grass Snake (Ian Stewart)
Crossness Nature Reserve: Hobby over twice, Tree Pipit on fence post, 4-5 Yellow Wagtails glimpsed (Paul Francis)
Crossness Outlet: Common Sandpiper, 2 Redshank incl juv, Little Egret, c20 Cormorant, numerous Teal, Gadwall, poss juv Bar-tailed Godwit, poss f Hen Harrier but perhaps Marsh Harrier (Paul Francis, who forgot his not very good camera)
Croxley Common Moor: Spotted Flycatcher (Paul Lewis tweet)
Farningham Woods: 2 Common Buzzard display-flying, Spotted Flycatcher (Patrick English)
Finsbury Park: Nuthatch am (Harringay Birder tweet); 2+ Nuthatch vocal in trees se of running track early-pm (Chris Farthing tweet)
Fishers Green: Bittern 1400 - reported at Bittern_Info Pt (Twitter)
Gallions Point Marina: m Wheatear on dock, gravel/grass area, 40 Linnet, Kestrel - late afternoon (Michael Mac)
Gallions Reach: 6 Sandwich Tern, Green Sandpiper, 3 Buzzard (Kevin McManus)
Greenwich Peninsula Ecology Park: Little Grebe, Sparrowhawk, KIngfisher, Reed Warbler, Chiffchaff, 2 Meadow Pipit SW (Richard Green, John Bushall)
Hampstead Heath: Parliament Hill - Lesser Whitethroat, 3 Siskins W, 200+ House Martins and 80 Swallows fdg, 3 Common Buzzards over, 30 Meadow Pipits N - a few birds grounded (Pete Mantle)
Ladywell Fields: 2 Grey Wagtail, Willow Warbler, Nuthatch, 2 Great Spotted Woodpecker [corrected from my senior moment entry yesterday] (Keith Chambers)
London Wetland Centre: 8 Wigeon, 48 Teal, 3 Little Grebe, Buzzard, 3 Snipe, 2 Hobby W, 2 Sand Martin, 6 Swallow, 14 House Martin, Willow Warbler, 7 Chiffchaff, 4 Reed Warbler, 18 Blackcap, Stonechat, Wheatear, Yellow Wagtail, Grey Wagtail, 7 Meadow Pipit (WWT website)
Maple Lodge NR: Spotted Flycatcher (per Paul Lewis tweet)
Marylebone: vocal Tree Pipit over Salisbury St 1415 (Des McKenzie tweet)
Nonsuch Park: 1 Barn Owl brief views 19.35 others had better views (could have been 2 birds), 1 Little Owl seen 19.30, 1 Hobby hawking 19.25-19.40, Tawny Owl heard only. Not bad for a local evening's birding - thanks to Isaiah Rowe/others who found the Barn Owl(s); albino Grey Squirrel (Simon Osborn) Hello. Isaiah Rowe says the Barn Owls are near to the London Road entrance but there are two entrances on London Road. Does he mean the one near to North Cheam or the one near to Ewell please. Many thanks [Neil Batten] NB - if he doesn't see this, and you're on Twitter, IR can be contacted there. Sorry, not on Twitter for work reasons I won't go in to [Neil Batten] The Barn Owls and Hobbies can be seen hunting on fields 100m from the 'North Cheam' entrance by following the main pathway [Isaiah Rowe]
Panshanger Park: Osprey still - circled Garden Wd briefly then N 1055 (via Herts BC)
Pinner: The Croft Park - Great Spotted Woodpecker, Green Woodpecker, 6 Goldfinch, Jay collecting acorns, Red Kite drifting low (Nigel Barratt)
Ponders End: Peregrine on Alma Rd high-rise flats - not sure if it is Cormorant_ Curlew_ Kestrel_ or Merlin_House - seen a few times here through summer (A.Middleton)
Purfleet: Thames foreshore - 31 Teal, Little Egret, 2 Avocet, 29 Lapwing, 12 Ringed Plover, 3 Black-tailed Godwit, 5 Dunlin, Common Sandpiper, Mediterranean Gull, 5 Yellow-legged Gull, 10 Sandwich Tern (Fraser Simpson tweet)
Rainham RSPB: 2 Pintail, 2 Sparrowhawk, 4 Marsh Harrier, 8 Buzzard, 2 Avocet, Curlew, Ruff, 58 Black-tailed Godwit, 2 Redshank, 3 Hobby, 8 Kestrel, 120 Rook, 5 Bearded Tit, 2 Chiffchaff, 2 Whinchat, 3 Stonechat, 5 Swallow, 2 House Martin, Grey Wagtail, Pied Wagtail, 45 Meadow Pipit S (Howard Vaughan, Alex Massey, RSPB via ELBF FB); Spotted Flycatcher (Dave Warren, Alex Massey per ELBF FB)
Richmond Park: 2m Common Redstart on n fence of Holly Lodge paddocks 15.00, Red-legged Partridge still, 6 Meadow Pipits S (Franko J Maroevic, Mike Lewis); Common Sandpiper, Kingfisher, Grey Wagtail, Tree Pipit, Stonechat, Whinchat, Sedge Warbler, 22 Reed Bunting (J.Wilczur)
Russia Dock Woodland: Sparrowhawk, Spotted Flycatcher, 3 Blackcap, 3 Chiffchaff (Conrad Ellam)
St James's Park: Kingfisher (Frank Nugent)
St John's Wood: Red Kite N then SW 1300 (Des McKenzie tweet)
South Norwood CP: Common Sandpiper, Kingfisher, 2 Kestrel, 4 Swallow, 3 Blackcap, 2 Whitethroat, 2 Whinchat (John Hughes via Croydon Birders)
Springwell Lake: Spotted Flycatcher (Paul Lewis tweet)
Staines Reservoirs: 1 PURPLE SANDPIPER on s basin causeway bank in middle. Grass cutting there this am. Still present till 09.35 at least. Flew off but not relocated by 09.42, 1 Little Gull 1w, 1 Dunlin, several Yellow Wagtails (Paul Watts per Bob Warden & FJM); also Black-necked Grebe, 3 Common Sandpiper, 2 Yellow Wagtail mid-am (Dom Pia tweet); Wheatear (Jim Sweetland per Dom Pia tweet); also 3 Black-necked Grebe (Roger Morton tweet)
Stocker's Farm: 2 Whinchat still, Yellow Wagtail (Anna Marett via Herts BC)
Swanley Park: 2 Buzzard w, 220 Canada Geese [site high], 3 Egyptian Geese, 1 Greylag, 10 House Martins (Andy Meaton)
Tooting Commons: 4+ Meadow Pipits S [1 landed], 3 Swallow S, 2 Common Buzzard N, 3+ Chiffchaff, 2 Coal Tit 11:30-13:30 (Alan Wilkinson)
Totteridge Valley: 3 Yellow Wagtail, although apparently many more earlier including a Blue-headed Wagtail, Willow Warbler, 3 Chiffchaff, 15 House Martin, 5 Swallow, 5 Mistle Thrush, 2 Buzzard, Kestrel, 13 Rook (John Colmans)
Trent Park: Red Kite, Sparrowhawk, 5 Common Buzzard together, 2 Chiffchaff; Small Copper, 2 Common Blue, 6 Small Heath, Meadow Brown (Robert Callf)
Tyttenhanger GPs and Willows Farm: 3 Wigeon, 3 Little Egret, Snipe, 3+ Common Sandpiper, 6 Green Sandpiper, 3 Greenshank still, 2 Common Tern, 1+ Kingfisher, 2-3 Hobby, Wheatear Willows Fm hay bales by c/p, 9 Yellow Wagtail, Grey Wagtail (TyttGP tweet/Herts BC)
Walthamstow Reservoirs: Lockwood - Kingfisher, Wheatear, 3 Meadow Pipits, 11 Grey Wagtails and f Sparrowhawk dispatching Woodpigeon in flood relief channel 15.30-17.00 (Lol Bodini)
Wanstead Flats: Green Sandpiper, 2 Wheatear, 12 Chiffchaff, 2 Willow Warbler, f Blackcap, 3 Whitethroat, 2 Lesser Whitethroat, 30+ Swallow, 10+ House Martin, 25+ Meadow Pipit, Yellow Wagtail, Hobby w/ prey, 2 Kestrel, 2 Sparrowhawk, 3 Buzzard, 3 Reed Bunting, 3 Gadwall, 8 Shoveler, 2 Teal, 3 Little Grebe, Mistle Thrush, 2 Common Gull, Skylark (Wanstead Birders)
Wanstead Park: 33 Gadwall, 7 Shoveler, 6 Teal, 2 Nuthatch, singing Chiffchaffs (James Heal)
Wednesday 12th September 2018Edit
Alexandra Park: Yellow Wagtail SW 0900, 23 Meadow Pipit incl 21 S together, m Peregrine W carrying prey [poss pigeon], 5 Pochard Wood Green Res, 4 Chiffchaff, 3 Blackcap, Kingfisher Wood Green Res (APOG Birders) 
Bexley DA5 (Upper College Farm): Whinchat, 40+ House Martin, Blackcap, 3+ Chiffchaff, 5 Bullfinch (Ian Stewart)
Brent Reservoir: 3 Lapwing, 4 Green Sandpiper, 3 Common Sandpiper, 4 Common Snipe, c15 House Martin, Cetti's Warbler (Andrew Haynes); Garganey (Steve Blake) 
Brookmill Park: Little Egret, Great Spotted Woodpecker, Song Thrush, Blackcap (Conrad Ellam)
Foots Cray Meadows: Spotted Flycatcher, 4 Tufted Duck, Sparrowhawk, 6+ Swallow, c50 House Martin, Grey Wagtail, Willow Warbler, c20 Chiffchaff, Nuthatch, Bullfinch (Ian Stewart)
Hogsmill Open Space: Sparrowhawk, 2 Kingfisher, 2 Swallow, 2m Blackcap, 4 Grey Wagtail (Isaiah Rowe tweet)
London Wetland Centre: Garganey wader scrape still, 2 Wigeon, 3 Little Grebe, 5 Snipe, Peregrine, 50+ House Martin, 2 Blackcap (WWT website); Common Sandpiper also reported, Buzzard in low chased by crows and landed on n side reservoir lagoon (Martin Honey, Simon Fogg et al.)
Nonsuch Park: Little Egret over, 2 Barn Owl, 4+ Tawny Owl, Hobby 1930-2015 (Steve Gale tweet) Hello Steve. Where in the park do you need to be standing for the Barn Owls? I was clearly in the wrong place last night! [Neil Batten] often hunting c100m from London Rd entrance in 2 lge fields of long grass [Isaiah Rowe tweet]
Northaw Great Wood: c2 Marsh Tit, Siskin over (per Herts BC)
Panshanger Park: Osprey still, Reed Warbler (Murray Brown via Herts BC); Osprey in dead tree till 3pm then W (per Herts BN)
Rainham RSPB: 10 Avocet, 42 Lapwing, 18 Ringed Plover, 7 Dunlin, Curlew, 62 Black-tailed Godwit, 2 Knot, 2 Ruff, Common Sandpiper, 6 Redshank, Barn Owl, 2 Sedge Warbler, Yellow Wagtail (Andy Tweed, Dave Smith et al per ELBF FB); 30 Sand Martin, 38 Swallow, 500 House Martin, 39 Meadow Pipit & 21 Chaffinch all SE, also 2 Marsh Harrier m juv, 2 Snipe, Hobby, 3 Willow Warbler, 13 Chiffchaff, 3 Blackcap, 2 Lesser Whitethroat, Grey Wagtail (Howard Vaughan, Andy Tweed, Dave Smith et al via ELBF FB)
Richmond Park: 21 Stonechat - four pairs bred fledging thirteen young (J.Wilczur, S.Read, RPBG)
St James's Park: 2 Kingfisher (Frank Nugent)
South Norwood CP: incl Snipe, Common Sandpiper, Kestrel, Sedge Warbler, 3 Blackcap, Whitethroat, Whinchat, 2 Grey Wagtail, Bullfinch (John Hughes via Croydon Birders)
Staines Reservoir: Little Gull, 6 Dunlin, 2 Common Sandpiper, Redshank early-am (Dave Carlsson tweet); also 11 Common Sandpiper, 4 Yellow Wagtail, 6 Meadow Pipit pm (Dom Pia tweet); 2 Dunlin, 3 Common Sandpiper, Meadow Pipit late-pm (Lara Nouri tweet)
Stocker's Farm: 2 Whinchat in flooded field (David Hubbard via Herts BC)
Town Park, Enfield: Cormorant, 2 Tufted Duck m f, Grey Wagtail, m Blackcap, Chiffchaff, Goldcrest, 4 Long-tailed Tit, 2 Nuthatch, 37 Starling (Robert Callf)
Trent Park: Little Grebe, 4 Mandarin Duck, Kestrel, 15 House Martin, 2 Blackcap, 2 Chiffchaff, 2 Nuthatch, Treecreeper (Robert Callf)
Tyttenhanger GPs: 6 Wigeon, 3+ Little Egret, 3 Snipe, 5+ Common Sandpiper, 6 Green Sandpiper, 3 Greenshank still, Kingfisher, Hobby, Willow Warbler, 7+ Chiffchaff, Reed Warbler, 4 Blackcap (per Herts BC)
Wanstead Flats: Spotted Flycatcher, Wheatear, 2 Willow Warbler, 6 Chiffchaff, 15+ Blackcap, Lesser Whitethroat, 15+ Meadow Pipit, 6 Yellow Wagtail, 2 Swallow, 80+ House Martin (first flock of 60+ may have returned to be joined by our resident birds), 5 Shoveler, 4 Gadwall, f Teal, 2 Hobby, Sparrowhawk, Kestrel, 2 Little Owl (Wanstead Birders); Whinchat nr barrage hitches (Louise McCartney)
Wanstead Park: Hobby, Peregrine Falcon, Kestrel, Buzzard, 8 Chiffchaff, 5 Blackcap, 35+ Gadwall, 15+ Shoveler, 10+ Teal, 2 Pochard, 3 Little Grebe, Great Crested Grebe (Nick Croft/Mike Messenger)
Tuesday 11th September 2018Edit
Alexandra Park: 2 Chiffchaff, House Martin (APOG Birders)
Dollis Brook: 3 Grey Wagtail nr Finchley TC (Samuel Levy)
Dungeon Hill: 50+ House Martin (Graham Harris via DH Wildlife FB); 3 Chiffchaff, 25 Linnet (Duncan Jennings via DHSW blog)
Finchley: gdn N3 - Common Buzzard, 4 House Martin NW (Samuel Levy)
Gallions Reach: Common Sandpiper, Black Tern still, 2 Hobby (Gary James via Essex BwS)
Harrow Lodge Park: Little Egret, 2 Grey Wagtail (Dave McGough per ELBF FB)
Ingrebourne Valley: 30 Teal, 60 Lapwing, 12 Snipe, 6 Green Sandpiper, 4 Jay, 5 Cetti's Warbler, 4 Willow Warbler, 2 Blackcap (Dave McGough per ELBF FB)
Leyton Marshes: Green Sandpiper in relief channel (Chris Farthing)
London Wetland Centre: 100+ Shoveler, 7 Snipe, Green Sandpiper, 2 Kingfisher, 3 Chiffchaff, 6 Meadow Pipit W/NW (WWT website); also Common Sandpiper, Buzzard in low chased by crows and landed on n side reservoir lagoon (Martin Honey, Simon Fogg, et al.)
Orsett Fen: incl Sparrowhawk, 6 Buzzard 2 ad 4 juv, 8 Kestrel 5 ad 3 juv, 700 Herring Gull, juv Hobby, 2 Peregrine ad juv, Barn Owl, Little Owl, 20 Skylark, 11 Chiffchaff, 130 House Sparrow, Yellow Wagtail, 220 Linnet, 10 juv Yellowhammer, 3 Reed Bunting (Alan Shearman per ELBF FB)
Osterley Park: 2 Hobby ad juv am (Jon Middleton tweet)
Rainham RSPB: 2 Pintail, Great Egret, 2 Marsh Harrier, 9 Avocet, 20 Lapwing, Ringed Plover, 2 Ruff, Dunlin, 5 Snipe, Kingfisher, Barn Owl, 5 Kestrel, 4 Yellow Wagtail (Tom Bell, Martin Jordan per ELBF FB)
Richmond Park: Common Sandpiper; 2 Common Redstart in paddocks (Nigel Jackman)
Rye Meads RSPB: eclipse m Pintail fr draper hide still am (Vicky Buckel via Twitter & Herts BC)
St James's Park: 2 Kingfisher (Frank Nugent)
Sevenoaks WR: White Stork E then flushed from R Darent pm (per Susanna Clerici via Kent OS)
Southfields: Hobby S over Southfields tube stn 5.45pm (Nick Moll)
Staines Moor: 2 Hobby S w/ hirundines, 10 Yellow Wagtail w/ cattle in nw cnr am (Roger Morton tweet)
Stocker's Farm: 2 Whinchat still (Anna Marett via Herts BC)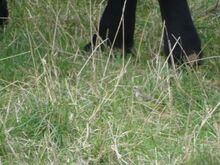 Totteridge Valley: Firecrest singing nr entrance to john's field 1130, 59 Stock Dove, 4 Nuthatch, 7 Chiffchaff, 12 Starling, Blackcap, Bullfinch, 4 Common Buzzard, 3 Goldcrest, 2 Grey Heron, 14 House Martin, Grey Wagtail Darlands, 39+ Rook, Kestrel, 6 Lapwing, Coal Tit, Willow Warbler, 56 Yellow Wagtail incl 1 Blue-headed Wagtail type w/ cows at Folly Fm (Samuel Levy) Where is 'john's field' please?
Trent Park: Grey Wagtail along Merryhills Brook nr bridle path (Robert Callf)
Tyttenhanger GPs and Willows Farm: 2 Little Egret, 5 Common Sandpiper, Green Sandpiper, 2 Greenshank & Kingfisher fishing lake, 2 Little Grebe, Little Egret, Snipe, 3 Green Sandpiper & 7+ Swallow main gp, Little Owl willows farm am (TyttGP tweet); also 6 Wigeon main gp, 2 Common Tern fishing lake, 50+ Linnet in field by willows fm lake TL187047 (Steve Pearce via Herts BC); also 3+ Snipe, 3 Greenshank main gp, ad Hobby pm (Rupert Evershed tweet)
Walthamstow Wetlands: f Peregrine perched on heronry is, 2 Cetti's Warbler, Gadwall (Roger Dewey); Great White Egret SW 13:15, 6 Common Sandpiper, Wheatear, Barnacle Goose (Walthamstow Birders)
Wanstead Flats: Spotted Flycatcher, 4 Blackcap, 2 Chiffchaff, 8 House Martin, 2 Meadow Pipit, Grey Wagtail, Kestrel, Sparrowhawk, 10 Gadwall, 4 Shoveler, 4 Little Grebe (Nick Croft)
Woodberry Wetlands: Barnacle Goose, grp of 359 Cormorant, 2 juv Peregrine, 6 Common Sandpiper, Wheatear (Chris Farthing tweet)
Wormwood Scrubs: 1 Sparrowhawk, 2 Blackcap, 1 Chiffchaff, 1 Song Thrush (Charlie Farrell, Paul Thomas)
Monday 10th September 2018Edit
Alexandra Park: 2 Tree Pipit S over FB 1046, 2 Meadow Pipit S, m Peregrine E over GC, 4 Chiffchaff, Blackcap, 3 Grey Wagtail SW, House Martin boating lake, 6 Pochard; 2 Small Heath, 3 Small Copper, 4 Common Blue, Holly Blue (APOG Birders)
Brent Reservoir: juv Garganey fr main hide, Green Sandpiper, 3 Common Sandpiper (Andrew Self); plus 3 Lapwing lunchtime (Andrew Haynes)
Brookmill Park: Little Egret, 2 Kingfisher, 2 Blackcap (Conrad Ellam)
Coldfall Wood: Greenfinch, 6 Goldcrest, 5 Nuthatch, Treecreeper, Coal Tit (Samuel Levy)
Dartford: White Stork [presumed escape - damaged flight feathers] low W over Darenth Hosp 1123 (Mike Puxley via Kent OS)
Ebbsfleet: White Stork w/o obvious colour rings [but see above post] W over Eastern Quarry TQ596734 toward Bluewater 1130 (Jamie Fletcher via Kent OS)
Enfield Road, EN2: f Sparrowhawk (Robert Callf)
Fairlop Waters: incl Common Sandpiper (Steve Bacon per ELBF FB)
Higham's Park Lake area: Firecrest singing m, Hobby (Joe Dickens)
Ingrebourne Valley: 16 Snipe & 4 Green Sandpiper fr viewpt evng (Shaun Harvey tweet); 22 Snipe (Dave McGough per ELBF FB)
Lee Valley Olympic Park: 4 Peregrine, Kingfisher, Green Woodpecker, Little Grebe, 2 Teal (Richard Harrison)
London Wetland Centre: Common Sandpiper, 6 Wigeon, 5 Snipe, 4 Chiffchaff, Willow Warbler (WWT website)
Mardyke, Stifford-Aveley: incl Little Grebe, 2 Grey Heron, Great Egret S 0630, Buzzard, 10 Jay, 3 Cetti's Warbler, Willow Warbler, 7 Chiffchaff, 7 Blackcap, 2 Redwing, 10 Song Thrush, Mistle Thrush, 7 Blackbird, 2juv Grey Wagtail, Meadow Pipit (Alan Shearman per ELBF FB)
Mimmshall Brook: Kingfisher, Whinchat south of hawkshead bridge (per Herts BC)
Oval: Sparrowhawk mobbed by 10+ House Martin over CG 1515 (Keith Chambers)
Panshanger Park: Osprey still, Raven over (Murray Brown via Herts BC)
Primrose Hill: 5 Grey Wagtail S/SW 0715-0800, Tree Pipit h SW 0815, Linnet fos h over 0820, f/imm Reed Bunting fos low S toward lake 0840 - vismig 0705-0905 (Twitter)
Rainham RSPB: 10 Avocet, Curlew, 78 Black-tailed Godwit, Ruff, 2 Dunlin, Snipe, 2 Redshank (Andy Tweed per ELBF FB)
Regent's Park: juv Marsh Harrier foy SSW 1010 (Twitter)
Riddlesdown: Buzzard h, Linnet over, 12+ Chiffchaff (John Birkett via Croydon Birders)
St James's Park: House Martin (Frank Nugent)
Saxon Lake: 3 Yellow Wagtail (Jon Middleton tweet)
South Norwood Country Park: m Pied Flycatcher perched briefly by side of lake 6.45am, also Snipe & Kingfisher (John Hughes via Croydon Birders website)
Southgate (Waterfall Walk): Buzzard (James Palmer)
Staines Res: 2 Greenshank, 7 Common Sandpipers, Dunlin and Little Ringed Plover (Staines Birders)
Stanwell Moor: 3 Greenshank and Yellow Wagtail (Chris Lamsdell)
Stocker's Farm: 2 Whinchat as y'day (Geoff Lapworth via Herts BC)
Sutcliffe Park: Little Grebe, 2 Tufted Duck, 2 Reed Warbler, 3 Chiffchaff (Conrad Ellam)
Trent Park: 2 Kestrel ne cnr am (Stephen L Jones tweet); also m Kestrel by lower lake and perched in Icehouse Wd, leucistic Grey Heron, Nuthatch, 9 Mandarin (Pete Lowman)
Tyttenhanger GPs: 5 Little Egret, 4+ Common Sandpiper & 2 Greenshank fishing lake, Wigeon, Little Egret, 5 Snipe, 3 Green Sandpiper, juv Hobby & 4 Swallow main gp (TyttGP tweet)
Walthamstow Reservoirs: 2 Spotted Flycatchers, 100 House Martins, 4 Common Sandpipers (David Bradshaw, Lol Bodini)
Wildhill nr Hatfield: Grey Partridge cTL260060, Spotted Flycatcher harefield wd TL264076 (per Herts BC)
Sunday 9th September 2018Edit
Alexandra Park: 14+ House Martin mostly W incl 2 lingering Boating Lake, 16 Swallow W/NW, Peregrine W over GC, 7 Pochard Boating Lake, 4 Chiffchaff (APOG Birders)
Brent Reservoir: juv Garganey, 3 Lapwing, 2 Snipe, 3 Common Sandpiper, 4 Green Sandpiper (Brent Birders); Little Egret (Francis O'Sullivan)
Brookmill Park: 2 Kingfisher, Goldcrest (Conrad Ellam)
Canons Farm: Whinchat reads bottom still (Paul Goodman per CFBW BG tweet)
Coursers Farm: Peregrine, Wheatear (per Herts BC)
Crossness: 2 Oystercatcher, Black-tailed Godwit, 2 Common Sandpiper, Whinchat, Kingfisher, 2 Kestrel, Cetti's Warbler, Reed Warbler, 2 Grey Wagtail pm (Donna Zimmer tweet)
Dungeon Hill: f Common Redstart little dungeon hill fenceposts (Duncan Jennings per Ian Ward tweet); also Sparrowhawk, 4 Buzzard, Kestrel, Hobby S am, Chiffchaff, 12 Linnet (DJ per DHSW blog)
Ellenbrook Fields: 3 Green Sandpiper, Whinchat, Lesser Whitethroat (per Herts BC)
Epsom Downs: 2 Raven E c9am (Steve Gale tweet)
Foxholes GP: Green Sandpiper (Barry Reed via Herts BC)
Gallions Reach: Black Tern still 0735, Wheatear (Kevin McManus tweets)
Greenwich Peninsula Ecology Park: Little Grebe, Kingfisher, Grey Wagtail, Blackcap f, 2 Reed Warbler (Richard Green, John Bushall)
Harefield: Moorhall Rd GPs - 20+ House Martins, 2 Swallows, 2 Kingfisher, 2 Great Crested Grebe, 4 Cormorant (Nigel Barratt)
Garden Wood: 2+ Hobby still (Steve Pearce via Herts BC)
Hilfield Park Reservoir: 2 Hobby, 2+ Common Sandpiper, 13 Shoveler, 1 Wigeon, c20 House Martin (Tony Blake)
King George V Reservoir: 2 Spotted Flycatcher (Neville Smith tweet)
London Wetland Centre: Garganey, Common Sandpiper, Shelduck, 2 Kingfisher, 4 Wigeon, 4 Snipe, 55 Pochard, 71 Gadwall, 103 Shoveler, 357 Canada Goose, Water Rail, 5 Little Grebe & 3yg, Sparrowhawk (WWT website/Twitter)
Nonsuch Park: Barn Owl hunting, 4+ Little Owl, 1 Tawny Owl h, 3 Hobby w/ 2 juvs, 7+ Mistle Thrush, Nuthatch (Isaiah Rowe)
Oakwood Park: m Willow Emerald Damselfly Conservation Pond (Robert Callf)
Panshanger Park: Osprey still - fishing briefly & unsuccessfully 0900 (Simon Radcliffe tweet); drifting S 1130-1140 (Tim Hill tweet); fishing Osprey_Lake again (Andy Johnson tweet); also 2+ Red Kite, Raven, Hobby am (Laurence Drummond tweet)
Rainham RSPB: 2 Buzzard, Kingfisher, Hobby, 3 Stonechat, Wheatear, 2 Grey Wagtail (Jonathan Wasse per ELBF FB); 9 Avocet, 48 Black-tailed Godwit (Steve Bacon per ELBF FB)
Roding Valley Meadows LNR: Whinchat (Alan Shearman per ELBF FB)
Rye Meads RSPB: Spotted Flycatcher still by VC am (RSPB tweet); eclipse m Pintail fr draper hide still (Denis O'Regan tweet); 6 Wigeon & 8+ Snipe fr gadwall_hide (Emily Leonard tweets)
Sevenoaks WR: incl Mandarin, 2 Shoveler, 2 Gadwall, 11 Teal, 3 Pochard, 2 Little Egret, Buzzard, 9 Lapwing, Green Sandpiper, 2 juv Kingfisher, 100 House Martin, 20 Chiffchaff, 2 Blackcap (Susanna Clerici via Kent OS)
South Norwood CP: Snipe, Common Sandpiper, Kingfisher, Kestrel, 18 Chiffchaff, 9 Blackcap, Grey Wagtail (John Hughes via Croydon Birders)
Staines Moor: 2 Spotted Flycatcher, 1 Whinchat, 5 Common Whitethroat, 2 Lesser Whitethroat, 1 Blackcap, 2 Chiffchaff, 1 Cetti's Warbler h, 1 Hobby, 3 Kestrel, 1 Little Egret, 1 Ringed Plover over. No sign of unidentified Acro warbler from dawn to midday but was very elusive y'day. (Franko J Maroevic, Jim & Tony Sweetland); also Sparrowhawk, 3 Buzzard, 2 Red Kite, 2 Yellow Wagtail, 80+ Goldfinch, Linnet, 10 Meadow Pipit, 2 Shoveler over (Nick Baker and Seb Sattin); 1 Wheatear (Michael Robinson)
Staines Reservoir: Shelduck, 2 Shoveler, 4 Gadwall, 12 Teal, 95 Tufted Duck, Goldeneye, 4 Little Grebe, Moorhen, Dunlin, 9 Common Sandpiper, Kingfisher, Wheatear, 2 Yellow Wagtail - WeBS count (Allan Goddard tweet)
Stocker's Farm: 2 Whinchat on dried-out field (John Newson via Herts BC)
Stocker's Lake: Common Sandpiper on tern_raft (John Newson via Herts BC)
Ten Acre Wood area: 4m Pheasant, Buzzard, Sparrowhawk, 2 Kestrel, Snipe, 11 Stock Dove, Skylark, 9 Meadow Pipit, Sand Martin & 8 House Martin low SW, juv Stonechat, Blackcap, 2 Chiffchaff, 2 Reed Bunting (Neil Anderson/K. Bull)
Thorpe Park: Garganey & Common Sandpiper manor lake, Green Sandpiper (Kevin Duncan via Surrey BN)
Tyttenhanger GPs: Common Sandpiper & 2 Greenshank fishing lake, 4 Wigeon, 4 Snipe, 3 Green Sandpiper, 4 Common Tern & 30 House Martin main pit am (Rick Flesher tweet w/ Terry Smith); also 4+ Little Egret 3 main gp & 1 fishing lake, 2 Common Sandpiper 1 Coursers Rd gp & 1 fishing lake (Steve Pearce via Herts BC)
Upminster: 3 Redwing along St Marys Ln early-am (Alan Shearman via BirdGuides & per ELBF FB)
Walton/Island Barn/QE2 Reservoirs: 3 Greenshank [exact res not specified - no public access] (Chris Turner tweet)
Wandle Park, Croydon: Whinchat am TQ313656 (John Birkett)
Wanstead Flats: Whinchat, 8 Blackcap, 2 Lesser Whitethroat, 7 Chiffchaff, Yellow Wagtail, Meadow Pipit, 2 Skylark, 3 Hobby together over Alex [later 2 over brooms], Kestrel, Peregrine, Sparrowhawk, 8 House Martin, Reed Bunting, ad Yellow-legged Gull (Wanstead Birders)
Wanstead Park: 41 Gadwall, 7 Teal, 15 Shoveler, 3 Pochard, 7 Little Grebe, Little Egret, 6 Blackcap, Lesser Whitethroat, 8+ Chiffchaff, Grey Wagtail (Nick Croft)
Waterworks NR: m Kingfisher am (Susan Huckle tweet)
Yeading Brook Meadows: Red Kite, m Kingfisher, Grey Wagtail, f Blackcap, 2 Chiffchaff; 3 Small Copper, m Common Blue, Brown Argus (Neil Anderson/K. Bull)
Saturday 8th September 2018Edit
Alexandra Park: 3 Yellow Wagtail NE 0835, 3 Meadow Pipit, Willow Warbler briefly then S, Chiffchaff, 2 Blackcap, Common Whitethroat, Kingfisher Wood Green Res (APOG Birders)
Banstead Woods: incl Sparrowhawk, 7 Buzzard, Green Woodpecker, Kestrel, 2 Coal Tit, 2 Swallow thru, 230 House Martin thru incl flock of 100+ at 1000, 5 Chiffchaff, 2 Blackcap, 2 Nuthatch, 3 Treecreeper, Bullfinch; Southern Hawker, Migrant Hawker (Ian Ward, David Campbell, Paul Goodman et al per CFBW BG)
Beckton SW: Common Buzzard, 3 Common Sandpiper, Green Sandpiper, Common Tern, Goldcrest, Yellow Wagtail, 3 Grey Wagtail, Wheatear am (Dave Morrison tweet)
Bow Creek: Common Sandpiper (Frank Nugent)
Bow Creek Ecology Park: 2 Little Egret roosting in trees at high tide (Frank Nugent)
Brent Reservoir: 5 Lapwing, 2 Common Snipe, 3 Common Sandpiper, 2 Green Sandpiper, 2 juv Garganey, Meadow Pipit E over playing fields, 2 Bullfinch, Cetti's Warbler, Willow Warbler and c100 hirundines (Simon Worsfold, Roy Beddard early, Andrew Verrall late)
Brookmill Park: Common Sandpiper, Kingfisher, 2 Blackcap (Conrad Ellam)
Canons Farm: incl Sparrowhawk, 3 Buzzard, 2 Kestrel, Skylark, 15 Sand Martin, 90 Swallow, 350 House Martin, 3 Chiffchaff, Treecreeper, 2 Whinchat reads bottom, Yellow Wagtail, 4 Meadow Pipit (Roy Weller, David Campbell, Paul Goodman et al per CFBW BG)
Dagenham Chase: 2 Willow Warbler, Spotted Flycatcher, Whinchat (Vince Halley-Frame per ELBF FB)
East India Dock: Cetti's Warbler, 22 Teal (Frank Nugent)
Fairlop Waters: Whinchat, Common Sandpiper, Little Egret, Common Buzzard, Sparrowhawk, Kestrel, Little Owl, Swallow, House Martin, Sand Martin, Blackcap, Whitethroat, Shoveler, Teal, Lapwing (Alan Thomas/Neil Twyford); also 2 Gadwall, 24 Lapwing, 2 Great Spotted Woodpecker, 3 Green Woodpecker, 40 Swallow, 200 House Martin, Grey Wagtail (Steve Bacon per ELBF FB)
Gallions Reach: Black Tern still 0710 (Kevin McManus tweet); 15 Common Sandpiper, 2 Arctic Tern, 3 Black Tern, 8 Swallow 0800-1100 (Gary James via Essex BwS)
Greenwich Ecology Park: Pied Flycatcher 1220 (John Bushall per Richard Green tweet)
Hampstead Heath: 2 Reed Warbler by Highgate No. 1 pond (Reuben Braddock)
Ingrebourne Valley: incl Sparrowhawk, 24 Lapwing, 4 Snipe, 2 Green Sandpiper, 2 Bullfinch 0815-1015 (Andrew Cox via Essex BwS)
Isle of Dogs: Black Swan (John Booth tweet)
Kew Gardens: Mandarin, 3+ Gadwall, 3 Little Egret by river, Great Spotted Woodpecker, 2 Hobby, Nuthatch, Grey Wagtail (James Robinson tweet)
London Wetland Centre: 4 Wigeon, Water Rail, 5 Little Grebe & 3 yg, 4 Snipe main lake, Common Sandpiper, 70 House Martin, Wheatear (WWT website); 3 Snipe wader scrape, 4+ Sand Martin, 2 Chiffchaff, Sparrowhawk, 2 Kestrel, 1 Reed Warbler, 6 Blackcap (Martin Honey et al.)
Middlesex Filter Beds: 2 Kingfisher chasing up & down river (Alastair Dent)
Natural History Museum: m Firecrest [1st site record] singing in Wildlife Garden (Joe Beale)
North Mymms Park: Spotted Flycatcher churchyard (per Herts BC)
Northolt & Greenford CP (Northala): Red Kite, female/imm Wheatear (Kathryn Bull)
Panshanger Park: Osprey fishing over osprey_lake 1720 (Simon Radcliffe tweet/Will Brimley via Herts BC)
Rainham RSPB: juv m Merlin (Barry Jackson per ELBF FB); incl 3 Pintail, 76 Teal, Water Rail, 2 Sparrowhawk, juv m Marsh Harrier, 4 Buzzard, 2 Avocet, Curlew, 48 Black-tailed Godwit, 3 Ruff, Snipe, Barn Owl, juv Hobby, 6 Kestrel, Bearded Tit, 10 Sand Martin, 15 Swallow, 65 House Martin, 4 Cetti's Warbler, Wheatear, 22 Yellow Wagtail, 2 Grey Wagtail, 22 Meadow Pipit, 3 Chiffchaff, Sedge Warbler, 4 Blackcap (Howard Vaughan, Alan Shearman, Brian Churches et al per ELBF FB)
Richmond Park: 2 Teal, 3 Gadwall, juv Water Rail, 26 House Martin SW, Meadow Pipit, Whinchat, Grasshopper Warbler, Sedge Warbler, Reed Warbler, 23 Reed Bunting (J.Wilczur, S.Woolfenden)
Rickmansworth Aquadrome: 150+ House Martin am (Paul Ward via Herts BC)
Ruislip Lido: 200+ House Martins hawking insects 9.00am (Martin Smith)
Rye Meads RSPB: Barnacle Goose [same as recently at Walthamstow Reservoirs] & m eclipse Pintail fr draper hide (Alan Harris via Herts BC)
St James's Park: Kingfisher (Frank Nugent)
South Norwood CP: incl Snipe, Common Sandpiper, Kingfisher, 2 Kestrel, 6 Jay, 5 Swallow, Willow Warbler, 5 Blackcap, Grey Wagtail (John Hughes et al via Croydon Birders)
Staines Moor: Unidentified Acro warbler - three brief views in tops of Hawthorns at N end. 150 metres N of northern bridge early- & mid-pm, 2 Spotted Flycatcher, 1 Whinchat, 5 Common Whitethroat, 2 Lesser Whitethroat, 2 Blackcap all in same location - will return at dawn, 1 Barn Owl, 1 Green Sandpiper, 2 Little Egret, 2 Hobby, 2 Common Buzzard, 2 Red Kite, 4 Kestrel (Franko J Maroevic, Dom Pia, Jim & Tony Sweetland)
Staines Reservoir: Ringed Plover, Little Ringed Plover, Ruff E, 7 Common Sandpiper, Yellow Wagtail early-am (Dom Pia tweet); 1 Whinchat, 2 Northern Wheatear, 6 Yellow Wagtails alternating between here & KG VI Res mid-am (Franko J Maroevic, Bob Warden Seamus O'Malley); also Black-necked Grebe, Dunlin late-am (Jim Sweetland tweet); Rock Pipit reported (BirdGuides)
Stocker's Farm: Yellow Wagtail, c1000 hirundines (mainly House Martin) around Fm & Stocker's/Bury Lakes (Michael Robinson)
Swanscombe Marsh: 2 Arctic Tern W 0850, Common Tern, 2 ad Yellow-legged Gull, Black-tailed Godwit, 3 Little Egret, 2 Stonechat, 9 Cetti's Warbler, Reed Warbler, Lesser Whitethroat, 2 Raven (Andrew Self)
Tooting: exhausted MANX SHEARWATER rescued am & since taken into care (Joe Tobias tweets)
Totteridge Valley/ Darlands Reedbed: 4 Goldcrest, 2 Nuthatch, 75+ Stock Dove, 8 Chiffchaff, Lesser Whitethroat, 5 Meadow Pipit SE 15:45, Linnet E 15:53, Kestrel, Grey Heron, 6 Rook, Treecreeper, 2 Coal Tit, 6 Lapwing, 15+ Yellow Wagtail folly fm, 3 House Martin, Common Whitethroat, Wheatear top of cow field in short grass track, Willow Warbler, Blackcap, f Peregrine, Bullfinch (Samuel Levy & Tony Clancy)
Trent Park: Common Buzzard, m Hobby, 14 Mandarin incl 3+ m moulting from eclipse to full plumage (Pete Lowman)
Tyttenhanger GPs: 1 Peregrine juv, 1 Greenshank, 4 Snipe, 3 Green Sandpiper, 1 Little Egret, 1 Red Kite, 1 Kingfisher (Laurence Reed); also 7+ Wigeon, juv Ringed Plover, 2 Common Sandpiper, 4+ Green Sandpiper, 2+ Kingfisher & 2 Hobby main gp (TyttGP tweet); Whinchat main gp TL195052 (Andy Day via Herts BC); also 3 Little Egret & 8 Snipe main gp (Steve Pearce via Herts BC)
Walthamstow Marshes: Yellow Wagtail, c12 Pied Wagtail, Blackcap, Lesser Whitethroat rear paddocks, 11 Mistle Thrush fdg Leyton Marsh (Alastair Dent)
Wanstead Flats: No sign Red-backed Shrike by noon but it looks like a lot of migrants departed overnight, 2 Whinchat, Tree Pipit, 3 Yellow Wagtail, Meadow Pipit, Grey Wagtail, 20+ Swallow W, 40+ House Martin [15 local birds remain], 3 Whitethroat, Lesser Whitethroat, Willow Warbler, Hobby, Little Owl, tatty ad Yellow-legged Gull, Linnet, Reed Bunting (Wanstead Birders)
Woolwich Ferry: ad Yellow-legged Gull w/ darvic ring (Conrad Ellam tweet)
Wrasybury GPs: 2 Hobby, 7 Yellow Wagtail (Chris Lamsdell); also 400+ House Martin (CL via Berks BN)
Friday 7th September 2018Edit
Alexandra Park: Spotted Flycatcher cricket scrub, Wheatear prob Greenland, Yellow Wagtail NE 1202, Common Buzzard SW, 20 Swallow & 10 House Martin W, 5 Meadow Pipit, Lesser Whitethroat, Common Whitethroat, Willow Warbler, 7 Chiffchaff, 3 Blackcap, Treecreeper h (APOG Birders)
Amwell NR: Barn Owl at dusk fr Gt Hardmead L viewpt (Phil Ball per Amwell Birding tweet)
Bookham Common: Honey-buzzard steadily SW 1545 (Dudley Cox via Surrey BN)
Brookmill Park: Little Egret, 2 Kingfisher (Conrad Ellam)
Canons Farm 2 Raven am (per Surrey BN)
Erith (Thames Foreshore): incl 7 Black-tailed Godwit, Common Gull, 20+ Linnet, Swallow upriver; Seal downriver (Mike Robinson)
Fairlop Waters: 2 Spotted Flycatcher (Dan Barrett per ELBF FB)
Gallions Reach: Black Tern still (Kevin McManus)
Greenwich Peninsula Ecology Park: Whinchat (John Bushall per Richard Green tweet)
Lion Gorge: incl Bullfinch (Alan Shearman per ELBF FB)
London Wetland Centre: 3 Wigeon, 2 Snipe, Common Sandpiper, Peregrine, Swallow, 50 House Martin, 4 Chiffchaff (WWT website)
Mardyke Valley: 2 Great Egret NW 0610 (Alan Shearman via ELBF FB)
Morden Hall Park: Hobby ESE over kendor gdns toward MHP 1925 (Ian Ward tweet)
Nonsuch Park: Barn Owl seen briefly as it left tree roost [patch tick not known to be here], Spotted Flycatcher, 3+ Hobby w/ juvs, 2 Common Buzzard, 10+ House Martin and 6 Swallow mostly NE (Isaiah Rowe)
North Finchley: 2 Swallow W over back gdn 8am (John Colmans)
Olympic Park: Wheatear nw cnr (JW Davies)
Rainham RSPB: 4 Pintail, 7 Little Egret, 2 f Sparrowhawk, 2 juv Marsh Harrier, 3 Buzzard, 16 Avocet, 80 Lapwing, 2 Ringed Plover, 2 Curlew, 71 Black-tailed Godwit, 4 Dunlin, 3 Snipe, 2 Common Sandpiper, 2 Yellow-legged Gull, 4 Kestrel, 3 Hobby, 6 Sand Martin, 17 Swallow, 32 House Martin, 11 Chiffchaff, 7 Blackcap, 3 Lesser Whitethroat, 3 Whitethroat, 2 Wheatear, 9 Yellow Wagtail, Meadow Pipit, Siskin (Patrick Hart, Martin Jordan, Howard Vaughan et al per ELBF FB)
Richmond Park: 2 Common Redstart paddocks, 4 Meadow Pipit over, 2 Wheatear, Whinchat, Red-legged Partridge (Friday BG per JW); Little Egret (P.Redmond per JW); juv Water Rail, Common Sandpiper (S. Read per JW)
Rye Meads RSPB: Spotted Flycatcher outside VC (RSPB tweet)
Scadbury Park LNR: Sparrowhawk, 2 Buzzard, Kestrel, Hobby, 6+ Swallow, 3+ House Martin, 3+ Chiffchaff, 8+ Blackcap, Grey Wagtail, 4+ Bullfinch (Ian Stewart tweet)
Sevenoaks WR: Bittern still (per Susanna Clerici via Kent OS)
Sidcup: Cuckoo contact-calling 'prrt prrt' [never hear before] & flying rapidly SE over Carlton Rd PF 10:15 (Patrick English)
South Norwood CP: incl Snipe, 2 Common Sandpiper still, Jackdaw, Spotted Flycatcher mound end of ryland path, Whinchat moat field, 4 Grey Wagtail (John Hughes via Croydon Birders)
Staines Reservoir: Ringed Plover may have landed s basin e end, juv Little Gull s basin early-am (Paul Watts tweet); Turnstone, 2 Knot n basin causeway bank, Dunlin, 6 Common Sandpiper, Wheatear KGVI Res steps, Yellow Wagtail pm (Dom Pia tweet)
Tyttenhanger GPs and Willows Farm: 8+ Wigeon, 4 Snipe, Common Sandpiper, 4 Green Sandpiper, 2+ Greenshank, Common Gull, Caspian Gull 3w, 5 Common Tern, 3+ Hobby, 1+ Kingfisher & 6 Meadow Pipit main gp, 2 Little Egret & 2+ Common Sandpiper fishing lake, Wheatear willows farm am (TyttGP tweet); also c10 Sand Martin, c10 Swallow & c30 House Martin main gp (per Herts BC)
Walthamstow Reservoirs: Spotted Flycatcher, 13 Common Sandpipers, Garden Warbler (Walthamstow Birders)
Wanstead Flats: RED-BACKED SHRIKE [11th day] 1040 (Wanstead Birding tweet); also Whinchat (James Palmer); 2 Common Redstart m f, Wheatear, Garden Warbler, 3 Whitethroat, 50+ Swallow W, 8 House Martin, 3 Meadow Pipit, Little Owl, 2 Buzzard, Red Kite, 2 Sparrowhawk, 2 m Kestrel, 3 Shoveler (Wanstead Birders)
Warren Gorge: Wryneck flew from Grifon Rd Cycle Path in Chafford Hundred into thick scrub along Gorge cliff 0635 (Alan Shearman via BirdGuides); also incl 10 Great Crested Grebe, 5 Little Egret, 15 Cormorant, 2 Kingfisher, 54 House Martin SW, Willow Warbler, 4 Chiffchaff, 2 Blackcap (Alan Shearman per ELBF FB)
Woodberry Wetlands: Wheatear, 2 Willow Warbler, 10 House Martin, 18 Shoveler (Chris Farthing)
Woodford Green: 2 Goldcrest, Blackcap and Willow Warbler through by 0800 (Ken Murray)
Wormwood Scrubs: 2 Whinchat grassland am (Paul Thomas tweet)
Thursday 6th September 2018Edit
Alexandra Park: 3 Yellow Wagtail 2SW & 1SE, 7 Swallow WNW, 3 Meadow Pipit, Reed Warbler, Willow Warbler, 7+ Blackcap, 3 Chiffchaff, Common Whitethroat; 2 Small Heath, 2 Small Copper (APOG Birders)
Brent Reservoir: Tree Pipit NE 06:58 calling sharply, 2 Garganey still, 5 Common Sandpiper, 4 Green Sandpiper, 3 Common Snipe, 3 Lapwing, Little Egret, 3 Reed Warbler, Cetti's Warbler, Bullfinch, 40+ House Martin, 5 Sand Martin, Barn Swallow; also a close encounter with a Reeves's Muntjac Deer behind the main hide (Magnus Andersson)
Canons Farm: Wheatear green barn then left toward bog field late-am (Geoff Barter tweet)
Crayford Marshes: 4 Little Egret, m Marsh Harrier, Buzzard, Kestrel, Hobby, 16 Avocet, 20 Lapwing, 6 Ringed Plover, 3 Dunlin, 4 Common Sandpiper, Greenshank, Kingfisher, 4 Whitethroat, Meadow Pipit; Willow Emerald Damselfly (Donna Zimmer tweet); Teal, 7+ Little Egret incl red-ringed, Buzzard, 10 Lapwing, Black-tailed Godwit, Common Sandpiper, Redshank, 5 Greenshank, 10+ Yellow-legged Gull, Kingfisher, 4+ Kestrel, 3 Rook, 6+ House Martin, 4 Cetti's Warbler, 2 Blackcap, Wheatear (Ian Stewart tweet)
Crossness: 6 Black-tailed Godwit, 2 Dunlin, 2 Common Sandpiper, 2 Common Buzzard, 2 Hobby, 40 Shelduck, 20+ House Sparrows in bramble patches - didn't see any terns - PM and tide out (Michael Mac); Kestrel being chased by a Magpie over Crossness NR (Paul Francis)
Dagnam Park: Mistle Thrush, 2 Whitethroat, Lesser Whitethroat, Wheatear, Yellow Wagtail, Grey Wagtail, 15 Meadow Pipit (Colin Jupp per ELBF FB)
East Dulwich SE22: Great White Egret E (Steven Robinson)
Fulham Reach: Gadwall & 4 Teal both fos, Yellow-legged Gull (Nathalie Mahieu)
Gallions Reach: Great White Egret, Black Tern, Black-tailed Godwit, Yellow Wagtail (Kevin McManus)
Greenwich Peninsula Ecology Park: m Kingfisher [f seen earlier in week], 4 Reed Warbler (Richard Green tweet)
Hampstead Heath: Parliament Hill - Peregrine N 1145, Hobby fdg, Red Kite N, Common Buzzard NW, 3 Yellow Wagtails E, 2 Grey Wagtails SE, 250 House Martins, 10 Sand Martins, 50 Swallows mostly fdg but a few W, Meadow Pipit h (Pete Mantle)
Lewisham: Little Egret on R Ravensbourne just outside DLR stn (Paul Francis)
Leyton Flats/Snaresbrook: 2 Common Buzzard low over court mid-am, 2 Nuthatch, Treecreeper (Stuart Fisher)
London Wetland Centre: Kingfisher, Reed Warbler, Common Sandpiper (Shailesh Patel, Bob Husband & RSPB NW London BG); also Garganey scrape, 3 Wigeon, 4 Little Grebe & 3yg, 2 Common Sandpiper, Hobby, 8 House Martin, 3 Chiffchaff, 2 Blackcap, Grey Wagtail
Mayflower Park Wetlands: Reed Warbler, Chiffchaff singing, Blackcap no sign of y'days Spot Flys (Isaiah Rowe)
Middlesex Filter Beds: 5 Grey Wagtail below weir evng, Peregrine on pylon just outside Marshes gate (Alastair Dent)
Mudchute Farm: 2 Lesser Whitethroats, Grey Wagtail, Blackcap, Great Spotted Woodpecker (Sean Huggins)
North Mymms Park: Hobby, 2 Spotted Flycatcher (per Herts BC)
One New Change, EC4M: Common Buzzard seen from roof terrace circling over Thames 15:20 gaining height then E (Katy McGilvray)
Peckham Rye Park: Buzzard (Steven Robinson)
Rainham RSPB: Great Egret 1015-1340 (Simren Soor, Malcolm Rush, John Humble et al per ELBF FB); Spotted Flycatcher (Jerry Hoare per ELBF FB); 2 Pintail, 6 Little Egret, 2f Sparrowhawk, 5 Marsh Harrier ad m & 2cy m & 2 juv, 10 Buzzard, 52 Black-tailed Godwit, Ruff, 5 Kestrel, 4 Hobby, 32 Stock Dove, 3 Willow Warbler, 2 Lesser Whitethroat, 3 Whitethroat (Howard Vaughan, Andy Tweed via ELBF FB)
Richmond Park: 2 Raven (M.Lewis per JW); 18+ Common Buzzard most NW after 13.15, 2 Hobby, 6 Sparrowhawk a few poss migrants, 3 Pochard, 30 Swallow S, 35+ House Martin S, Wheatear, Whinchat lawn field (J.Wilczur)
Rye Park: Spotted Flycatcher TL388102 (Vicky Buckel via Herts BC)
St James's Park: Kingfisher, ambushed by a Sparrowhawk but escaped (Frank Nugent)
Sevenoaks WR: Bittern long lake 1000 (per Susanna Clerici via Kent OS)
South Norwood CP: incl 2 Common Sandpiper (Brian Russell via Croydon Birders)
Southgate (Chase Road/Charter Way, N14): Orange Sallow at bus-stop shelter (Robert Callf)
Staines Reservoir: juv Shelduck, 2f Goldeneye, Black-necked Grebe, Buzzard, 2 Ringed Plover, Turnstone, 2 Common Sandpiper, Wheatear, Yellow Wagtail (James Hudson tweet); also 2 Ringed Plover (Dom Pia tweet)
Sutcliffe Park: Stock Dove, Great Spotted Woodpecker, Blackcap, 3 Reed Warbler, 3 Chiffchaff (Conrad Ellam) 
Totteridge Valley: Yellow Wagtail, c30 House Martin, 2 Willow Warbler, Whitethroat, 3 Chiffchaff, 3 Blackcap, Kingfisher Dollis Brook, 4 Buzzard, 2 Sparrowhawk, 2 Rook, Bullfinch; 2 Small Copper (John Colmans)
Tyttenhanger GPs: 3 Wigeon, Green Sandpiper, Greenshank & Hobby maim gp am (Terry Smith tweet); also 5 Wigeon, Little Egret, 3juv Common Tern & 4 Hobby main gp, 3 Common Sandpiper & 2 Greenshank fishing lake (TyttGP tweet)
Walthamstow Reservoirs: 4 Wood Sandpiper circled high over no5 res calling - 1 appeared to land on FB but no sign around reservoirs, 1 Green Sandpiper, 2 Yellow Wagtails & 3 Wigeon no5 (Jamie Partridge, David Bradshaw); also 9 Common Sandpipers, Meadow Pipit fos, Lesser Whitethroat, 2 Willow Warblers, Barnacle Goose, Buzzard, Spotted Flycatcher (Walthamstow Birders)
Wanstead Flats: juv RED-BACKED SHRIKE still in pub scrub 8:30-9:15 at least, Sparrowhawk, 1 Swallow thru, 1 Chiffchaff (Charlie Farrell); 3-4 Whinchat, f Common Redstart, f Wheatear, 2 Spotted Flycatcher, 2 Yellow Wagtail, Garden Warbler, 3 Lesser Whitethroat, 3 Whitethroat, 8 Blackcap, 2 Willow Warbler, 8 Chiffchaff, 13 House Martin, 4 Swallow, Hobby, Kestrel, Buzzard, 2 Sparrowhawk, ad Yellow-legged Gull, Gadwall, white Budgie (Nick Croft/Chris Baldwin et al)
William Girling Reservoir: relief channel - Little Egret, Snipe, 6 Green Sandpiper (Mike Dent per ELBF FB)
Wednesday 5th September 2018Edit
Alexandra Park: 6 Yellow Wagtail, 7 Meadow Pipit, Common Buzzard S, 22 Swallow mostly SW, Willow Warbler, 5+ Chiffchaff, 4+ Blackcap, Common Whitethroat; Small Heath, Small Copper, 2 Southern Hawker (APOG Birders)
Beckton SW: 2 Green Sandpiper, 17 Common Tern, 4 Black Tern, Kingfisher, 7 Yellow Wagtail am (Dave Morrison tweet)
Bexley DA5 (Upper College Farm): Buzzard, Kestrel, 3+ Swallow, 6+ House Martin, Blackcap, Cetti's Warbler, 4+ Chiffchaff, 700+ Starling, 4 Bullfinch 2 juv (Ian Stewart)
Brent Reservoir: 2 Garganey, Redshank, Green Sandpiper, 2 Common Sandpiper, 2 Lapwing, Egyptian Goose, Grey Wagtail, 20+ House Martin (Steve Blake)
Brookmill Park: Kingfisher (Conrad Ellam)
Dagnam Park: 25 House Martin, 2 Lesser Whitethroat, 2 Whitethroat, Whinchat, Yellow Wagtail, 3 Meadow Pipit (Colin Jupp per ELBF FB)
Ellenbrook Fields: Green Sandpiper, 2 Raven, 1+ Willow Warbler, c2 Reed Warbler, 2 Whitethroat, 3 Whinchat (per Herts BC)
Foots Cray Meadows: Pheasant, Little Grebe, 1+ Sand Martin, 10+ Swallow, 4+ House Martin, Blackcap, 6+ Chiffchaff (Ian Stewart)
Gallions Reach: Arctic Skua, Black Tern, Black-tailed Godwit, Yellow Wagtail (Kevin McManus); 4 Common Sandpiper, 3 Sandwich Tern, Arctic Tern, 6 Black Tern 0800-1100 (Gary James via Essex BwS)
Hackney Marshes: Peregrine on pylon outside filter beds, calling Chiffchaff nearby and c25 Goldfinches enjoying the teasels 08:30 (Alastair Dent); also 2 Whinchats by the new pavillion 3.30pm (J-P Elmes)
Hanger Hill Park, Ealing: Wryneck c14:30 (Nigel Bewley) Nigel, have you got a more precise location, please? /MA There's a playground in Hanger Hill Park, separated from Fox Wood and the football field by Fox Lane. Fox Lane runs off Hillcrest Road. The wryneck was about 30m east of the playground, halfway down a gentle slope [grid ref cTQ183820]. It flew off south, into Fox Wood [site grid ref TQ181821]. [NB] But isn't Fox Wd located W/NW from the slope Nigel, across the football pitches? Yes, you are quite right. West of the playground towards football pitch. I live on Garth Mews, off Greystoke Gardens btw. [NB] Many thx for your directions, Nigel.
King George V Reservoir: 3 Wigeon, Goldeneye, Black-necked Grebe, Buzzard, juv Ruff, c10 Common Sandpiper, Wheatear, 2 Yellow Wagtail, Grey Wagtail, c20 Linnet (Patrick Hart per ELBF FB, Chris Farthing tweet)
Lamorbey Park: 5 Egyptian Geese, Chiffchaff (Ian Stewart)
Leyton Flats/Snarebrook: m Wheatear, Whinchat, Yellow Wagtail over, 4 Meadow Pipit, prob Red-rumped Swallow circled area twice w/ grp of Barn Swallow calling, based on call I would say almost certain, very distinctive and loud, however only caught a glimpse of the bird as it was obscured by trees and then it quickly flew off N with the other Swallows still calling, 6 Little Egret, Teal, 8 Shoveler (Stuart Fisher)
London Wetland Centre: Garganey & Black-tailed Godwit scrape, 3 Wigeon, Shelduck, Kingfisher, 2 Peregrine, 4 Yellow Wagtail S, 14 House Martin, 2 Swallow, 5 Chiffchaff, 2 Blackcap (WWT website); Hobby (Simon Fogg et al)
Mayflower Park Wetlands: 1-2 Spotted Flycatcher, 1f Blackcap and 2 Chiffchaff (Isaiah Rowe)
Panshanger Park: Common Sandpiper (Murray Brown via Herts BC); Hobby, Cetti's Warbler singing ('Tarmac NCT' via Herts BC)
Rainham RSPB: Arctic Skua upriver early-pm (BirdGuides report at 1420); Arctic Skua upriver 14.41 (per Franko Maroevic); 20 Arctic Tern, ad Arctic Skua [one of the above birds], 16 Avocet, 7 Ringed Plover, Curlew, Dunlin, Common Sandpiper, Greenshank, Wheatear, 5 Stonechat (Andy Tweed per ELBF FB); Oystercatcher, 2 Green Sandpiper (Alan Tanner per ELBF FB); 2 Pintail, 12 Little Egret, 17 Cormorant, juv Marsh Harrier, 15 Sand Martin, 2 Swallow, 105 House Martin, 2 Chiffchaff, Whitethroat, 9 Meadow Pipit (Howard Vaughan via ELBF FB); 71 Black-tailed Godwit (per ELBF FB)
Regent's Park: 4 Whinchat (Triangle Pen, 3 Chat Bushes), 3 Common Redstart (Chat Bushes)
Richmond Park: 1 Spotted Flycatcher hawthorn valley, 1 Whinchat gorse enclosure early pm (Franko J Maroevic); Common Sandpiper, Kingfisher, Hobby, Whinchat [second bird] (P.Redmond, P.Carlill per JW)
St James's Park: Kingfisher (Frank Nugent)
Sevenoaks WR: incl 9 Teal, 6 Lapwing, 2 Kingfisher [west lake & back lake], 60 Black-headed Gull, 4 Great Spotted Woodpecker, 3 Green Woodpecker, Kestrel, 2 Sand Martin, 6 Swallow, 10 House Martin, 11 Chiffchaff, family of 4 Reed Warbler, 3 Blackcap, Bullfinch (per Susanna Clerici via Kent OS)
Sidcup DA15 (York Avenue): 2 imm Mute Swan NW 72nd species recorded here this year, Greylag Goose SW w/ Canada Geese, 2 Swallow low NW, 1+ House Martin NW, 2 Coal Tit, Jay (Ian Stewart)
Staines Moor: 2 Red Kite, Snipe, Cetti's Warbler, 2 Lesser Whitethroat, 20+ Yellow Wagtail (Jim Sweetland tweet)
Staines Reservoir: Black-necked Grebe s basin, 4 Common Sandpiper, Hobby, 2 Yellow Wagtail pm (Dom Pia tweet)
Trent Park: 2 Whinchat together Old GC 11:35-12:00 at least, 2 Common Whitethroat, 2 Blackcap (Robert Callf); Whinchats still 14:45, also 2 Blackcap, 2 Chiffchaff, Common Buzzard, 4 Mandarin, Nuthatch, Red Kite, Sparrowhawk, Spotted Flycatcher w edge of gully (Pete Lowman)
Tufnell Park N7: Sparrowhawk N 18:45 (Reuben Braddock)
Tyttenhanger GPs: 3 Little Egret, 3 Snipe, Common Sandpiper, 5+ Green Sandpiper, 3+ Greenshank, 3+ Common Tern, 3 Hobby am (TyttGP tweet); 4 Wigeon, 4 Snipe, 3 Green Sandpiper, 2 Greenshank, 7 Common Tern & Hobby main gp evng (Rupert Evershed tweet); 6 Green Sandpiper 4 main gp & 2 fishing lake (per Herts BC)
Walthamstow Wetlands: 1cy Yellow-legged Gull lockwood, 3 Wigeon no5, 3 Northern Wheatear, 6+ Common Sandpipers, 2 Peregrines, 10+ Willow Warblers, 10+ Chiffchaffs, 2 Blackcaps, 400+ House Martins, 100+ Sand Martins, 2+ Swallows [hirundines all nos 4&5] (David Callahan, Jamie Partridge, David Bradshaw)
Walton Res: Raven over c7am (Dave Harris tweet)
Wanstead Flats: Spotted Flycatcher long wd, Whinchat pub scrub am (Chris Baldwin tweet); RED-BACKED SHRIKE still & f Common Redstart pub scrub 1205 - pls keep to main paths, 5 Wheatear [all f-type] burnt brooms s of long wd 1740 (Wanstead Birding tweets); 6 Chiffchaff, 2 Willow Warbler, 3 Whitethroat, 5 Blackcap, 12 Swallow N, Sand Martin, 5 House Martin, Buzzard, Sparrowhawk, Peregrine, Hobby, Kestrel, 5 Little Owl h, 6 Meadow Pipit S, Skylark, 2 Gadwall (Nick Croft) Apparently the shrike could have been there a week prior to our first report. Chris spoke to a guy who gave the description of a bird that fitted RBS chased from one of the copses on the 21st.
Wanstead Park: Spotted Flycatcher, Willow Warbler, 11 Chiffchaff, 3 Whitethroat, Hobby, Kestrel, 48 Gadwall, 13 Teal, 6 Shoveler, 4 Little Grebe, Great Crested Grebe (Nick Croft)
Woodberry Wetlands: Common Sandpiper, Peregrine, Yellow-legged Gull, Sparrowhawk, House Martin, 20 Shoveler (Chris Farthing)
Tuesday 4th September 2018Edit
Alexandra Park: Yellow Wagtail SW, 16 Swallow N, Willow Warbler, 6 Chiffchaff, 4 Blackcap, Common Whitethroat, Little Grebe Wood Green Res (APOG Birders)
Banstead Woods: incl 6 Nuthatch, 4 Treecreeper, Bullfinch (David Campbell/Ian Magness via CFBW BG)
Bayhurst Wood area: Peregrine, 2 Chiffchaff, Red Kite, 2 Kestrel, Sparrowhawk, 3 Common Whitethroat, Blackcap, Lesser Whitethroat, 2 Bullfinch, Nuthatch, Reed Bunting (Dan Pinkham)
Belhus Woods CP: incl 8 Shoveler, 3 Teal, 5 Pochard, 14 Tufted Duck, 8 Little Grebe, 13 Great Crested Grebe, 3 Grey Heron, 12 Cormorant, Sparrowhawk, 44 Lapwing, 3 Kingfisher, 2 Sand Martin, Cetti's Warbler, Willow Warbler, 12 Chiffchaff, 9 Blackcap, 2 Whitethroat (Alan Shearman per ELBF FB)
Brent Reservoir: 2 Garganey still fr main hide, m Wigeon, 3 Lapwing, 5 Common Sandpiper, 3 Green Sandpiper, 2 Common Snipe, Common Gull, Sedge Warbler, Cetti's Warbler, 3 Greylag Geese, 2 Yellow Wagtail over (Brent Birders)
Brookmill Park: Peregrine, Stock Dove, Kingfisher (Conrad Ellam)
Canons Farm: incl 2 Rook, 3 Swallow, Whitethroat, Yellow Wagtail over, 4 Yellowhammer (David Campbell/Ian Magness via CFBW BG)
Crossness: Black Tern upriver 11.05, 2 ad Yellow-legged Gull, 3 Little Egret, 30 Lapwing, 20 Redshank, Common Sandpiper, Green Sandpiper, Kestrel, 5 Swallow (Conrad Ellam)
Danson Park: f Pochard at dam end, 2 Little Grebe, 3+ Great Crested Grebe, m Blackcap, juv Whitethroat, Chiffchaff, Treecreeper (Ian Stewart)
Finsbury Square: juv Black Redstart to left of NCP pedestrian entrance on City Rd (Mark Fairless)
Garden Wood: 2 Hobby (Steve Pearce via Herts BC)
Hampstead Heath: Parliament Hill- Yellow Wagtail SW, 3 juv Black-headed Gulls NE, 6 Swallows NE, Spotted Flycatcher (Pete Mantle)
Holmethorpe SPs: White Wagtail Water Colours is TQ292515 (Gordon Hay via Surrey BN)
Ingrebourne Valley: 30 Teal, 8 Grey Heron, 130 Lapwing, 6 Snipe, 2 Green Sandpiper, 4 Black-headed Gull, Lesser Black-backed Gull, 4 Cetti's Warbler, 3 Willow Warbler, 2 Blackcap, 2 Common Whitethroat (Dave McGough per ELBF FB)
King George's Park, Wandsworth: Peregrine perched for some time on adj flats am (Phil Belman)
London Wetland Centre: Garganey still, Wigeon, 8 Little Grebe & 3yg, 3 Snipe, Peregrine, 35 House Martin, 3 Chiffchaff, Yellow Wagtail NE (WWT website); Garganey nr tern_raft fr peacock_tower 1000 but elusive (Paul Mattos via Surrey BN)
Nazeing, Harold's Park Farm: 15 Yellow Wagtail in paddocks, 3 Yellowhammer, 3 Linnet, 4 Common Buzzard, 2 Nuthatch, 5 Red-legged Partridge; Hare (Chris Baldwin)
Nonsuch Park: 1-2 Hobby, 3 Chiffchaff, 1 Kestrel, Nuthatch (Isaiah Rowe)
Northolt: Yellow-legged Gull (Waspurs) obs'r ?
Palmers Green, N13: Hobby circled low then SE over Eaton Park Rd 18:25 (Katy McGilvray)
Rainham RSPB: 2f Sparrowhawk, 3 Marsh Harrier m 2juv, Buzzard, Ringed Plover, 58 Black-tailed Godwit, Dunlin, 7 Snipe, 7 Greenshank, 3 Common Tern, Barn Owl, juv Black Tern, 3 Hobby, 6 Kestrel, 12 House Martin, Sedge Warbler, 2 Lesser Whitethroat, Whitethroat, 10 Yellow Wagtail, Meadow Pipit (Howard Vaughan, David Smith, Andy Tweed via ELBF FB)
Rye Meads RSPB: 42 Lapwing & 17 Snipe fr gadwall_hide (RSPB tweet)
St. James's Park: Grey Wagtail 13.40 (Mikey Amos)
Staines Reservoir: 2 Black Tern, 5+ Yellow Wagtail, juv Little Ringed Plover, Hobby am (Steve Chastell tweet); Black-necked Grebe, 4 Common Sandpiper, 4 Black Tern still, 2 Yellow Wagtail early-pm (Jim Sweetland tweet)
Stocker's Lake: 2m Red-crested Pochard, Kingfisher (Charlie Ramsay via Herts BC)
Trent Park Equestrian Centre: 15 Barn Swallow (Robert Callf)
Tyttenhanger GPs and Willows Farm: Snipe, 1+ Common Sandpiper, 3+ Green Sandpiper, 2 Greenshank, 6+ Common Tern but no Wood_Sandpipers early-am (Rupert Evershed tweet); 3 Greenshank main gp 1100 (Steve Pearce per TyttGP tweet); 2 Green Sandpiper main gp (Alan Gardiner tweet); Little Egret, 3 Common Sandpiper, 6+ Common Tern fishing lake (Steve Blake via Herts BC); f Wigeon & 2 Snipe main gp, 40+ Linnet willows fm (Steve Pearce via Herts BC)
Walthamstow Filter Beds: Yellow Wagtail, 15 Sand Martins (Dan Barrett)
Walthamstow Reservoirs: Great Egret E Warwick is 1305-1510 then high SW, Barnacle Goose, Yellow Wagtail, 5 Swallows N, 30 Sand Martins, 100 House Martins, 5 Common Sandpipers, 5 Willow Warblers, 1 Lesser Whitethroat (Walthamstow Birders)
Wanstead Flats: RED-BACKED SHRIKE still in pub scrub [8th day], Whinchat, 10+ Blackcap, Whitethroat, 2 Chiffchaff, Willow Warbler, 2 Yellow Wagtail, Swallow, 5 Shoveler, 5 Teal, Lapwing, Sparrowhawk, Reed Bunting (Nick Croft); R-bS still 1915 (Neal Moister tweet)
West Putney: Honey Buzzard SE 12.10 (R.Kaye, J.Wilczur)
Woodberry Wetlands: 2 Common Sandpiper, Peregrine, Yellow-legged Gull, 40 House Martin (Chris Farthing)
Woodford Green: 18 Mistle Thrush on c/p (Tony Brown)
Monday 3rd September 2018Edit
Alexandra Park: 4 Common Buzzard incl 3 kettling, Red Kite, Sparrowhawk, Kestrel, 2 Swift, 2 Swallow, 3 Chiffchaff, 3 Blackcap; 3 Small Heath, 3 Small Copper (APOG Birders)
Bankside SE1: 1 Spotted Flycatcher still in birches at e end of tate modern, 2 Chiffchaff, 1 Peregrine (Reuben Braddock)
Beddington Farmlands: 2 Black Tern ad juv, juv Spotted Redshank, juv Black-tailed Godwit, 3 Common Sandpiper, 2 Green Sandpiper, 5 Snipe, 4 Lapwing, 100+ Swallow (BFBG, Peter Alfrey) pics here
Blackheath: 18 House Sparrow (Ray Crouch)
Brook Farm, Upminster: 2 Sparrowhawk, 5 Buzzard, Hobby, 3 Kestrel, 53 Sand Martin S 1230-1530, 13 Swallow, 52 House Sparrow (Alan Shearman per ELBF FB)
Brookmill Park: Kingfisher (Conrad Ellam)
Foots Cray: Tawny Owl h at Tesco 04.30-04.40, 10+ Pied Wagtail in car park 07.00 (Ian Stewart)
Gallions Reach: Black Tern, 3 Sandwich Tern, 2 Arctic Tern, Common Buzzard (Kevin McManus et al)
Hollow Ponds: 2 Spotted Flycatchers, Nuthatch (J-P Elmes)
Hyde Park: 4 House Martin (Ray Crouch)
Ingrebourne Valley: 2 Green Sandpiper, Garden Warbler, 3 Spotted Flycatcher, Whinchat, 4 Bullfinch (Shaun Harvey tweet)
KGVI Res: Hobby juv on fence fr Staines Moor (Franko J Maroevic)
Lamorbey Park: 12 Egyptian Geese, Peregrine, Kingfisher, c20 Goldfinch (Ian Stewart)
London Wetland Centre: Garganey scrape still, 6 Snipe, 2 Kingfisher, Swallow, 25 House Martin, 3 Willow Warbler, 7 Chiffchaff (WWT website)
Mardyke Valley, Stifford-Aveley: incl Little Grebe, 2 Grey Heron, Great Egret, Little Egret, 5 Cormorant, 3 Buzzard, Barn Owl, 7 Jay, Cetti's Warbler, Willow Warbler, 9 Chiffchaff, Reed Warbler, 10 Blackcap, Yellow Wagtail (Alan Shearman per ELBF FB)
Molesey: 1 Marsh Harrier over late-pm (John Gard per Franko Maroevic)
Morden Hall Park: Water Rail, f Kingfisher, Willow Warbler, Treecreeper (Arjun Dutta tweet)
Primrose Hill: 7-9 Buzzard over 1230-1420 incl 6 high NNW 1305, Greenshank S past Regent's Pk lake 0655, 2+ Swift incl 1 S 1345, 3 Swallow S, 65+ House Martin incl flock of 56 S 1345 - vismig 0600-0800 & 1225-1425; Small Copper (Twitter)
Queen Elizabeth II Reservoir: 1 CATTLE EGRET early am on solar panels (Dave Harris per Franko Maroevic) record restored after removal w/o explanation on 4 Sep by 81.107.59.185
Rainham RSPB: 2 Pintail (Howard Vaughan via RSPB blog); Spotted Flycatcher (David Smith per ELBF FB); 2 Whinchat, 6 Stonechat, Wheatear (Andy Tweed per ELBF FB); Grey Plover (Fraser Simpson per ELBF FB); also 180 Greylag, 2f Sparrowhawk, 5 Marsh Harrier 2m f 2juv, 5 Buzzard, 122 Lapwing, Ringed Plover, 60 Black-tailed Godwit, 5 Snipe, 5 Greenshank, Kingfisher, Great Spotted Woodpecker, 5 Hobby, 7 Kestrel, 16 Bearded Tit, 2 Sand Martin, 30 House Martin, Willow Warbler, 3 Chiffchaff, 6 Sedge Warbler, 7 Reed Warbler, 7 Blackcap, 5 Lesser Whitethroat, 5 Whitethroat, 5 Yellow Wagtail (Howard Vaughan, David Smith via ELBF FB)
St James's Park: Kingfisher, 2 Common Buzzard drifting E 14:45 (Frank Nugent)
Sewardstone Marsh: 7 Chiffchaff, 5 Blackcap, Lesser Whitethroat, 2 Whitethroat, Whinchat (Alan Shearman per ELBF FB)
South Norwood CP: Water Rail, Snipe, Common Sandpiper, Willow Warbler (Arjun Dutta tweet); also 7 Shoveler, Little Egret (John Hughes, Dave Miller, Dave MacMillan via Croydon Birders)
Staines Moor: CATTLE EGRET over n end am (Kev Campbell tweet); 5 Yellow Wagtail around cattle at n bridge early evng, 1 Whinchat n end, 1 Barn Owl hunting along bonehead ditch mostly along s end & central area, 3 Little Egrets, no sign of Cattle Egret - late tweet (Franko J Maroevic)
Staines Reservoir: Black-necked Grebe, Little Ringed Plover, 2 Common Sandpiper, Little Gull still, 9 Black Tern still, 2 Yellow Wagtail early-am (Paul Watts tweet); 4 Common Sandpiper 1550, 7 Black Tern still but no sign Little Gull 1605 (Paul Mattos via Surrey BN)
Trent Park Equestrian Centre: 15 Barn Swallow (Robert Callf)
Tyttenhanger GPs: 3 Snipe 2 main gp & 1 fishing lake, 3 Common Sandpiper & Green Sandpiper fishing lake, Green Sandpiper, Greenshank, 2 Common Tern & Hobby main gp (TyttGP tweet); Wood Sandpiper, 2 Greenshank, 2 Green Sandpipers & 2 Snipe main pit evng (Simon West); 3 Green Sandpiper, 2 Wood Sandpiper & Greenshank main gp fr maersk container 0520-1930 at least (Rupert Evershed per TyttGP tweet); also 3 Snipe main gp (Steve Pearce via Herts BC); also Little Egret & 2 Hobby ad & juv main gp (Rupert Evershed via Herts GP)
Walthamstow Marshes: LV Riding Centre front paddocks - 2 Pied Flycatcher 11.45-13.45; 3 Whinchats & Common Buzzard bomb crater field (Walthamstow Birders)
Wanstead Flats: RED-BACKED SHRIKE still pub scrub [7th day], 3 Whinchat brooms 1500 (Chris Baldwin tweet)
Wimbledon Common: 2 juv Kestrel (Les Evans-Hill tweet)
Woodberry Wetlands: 2 Common Sandpiper, 2 Sedge Warbler, Reed Bunting, Sparrowhawk; first Willow Emerald Damselfly for site (Chris Farthing)
Woodford Green: Hobby over 0649, plus Greenfinch foy in gdn (Ken Murray)
Sunday 2nd September 2018Edit
Alexandra Park: ORTOLAN BUNTING 1w called then dropped into top of hawthorn 0930-0934 at s end of playing fields then flushed by dog walkers and flew low E but not relocated by 12 noon at least (Bob Watts); OB still not located by 13:00 but 2 Kingfisher, 2 Goldcrest, 2 Blackcap, Grey Wagtail, 6 Chiffchaff; 30+ Speckled Wood, 20+ Large White, Peacock, Holly Blue, Common Blue, 3 Small Copper, Small Heath (Samuel Levy et al)
Amwell NR: 7 Sandwich Tern main pit 0910-0930 then S (Barry Reed tweets)
Barn Elms Playing Fields, Barnes: Swift (R.Kaye)
Bexley DA5 (Upper College Farm): Kestrel, 4+ Swallow, Chiffchaff, 4 Bullfinch, no sign of Whinchats today (Ian Stewart)
Brent Reservoir: 2 Garganey, Sedge Warbler, Water Rail, 7 Little Egret, 3 Lapwing, 4 Green Sandpiper, 5 Common Sandpiper, Yellow Wagtail over PF & on rafts (Brent Birders)
Bromley: footpath running se from Wilberforce Oak to Holwood Farm - Spotted Flycatcher, Hobby, 2 Blackcap m f, 2 Bullfinch f juv, Common Buzzard, 2+ Kestrels (A.Skinner & P.Mott)
Brook Farm, Upminster: 201 Sand Martin, 60 Swallow & 36 House Martin all S 1400-152, also Kingfisher, Sparrowhawk, 6 Buzzard, 2 Hobby ad juv, 2 Kestrel (Alan Shearman per ELBF FB)
Canons Farm & Banstead Woods: 3 Spotted Flycatcher nr green barn (Ian Magness per CFBW BG tweet)
Colney Heath: Hobby (June Hodgson via Herts BC)
Dagenham Chase: Hobby, Common Redstart (Vince Halley-Frame per ELBF FB)
Dagnam Park: 5 Cormorant, 2 Sparrowhawk, Willow Warbler, Whitethroat, Wheatear (Colin Jupp per ELBF FB)
Dungeon Hill: incl Buzzard, 2 Nuthatch, 4 Swallow, Wheatear Little Dungeon Hill paddock TQ266595 (Duncan Jennings via DHSW blog)
Ellenbrook Fields: 2 Whinchat (per Herts BC)
Enfield Lock: 3 Red Kite & Common Buzzard W over house 14:00 (Martin Shepherd)
Frogmore Lakes: Hobby, Kingfisher (Alan Winn via Herts BC)
Fulham Reach: Yellow-legged Gull (Nathalie Mahieu, John Boorman)
Gallions Reach: Great White Egret, 6+ Black Tern, 5 Sandwich Tern, Little Gull, Willow Warbler (Kevin McManus et al); also Garganey, 3 Pochard, 4 Little Egret, 2 Buzzard, 8 Sandwich Tern, 34 Arctic Tern incl flock of 29, 50+ Common Tern, 7 Hobby, 3 Chiffchaff, Reed Warbler, 2 Whinchat 0800-1300 (Gary James via Essex BwS)
Greenwich: juv Yellow-legged Gull by O2 but plebs viewing the 2 Common Seals disturbed the gull flock (Richard Bonser)
Greenwich Ecology Park: Kingfisher (Richard Green tweet)
Hackney Marshes: juv Kestrel (Joel Rawlings tweet)
Hammersmith: 2 Yellow-legged Gulls 1cy 2cy on Thames by The_Dove pub (Josh Jones)
Hampstead Heath: Spotted Flycatcher sphagnum bog, 1 Swift (Frank Nugent); Buzzard over highgate ponds 1330 (Geoff Andrew tweet)
Hilfield Park Reservoir: 3 Common Sandpiper, 1 Hobby, 1 Willow Warbler, 2 Reed Warbler, 1 Little Egret, 3 Linnet (Tony Blake)
Hyde Park: ad Yellow-legged Gull perched on post in Serpentine (Nick Moll)
Kensington Gardens: Spotted Flycatcher limes & birch nr physical energy to 0840 at least (Des McKenzie tweet)
Lamorbey Park: imm Little Grebe, 2 Blackcap (Ian Stewart)
Lion Gorge: incl Kingfisher (Alan Shearman per ELBF FB)
London Wetland Centre: Garganey still, 4 Little Grebe & 3yg, Common Sandpiper, Common Tern, Kingfisher, 2 Willow Warbler, 5 Chiffchaff, 2 Blackcap (WWT website); Willow Emerald Damselfly (Shailesh Patel)
Morden Hall Park: Water Rail (MHP NG tweets)
Nazeing, Lodge Farm: Whinchat 09:05 (Martin Shepherd)
Panshanger Park: Hobby prob juv, 2+ Raven over (Murray Brown via Herts BC)
Putney Heath: 2 Hobby 1juv, 1f Kestrel (Les Evans-Hill)
QE2 Res: CATTLE EGRET circled 0645-0649 then W (Dave Harris tweet); 4 Black Tern am (Chris Turner)
Queen's Wood, N10: 2 Common Buzzard 1210 & 1400, 2 Swift 1210 (Matt Evans)
Rainham RSPB: Marsh Harrier, Grey Plover (Fraser Simpson per ELBF FB); Ringed Plover, Curlew, 61 Black-tailed Godwit, 9 Dunlin, Snipe, 2 Greenshank, 4 Sandwich Tern, 5juv Common Tern, Yellow Wagtail, Grey Wagtail (Dominic Mitchell per ELBF FB)
Regent's Park: 2 Common Redstart as y'day 0820 (Twitter)
Richmond Park: Common Redstart holly lodge paddocks (Peter Carlill); Hobby, Kingfisher, Common Sandpiper (Steve Woolfenden)
Rye Meads RSPB: ad f Garganey fr gadwall_hide, 3 Wigeon [2juv fr draper hide & ad m fr gadwall_hide] (Alan Harris via Herts BC)
Sevenoaks Wildfowl Reserve: 2 Willow Warblers singing c1000 (Linturn Hopkins); Green Sandpiper fr tyler hide (Jack Headley)
Sewardstone Marsh: Whinchat as y'day (Neville Smith)
South Norwood CP: incl 4 Shoveler, Little Grebe & 1yg, Little Egret, 11 Cormorant, Sparrowhawk, 3 Stock Dove, 7 Collared Dove, Tawny Owl, 2 Coal Tit, Willow Warbler, 10 Blackcap, 3 Whitethroat (John Hughes via Croydon Birders)
Staines Moor: 3 Greenshank arr'd c8.30 from dir'n of Stanwell Moor & appeared to land briefly then W, 2 Whinchat nw cnr, 1 Spotted Flycatcher willow patch by Colne, 1 Yellow Wagtail, 6+ Lesser Whitethroat, Common Whitethroat & Blackcap plentiful, 1 Sedge Warbler, 1 Cetti's Warbler Staines/Stanwell Moor border, 1 Hobby, 4 Kestrel, 3-4 Common Buzzard, 1 Sparrowhawk, 1 Kingfisher & 2 Little Egret R Colne, 4+ Stock Dove (Iain Darbyshire)
Staines Reservoirs: Black Tern early-am, 7 Common Sandpiper, 3 Yellow Wagtail, 1 Goldeneye (Dom Pia per FJM); also Black-necked Grebe, 2 Swift, 3 Yellow Wagtail (Dom Pia tweet); juv Little Gull am (Jonathan Nasir tweet); also 18 Black Tern, Hobby 0900-1100 (Robert Martin tweet); 16 Black Tern, no sign of Little Gull 1330 (Jim Sweetland tweet); 3 Common Sandpiper, juv Little Gull, 15 Black Tern, 2 Yellow Wagtail still late-evng (Dom Pia tweet)
Ten Acre Wood area: 3m Pheasant, 2-3 Buzzard, 2juv Sparrowhawk playing along hedge, Kestrel, 3-4 Hobby [3juv together hawking insects & later 1 v high bird over Buz'ard], 6 Stock Dove incl v tame juv approachable to 3m, Skylark, 3 Pied Wagtail, 4-8 Swallow, 12 Whitethroat incl family of 7, 3 Blackcap, f Wheatear, Whinchat, 3 Reed Bunting; tatty Painted Lady, 24 Small Heath, 2 Small Copper, 4 Common Blue (Neil Anderson)
Tyttenhanger GPs and Willows Farm: 6 Egyptian Goose, Water Rail, 4+ Snipe, 2 Common Sandpiper, Greenshank fishing lake am, 3 Common Tern, Little Owl, Kingfisher, 2+ Hobby, Willow Warbler, 2+ Reed Warbler, Lesser Whitethroat, 2 Spotted Flycatcher tytt'r fm fdrs & main gp fr Maersk container, Whinchat still, 2 Yellow Wagtail over early-am (Rupert Evershed via Herts BC); also 2 Little Egret & 3 Green Sandpiper main gp, 30+ Linnet willows fm lake (Andrew Steele via Herts BC); 4ad Common Terns 2 carrying fish but no juvs observed, 4 Hobby ad 3juv, 2 Bullfinch h & glimpsed nr SpotFlys (Bob Husband, Fay Broom, Marian Rastelli, Mike Cawthorne et al)
Walthamstow Marshes: 4 Whinchat together in reedmace just ne of bomb crater field, 2 Kestrel m f, 2 Sand Martin 08:30 (Alastair Dent)
Wanstead Flats: 1w RED-BACKED SHRIKE still opp Golden Fleece pub. It disappeared for several hrs till 1615 Then seen very well till 1800 and probably beyond. (Terence Baker); R-bS went to roost 1935 (Paul Hackett tweet); 3 Green Sandpiper S over pub scrub (Andrew Gouldstone per Twitter); Commmon Sandpiper on Alex (Rob Sheldon per Twitter)
Warren Gorge: incl 2 Gadwall, 7 Great Crested Grebe, Little Egret, 13 Cormorant, 2 Kingfisher, 3 Sand Martin, 2 Willow Warbler (Alan Shearman per ELBF FB)
Wood Farm, Stanmore: Whinchat [third year running in same weedy patch betw houses & London Viewpt], 1-2 Sedge Warbler, c8 Whitethroat, 5 House Martin, 10 Swallow (Tony Blake)
Woolwich: 32 lge terns poss Sandwich Terns upriver to Canary Wharf & back E (John Mead)
Saturday 1st September 2018Edit
Alexandra Park: Tree Pipit h W over PF 1112, Whinchat 1055-1125 southern & western perimeters of CG, Lesser Whitethroat, Common Whitethroat, 2 Willow Warbler, 2 Chiffchaff, 2 Blackcap; Small Heath, Small Copper, Brown Argus (APOG Birders)
Beckton SW: 12 Little Egret, Buzzard, Green Sandpiper, 3 Little Tern [site tick], 16 Common Tern, 30 Black Tern largest flock 14 - all terns upriver, Yellow Wagtail early-am (Dave Morrison tweet)
Bexley DA5 (Upper College Farm): 2 Whinchat, Common Buzzard, 2-3 Kestrel, 2 Hobby, 2+ Swallow, Meadow Pipit W, Blackcap, Whitethroat, Cetti's Warbler, Chiffchaff, 3+ Bullfinch (Ian Stewart, Jack Headley & Mike Amos)
Brent Reservoir: Autumn Bird Count - total of 77 species incl 2juv Garganey, 2 Spotted Flycatcher, Whinchat, Tree Pipit, 4 Common Buzzard (Brent Birders)
Broadwater: Little Gull 1435 (BirdGuides)
Brookmill Park: Little Egret, Kingfisher (Conrad Ellam)
Canning Town: Sandwich Tern h over Barking Rd 0100 (BirdGuides)
Crossness: 7+ Black Terns on Thames late-aft, also 2 Little Egret, c200 Teal, Hobby, 4 Common Sandpipers, Ringed Plover, 5 Black-tailed Godwit, 25 Redshank, 4 Yellow-legged Gulls, Sedge Warbler (Richard Bonser, Jamie Partridge)
Dagnam Park: 8 Spotted Flycatcher (Colin Jupp per ELBF FB)
Drayton Green, Ealing: Little Egret W 14:45 (Bill Haines)
Dungeon Hill: Hobby, 6 Whinchat yewlands meadow area fdg along fence TQ262596 (Ian Ward via Twitter & per Surrey BN); also 1-2 Buzzard, Kestrel, Hobby, 100+ Swallow, 15 House Martin, Nuthatch, 2 Bullfinch, Linnet (per DHSW blog)
Fairlop Waters: Grey Wagtail, Common Sandpiper, Whinchat, Wheatear, Lesser Whitethroat, Whitethroat, Blackcap, Chiffchaff, Willow Warbler, Reed Bunting, Common Buzzard (Neil Twyford)
Fulham: 1cy Caspian Gull, 2 Yellow-legged Gulls ad 1cy on Thames by The Crabtree pub (Josh Jones) Photos of Caspian here
Gallions Reach: 3 Oystercatcher, Common Sandpiper, 12 Black Tern, 15 Common Tern, Whinchat; Hummingbird Hawkmoth am (Gary James via Essex BwS)
Hampstead Heath: 1 Swift S over Parliament Hill Cafe, w/ c12 House Martin 17:00, also 1 Buzzard & 1 Sparrowhawk over (Tim Blackburn)
Harmondsworth: 3 Yellow Wagtail SW c0730 (Jon Middleton tweet)
Ingrebourne Valley: Pied Flycatcher, 3 Whinchat, Stonechat, 2 Yellow Wagtail (Paul Hawkins per ELBF FB)
London Wetland Centre: 3 Great White Egret on main lake (Martin Honey per L. Smith); left W 0934 (per Franko Maroevic); singing Willow Warbler (M. Honey); 2 Common Tern, Common Sandpiper, Greenshank pm, Peregrine, 20 House Martin, 4 Chiffchaff, 2 Yellow Wagtail NW (WWT website)
Lonsdale Road Reservoir, Barnes: 19 Gadwall, 25 Teal, 2 Shoveler, 9 Pochard, 3 Little Grebe ad & 2juv, 3 Great White Egret circled then SW 09.20 [above time for leaving LWC not correct - thanks for the call Jan], juv Kingfisher, 12 Swallow SW, 26 House Martin SW, 5 Sand Martin SW, Spotted Flycatcher, 2 Blackcap, 5 Chiffchaff, Reed Warbler (R.Kaye) presumably these GWE seen at Dorney Wetlands at 10.45 [JW]
Northolt & Greenford CP: Hobby chasing small grp of Goldfinch 07.20 (Neil Anderson)
Olympic Park Stratford: 30 House Martin (Rhys Evans)
Primrose Hill: prob local Pochard S 0545, Snipe fos low S 0540, Kestrel thru SE 0635, 0 Swift, 2 House Martin v high N 0615, 4 Meadow Pipit site-fos S/SW - vismig 0540-0740 (Twitter)
Rainham RSPB: 2 Sparrowhawk, 4 Marsh Harrier, 11 Buzzard SE 1230-1450, 55 Black-tailed Godwit, Ruff, Green Sandpiper, juv Mediterranean Gull, ad Yellow-legged Gull, Kingfisher, Great Spotted Woodpecker, 3 Hobby, 6 Kestrel, 6 Yellow Wagtail, 100 Goldfinch (Alan Shearman, Jonathan Wasse et al per ELBF FB); 3 Common Tern (Fraser Simpson per ELBF FB)
Regent's Park: 2 f/imm Common Redstart Readymoney Fountain plantings eastern border [area 28] favouring low border-fence 0905-0925 at least (Twitter); Spotted Flycatcher (Al Adamoulas tweet)
Richmond Park: 2 Hobby incl juv, Red-legged Partridge, Common Sandpiper, 2 Kingfisher, 26 Swallow around Holly Lodge incl 12+juv & bird w/o red in plumage, 30+ House Martin, Wheatear, 10 Whinchat, 3 Common Redstart, Sedge Warbler, Lesser Whitethroat, 8 Common Whitethroat, Garden Warbler, 2 Spotted Flycatcher; 20+ Willow Emerald Damselfly (J.Wilczur, H.Bradshaw, P.Redmond, N.Anderson, S.Read)
Ruxley DA14: Honeydale Fm - 2 Hobby, 1 Sparrowhawk, c35 Pied Wagtail, 7 Linnet, 2 Common Buzzard (Ian Stewart, Jack Headley)
Sevenoaks WR: 8 Egyptian Goose, 2 Little Grebe, 4 Great Crested Grebe 2 juv, Grey Heron, Little Egret, Lapwing, Green Sandpiper (Stephen Greenstreet via Kent OS); also 2 Red Kite, 3 Buzzard, 3 Kingfisher pr & juv fr willow hide, Peregrine high over, Nuthatch (per Susanna Clerici via Kent OS)
Sewardstone: 2 Whinchat 09:27 in hedgerow to ne of KGV Res causeway (Martin Shepherd)
Sewardstone Marsh: Whinchat on Patty pools early-am (Neville Smith)
Sidcup: ORTOLAN BUNTING heard call three times over York Ave 01.17, Moorhen h c01.25 (Ian Stewart)
South Lodge Farm, Enfield: Whinchat, 7 Goldfinch (Robert Callf)
South Norwood CP: incl Kingfisher, m Kestrel, Willow Warbler, 20 Chiffchaff, 4 Whitethroat (John Hughes via Croydon Birders)
Staines Reservoirs: 17 Black Tern early-am but no sign of Red-necked Phalarope (Bob Warden per Franko Maroevic); 2 Turnstone 1105, 5 Common Sandpiper, Sandwich Tern low over 1025, 31 Black Tern s basin by 1010, 7 Swift, Hobby (Jonathan Nasir tweets); 36 Black Tern, 3 Yellow Wagtail, 2 Curlew, Whimbrel, 3 Dunlin, Little Gull, Black-necked Grebe 6pm (Thomas Gibson)
Tate Modern: Spotted Flycatcher on birches behind peregrinewatch 3pm (Andrew Peel)
Totteridge Valley/ Darlands Lake: Grey Wagtail, 2 Coal Tit, 3 Nuthatch, 2 Goldcrest, 9 House Martin, 9 Common Buzzard, 16 Swallow, 7 Chiffchaff, 51 Stock Dove, 10 Blackcap, 3 Little Owl, 2 Willow Warbler, Bullfinch, Kestrel, 13 Rook, 7 Lapwing (Samuel Levy)
Tyttenhanger GPs: 2 Little Egret, 8+ Snipe, 3 Common Sandpiper & Green Sandpiper main gp, Greenshank still on scrape fr causeway 1000 (Herts BN tweet); Greenshank still 1445, Whinchat grass field n of main gp (TyttGP tweet); 3 Little Egret main gp, 3+ Hobby ad 2juv scrape (Steven Pearce); also 3 Common Tern (Tyttenhanger Birders via Herts BC)
Walthamstow Reservoirs: Sparrowhawk, 6 Common Sandpiper, Garden Warbler, Green Sandpiper in overflow channel nr Lockwood, 3 Grey Wagtail, Cetti's Warbler, 3 Willow Warbler, Blackcap, Green Woodpecker (Rhys Evans)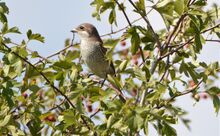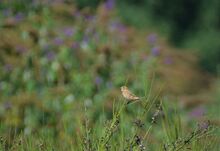 Wanstead Flats: 1w RED-BACKED SHRIKE still in pub scrub across lge area opp & right of Golden Fleece pub. Seen at 11 by another birder and then by me on & off but quite regularly for next 2hr. [Still present evng - Twitter]; also Whinchat and Lesser Whitethroat (Terence Baker); Whitethroat, 25 Egyptian Goose (Rhys Evans); Marsh Harrier over (Paul Donovan per Bob Vaughan via Twitter)
Wraysbury GP: Great White Egret SW (Chris Lamsdell)